Another 'Below Deck' Crewmember Gets The Boot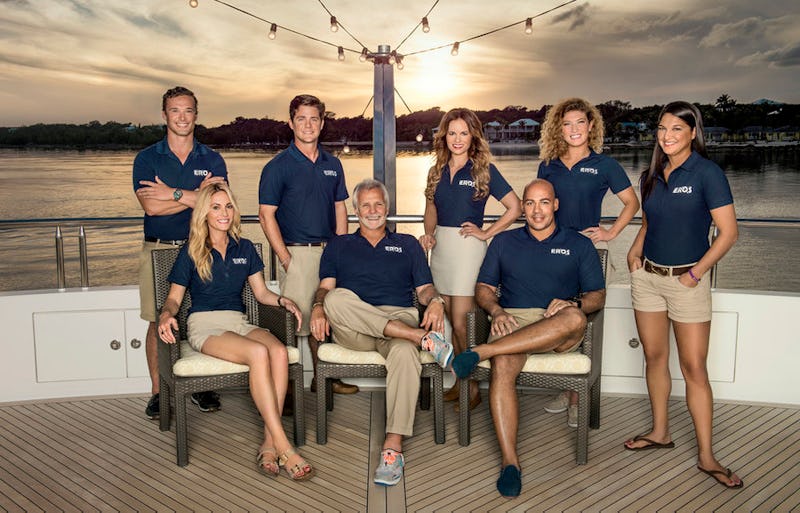 Well, here we are again. In a Below Deck season that seems to be full of firings, Tuesday night's episode added one more to the list. Captain Lee finally fired Leon, but it was actually Rocky's unexpected exit from the Eros that threw the crew for a loop.
But let me serve up an amuse bouche for you before we get to the main course. I can only assume that's how Chef Leon would like his booting from Below Deck to be described.
As you should remember from last Tuesday night's episode because of how insanely dramatic it was, a fire broke out in the oven while Kate was cooking a pizza for the charter guests. At that hour of the morning, it was unclear who exactly was responsible for accident: Kate, who put the pizza in the oven, Rocky, who was in the kitchen at the time of the fire, or Leon, who was nowhere to be found when all of this went down. As expected, Kate blamed Leon, Leon blamed Kate, and Rocky also blamed Kate, because we all know the Chief Stew has been her favorite person on the Eros. That, kids, is called sarcasm.
However, after an investigation by Inspector Captain Lee, which consisted of interviewing Kate, Rocky, and Leon in order to fill out an incident report, he was convinced that dry pans in an oven don't cause fires, but an oven that hasn't been cleaned properly can. Ultimately, Captain Lee determined that Leon and Leon alone was responsible for the fire.
When Captain Lee called upon Leon to talk about the fire, the chef came prepared with his usual nasty attitude. His last-ditch effort to throw Kate under the bus by insinuating that she had committed the biggest taboo of drinking while on charter didn't work, and Captain Lee told him the fire was his fault. However, that was really the last straw. The reason why Captain Lee finally decided to fire Leon was because he warned the chef to fix things with Kate, and he didn't, so the unnecessary drama had to go before the whole shipped burned down.
Leon actually took his firing quite well, all things considered, except for the fact that he decided to split immediately instead of finishing the charter as Captain Lee had requested. In fact, Rocky was the one who couldn't handle Leon getting the boot. When she heard the news, she wanted to quit because Leon was one of the crewmembers she was closest to on the ship, and she thought Kate was the one who deserved to go since she had been causing all of the problems on the boat. The mermaid of the Eros was so overcome with rage that she stripped all of her clothing off and dove off the ship into the water.
After swimming around for a while with really nowhere to go, during which no one was all that concerned because this is the type of behavior they have come to expect from her at this point, Eddie scooped up Eddie on a little boat and brought her back to the Eros. Just when it looked like Rocky would be the second Below Deck crewmember to leave the show Tuesday night, Rocky got a pep talk from her mom and decided to stay. She apologized to Captain Lee, who let her stay, even if he wasn't really into hearing what she had to say.
Can you believe all of that went down, and there was still more of Tuesday night's episode of Below Deck to come? I can't either. All we can do now is hope the Below Deck crew makes it out of this season alive.
Image: Virginia Sherwood/Bravo