Did You Notice This Missing 'Royals' Character?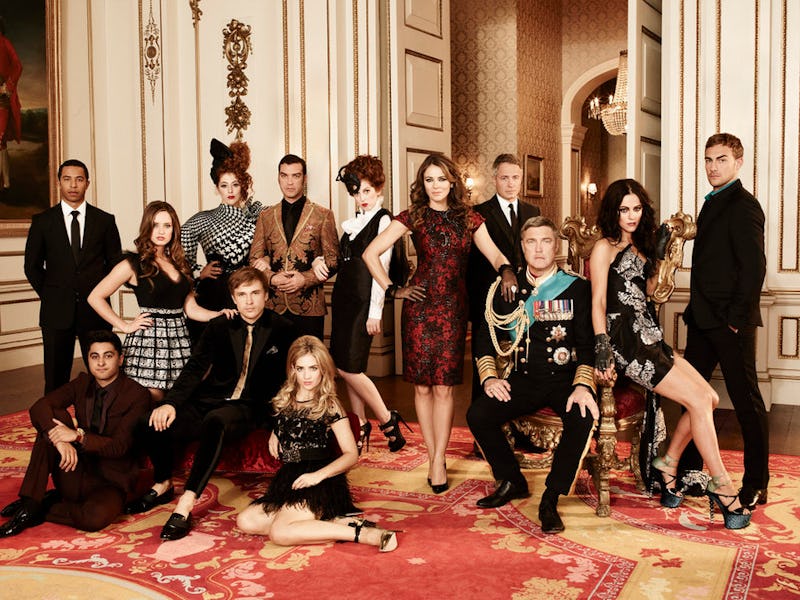 Season 1 of The Royals made Prince Liam the closest thing there was to a hero. And part of the reason Season 2 is going to change everything is that Prince Liam isn't going to be that hero anymore. His girlfriend, Ophelia, is gone (at least when the season begins... who knows when she'll reappear), and Marcus, Prince Liam's bodyguard, was "reassigned" away from him at the end of the season, meaning that he lost the closest thing a prince can have to a best friend. Add that to the loss of his father, brother, and his right to the throne, and it seems like the former Prince is going to have a hard time adjusting to his new station in life, and he's not taking it lightly — he's looking into his father and brother's deaths in search of some answers. Unfortunately, it doesn't seem like Marcus will be on The Royals Season 2 to help Liam on that journey.
The actor who plays Marcus, Ukweli Roach, was recast on another series, Blindspot on CBS. So far, Blindspot is doing so well in the ratings that it was already renewed for a second season. That means that while The Royals were shooting, he was clearly working on the other show. So, unless they decided to recast the part... Season No Marcus.
That means that Liam's investigation into Cyrus and whether or not he's responsible for King Simon's death is going to be without his most reliable protection. That's a problem that will plague Liam all season. Actually, Marcus was the first person to accurately predict that Liam might not actually be king one day.
But, even though there's no Marcus, there are some other bodyguards that should be looking out for Liam. There's Ophelia's father, Ted, who may be the most ineffective head of security on earth but did finally support the former prince dating his daughter by the end of Season 1.
There's also Jasper, who may primarily be obsessed with Eleanor, but should also be looking our for Prince Liam. He knows that Eleanor finds him totally untrustworthy (and rightfully so), and what better way to demonstrate his intentions to get back in her good graces than protecting and helping her brother uncover Cyrus' conspiracy?
So Marcus will be missed. He was the voice of reason, the perfect sounding board, and could have probably helped uncover Cyrus' plans with his powers of perception. But, without him, The Royals Season 2 is going to be even messier and harder to predict — which will ultimately make it even more entertaining.
Images: Frank W. Ockenfels 3/E! Entertainment; QueenHelenas/Tumblr (3)