Best Covers By Amy Vachal Of 'The Voice'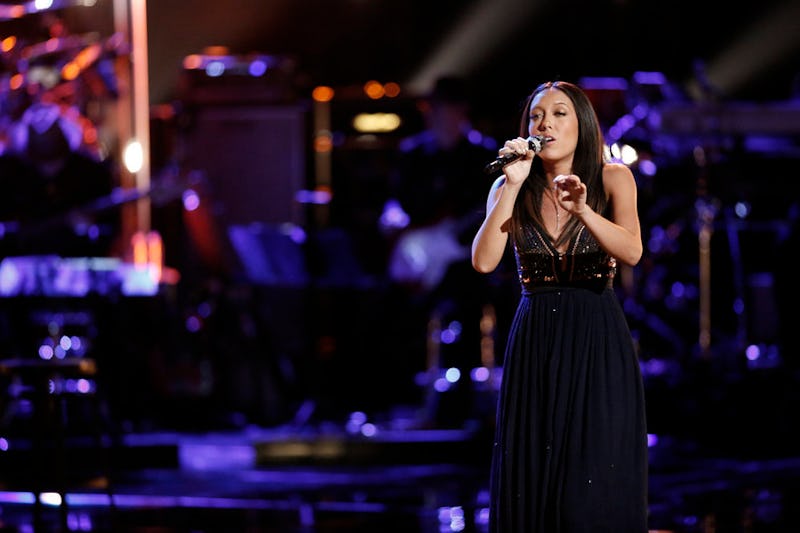 The Voice Season 9 singers have finally made it to the Live Playoffs — and now it's time for the Top 20 to shine. Amy Vachal is definitely one of The Voice frontrunners — and she slayed during her live performance of Frank Sinatra's "The Way You Look Tonight" on Monday night. It was one of Amy Vachal's best Voice covers, but not the only one in existence. The 26-year-old Brooklyn crooner has been singing and performing seriously since college and she has a YouTube channel — adorably called "Amytunes" — where she's been posting her awesome covers for years.
Vachal and the other Voice contestants will find out their fates during this week's results show, but the coaches seemed to adore her version of the Sinatra classic on Monday night. "That was watching an artist perform on the show," her coach Adam Levine said after she sang. "We talked about what this needs to be for you. That's precisely what it was. You absolutely did the best job you could possibly do and I'm so thrilled." And so is Vachal, whose time on The Voice is a huge step in her music career. "Going from playing in small cafes and tiny bars in Brooklyn to The Voice, it's a whole new world," Vachal told MyCentralJersey.com. "I am loving every moment of this whole process and I am going to take what I've learned to keep working harder."
While you await the results show, check out some more of Vachal's best covers below.
1. "For The Longest Time" By Billy Joel
With an unnamed partner, Vachal sings an acoustic version this soothing classic in a video from 2011. "Stranded mid-snowstorm," says the caption. "Time for some Billy Joel to warm the soul." And it does indeed.
2. "Price Tag" By Jessie J
We all know Vachal is awesome on guitar, but in this 2011 vid, she shows off her ukulele skills. "Rockin my heart out with the uke on the sunny rooftop with this Jessie J's catchy little diddy," she says in the caption.
3. "Buy You A Drank" By T-Pain
If you think Vachal's only good at singing the classics, well, you need to see her take on rap in this 2010 performance.
4. NSYNC & Backstreet Boys Mashup
Calling all '90s lovers! Vachal sings the NSYNC classic and uses Cup O' Noodles as percussion, while friend Rachel Brown takes on BSB and plays guitar in this cute mashup "battle" of the boy bands in a video from 2010. "Instead of mashing up each other's faces. we mashed up each other's favorite boy band songs," the caption says.
5. "La Vie En Rose" By Edith Piaf
In 2012, Vachal recorded a version of this beautiful classic song, which you probably remember from the How I Met Your Mother cover last year. She sings it in French and then in English, so it's bilingually fabulous.
6. "Dream A Little Dream" By Various
This classic song has been recorded so many times, but Vachal's ethereal version won coaches over during her Voice Blind Audition. Why? Because it's one of her best covers, even in this 2013 video where slays the song, just chilling on the floor and singing the song while playing guitar.
If she's this good at covers, I can't wait for her to hopefully release a post-Voice album of her own.
Image: Tyler Golden/NBC