Roberts Talks Brutal 'Secret In Their Eyes' Scene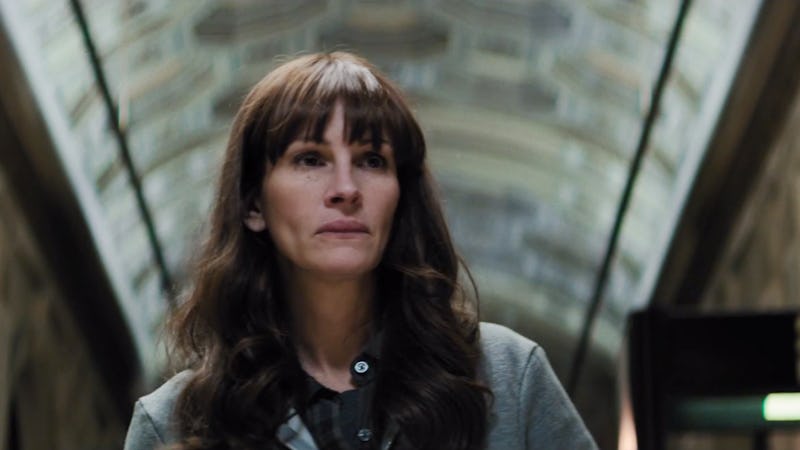 Julia Roberts peers over the edge of a garage dumpster. Immediately, she starts to scream. She frantically throws herself onto the grimy metal bottom and lands with a thud next to a female body — her daughter's. She rips off her blue latex examining gloves and caresses the young woman's skin, pressing her shaky hand to the completely still corpse. This is the catalyst scene of Secret In Their Eyes , the 2015 remake about a group of investigators torn apart after one of their own teenage daughters is brutally murdered and left in a dumpster. "It was something that was very dreamlike," says Oscar-winning [Julia]CUT Roberts of filming the scene. "Just the anticipation of it. The waiting to shoot it. Trying to stay very focused in my mind about what was happening without anticipating it."
Roberts, who is a mother of three, says it was easy to connect to the feelings her character was going through. "I had such a clear idea of the love these two people had for each other. And the girl that played my daughter, Zoe [Graham], she was so remarkable. It was really was just about thinking 'You know, you're whole universe is this person and this relationship.' Coming home every day to that person, having lunch every day with that person, and sharing what you have to share, and hearing what they have to say... And for that to be gone in one split second," she says, trailing off.
Becoming vulnerable to shoot the film's most powerful and gut-wrenching sequence was made easier by having husband Daniel Moder, the film's director of photography, on set. "For the dumpster, I really didn't know what I was going to do. I mean I had an enormous amount of blind faith in my preparation. But [my husband] is a constant source of inspiration to me, and he has an impeccable work ethic and he helped me to really find the courage to just completely jump into a situation."
Roberts, with three Oscar nods and a win under her belt, knows how to turn off the intensity that comes with her day job. "As much as you put your heart and soul into it, and you want to make it so real, and you want people to have an emotional experience, it's acting. It's all going to be OK," the 48-year-old says. "And I'm going to be able to get in a car with my husband and drive home and have dinner with our healthy children. I have a lot of gratitude for that. So there's a perspective that has to go with all of that kind of stuff."
A veteran of romantic comedies of the '80s, '90s, and early '00s, the crime thriller genre is a relatively new pursuit for America's sweetheart. "I love the genre. I love reading it. I love watching it. I love doing it. Sleeping With The Enemy is a great example of that kind of quiet, insidious, just waiting for something horrible to happen. To me this is that same energy — as you get comfortable and put that second handful of popcorn in your mouth something is going to happen."
Secret In Their Eyes hits theaters NOV. 20.