'Bond 25' Could Be A Brand New Start For 007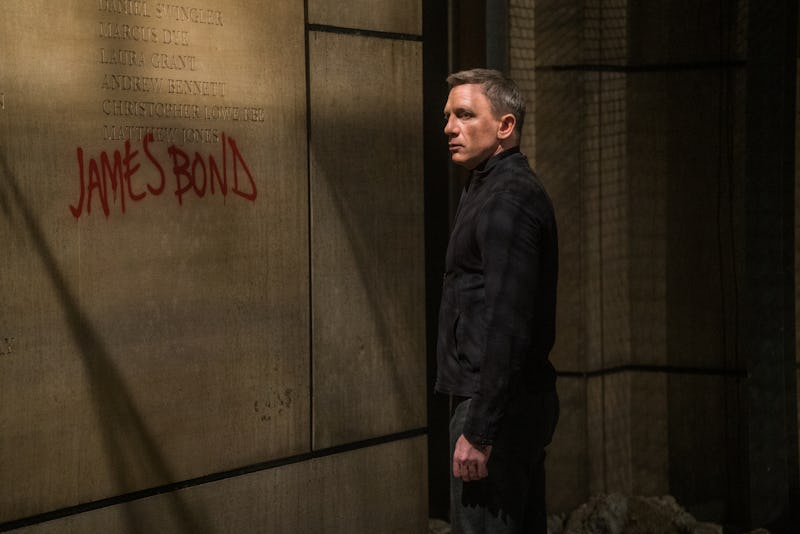 The last scene of Spectre felt like the end of an era, or at least the close of a Bond chapter, as it might be Daniel Craig's last Bond film. Even though the actor is slated to be in two more Bond films, rumors have been stirring about whether or not he'll return. The same goes for director Sam Mendes; it seemed like he was reluctant to return for Spectre after the amazing work he did with Skyfall, and judging from his past comments, it's possible he might bow out for the next installment. That idea is unfortunate, because Craig sculpted a different kind of Bond that we have never seen, and Mendes brought a dramatic intensity in his direction. It would be sad to see them go, but then again, if they do, it means the franchise could start off on a clean slate – in other words, Bond 25 could be the best 007 movie yet.
At the end of Spectre, Bond drives off into the proverbial sunset in his Aston Martin with his Madeleine Swann (Lea Seydoux), leaving his spy life behind — but who is he kidding? We all know Bond will be back. Whether or not it is Daniel Craig playing the role has yet to be answered, though, and as much as I enjoy Craig as Bond, part of me wants him to hand over the baton to someone else, because it's about time that the 007 films hit the restart button.
It's hard to believe that Craig has been playing Bond since 2006's Casino Royale. He's definitely had a good run, but in interviews, it's seemed clear that he's a little burnt out on Bond. After nine years, he definitely deserves a break, and perhaps Bond 25 is the perfect opportunity for someone else to take over the reigns. A new Bond will give a re-awakening to the entire franchise and keep it moving. With a blank canvas, the new Bond can paint a whole new universe just like Craig did with Casino Royale. That said, here are eight reasons why Bond 25 could be the best movie of the series yet.
It Could Mark A Return To Classic Bond
I'm not saying that Craig's movies didn't retain some of the iconic Bond feel, but they didn't have the fun and debonair demeanor of the original movies. Craig's films were rough around the edges and a little bit more serious, but Spectre hinted at the return of the playfulness of classic Bond with one-liners, outrageous action, and lots of fun. Keeping one foot in the modern Bond universe and one in the cheese of classic Bond could be a refreshing mix.
There Could Be Less Misogyny, More Powerful Woman
Let's face it. James Bond is misogynistic. 90 percent of his movies treat women like side pieces with nothing to do but look pretty, and don't even get me started on Bond's promiscuity. But Bond 25 is a chance to end this sexist, male-centric reign by giving women more to do than just stand there waiting for cue from Bond. The movie would benefit from having more self-sufficient, smart women like Moneypenny and Judi Dench's M, females who are smart, complex, and serve the story without having to sleep with Bond. If there can be one 007 movie where our hero doesn't make out or have sex with anyone, would it be the end of the world?
It Could Show The Power Of SPECTRE
As the title suggests, Spectre was an origin story of the terrorist organization SPECTRE led by Blofeld, a figure that became the template of spy movie villains. Bond 25 has the opportunity to use this to its advantage. Like Star Wars, Spectremarked the creation of an empire, and audiences have the opportunity to see the evil grow and understand what kind of damage it can really do to Bond. The more outrageous the better!
It Could Introduce A Worthwhile Adversary To Bond
I'm sure we'll see Christoph Waltz return as Blofeld, but he'll definitely need some help. And when I say help, I'm not referring to "henchmen." Those are throwaway characters. I'm talking about real co-villains that are fleshed out characters and can cause serious harm to Bond. Going along with my vision of making Bond less misogynistic, I'm picturing a female villain along the lines of Elizabeth Debicki, except a lot more severe. How about we just have Grace Jones make a comeback? Not as May Day from A View to a Kill, but as a totally different character? The world deserves to see that.
It Could Feature Gadgets Galore
Throughout Craig's run as Bond, we haven't seen him use that many cool gadgets. Bond 25 is definitely the right time to go the Mission: Impossible route and have Q give Bond some awesome gadgets to use in the field of battle.
It Could Take Place In New, Unexpected Locales
The Bond movies have taken place all over the globe. From the exotic to the desolate, the locations of 007 have caused the spy to rack up some major frequent flyer miles. Bond seemed to like staying in European and Asian countries, so seeing the opening scene of Spectre in Mexico City was a pleasant surprise. Bond 25 is destined to follow suit and take us somewhere unexpected like Nashville, New Zealand, South Africa, or Madagascar, to name a few possibilities.
It Could Hire A Female And/Or Non-White Director
What better way to give a new perspective on Bond than to have a female director or a director of color? If you need help getting a list started, here are a couple of suggestions: Ava DuVernay, Kathryn Bigelow, James Wan, F. Gary Gray — I could go on, but I'd be here a while.
It Could Star A New Kind Of Bond
Since my vision Bond 25 is a total overhaul of the franchise, why not just make Bond female? If Daniel Craig says Bond could be a woman, then who are am I to disagree? There could even be Bond boys, instead of the traditional Bond girls. My vote for a female star is for Rebecca Ferguson from Mission: Impossible Rogue Nation.
If the studio takes these suggestions for Bond 25, it will revitalize the franchise into something that no one has ever seen before, with the potential to be truly great.
Images: Metro-Goldwyn-Mayer Studios Inc., Danjaq, LLC and Columbia Pictures; Giphy (9)