Where 'Master Of None' Found Rachel's Inspiration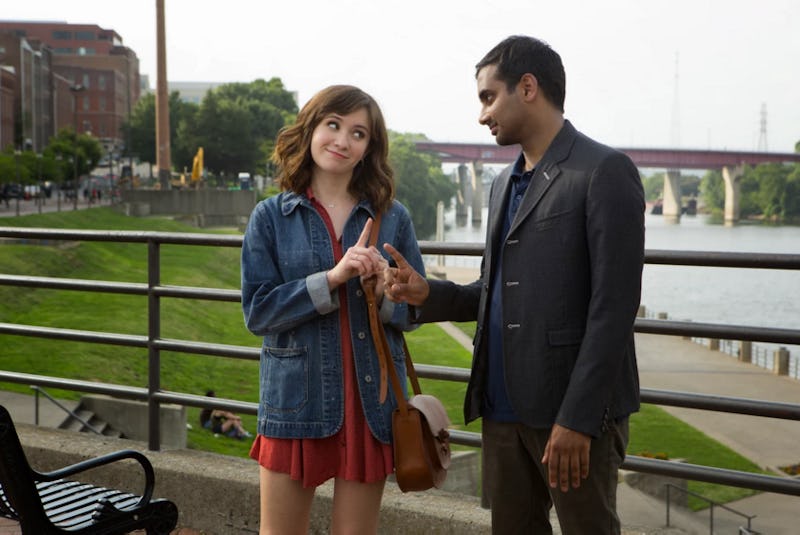 When marathoning Aziz Ansari's new Netflix comedy Master of None, some fans have noticed that it's reminiscent of fellow comedians' semi-autobiographical pieces like Louis C.K.'s Louie or Amy Schumer's Trainwreck. Ansari plays Dev, a young actor in New York with immigrant parents — played by Ansari's real parents Shoukath and Fatima Ansari — who is trying to figure out what he wants in life. With obvious similarities to Ansari's life throughout the series, I wondered if his love interest Rachel, played by Noël Wells, is based on Ansari's real girlfriend.
Many cast members and writers have been described as "heightened versions" of the characters, according to The Hollywood Reporter. For example, Ansari tweeted that Brian, played by Kelvin Yu, has similarities to both Yu and the show co-creator Alan Yang. And Lena Waithe told the Chicago Sun-Times that her role as Dev's friend Denise was reimagined with her in mind. So what about Rachel?
We know that Ansari's real life girlfriend Courtney McBroom is a chef, who Ansari told David Letterman helped him arrive at his feminist awakening — similarly, Rachel and Denise point out sexist microaggressions in the episode "Ladies and Gentlemen." It should also be noted that the series overall is super feminist. According to People, the real-life foodie couple bonded over cookies IRL, and Ansari has a real life pasta passion, like Rachel and Dev on the show. But, the similarities seem to end there.
Ansari was asked in an interview with The Daily Beast if Rachel was "inspired by a real-life relationship," to which he responded, "No, I didn't have a relationship like that. I didn't have a girl that I went to a concert with and then took to Nashville, or anything like that. And the condom thing wasn't based on a real person either, we just thought of that scenario." One person who apparently influences Rachel, however, is the actress who plays her, as Ansari tweeted about Noel Wells' involvement in her creation.
So while Rachel and Courtney are both awesome, modern, feminists, don't interchange their stories. Enjoy Rachel's character for her dynamic representation as a love interest, and Wells' terrific performance. She's not a manic pixie dream girl and she's not dependent. From the introductory scene with the broken condom that leads to Dev "treating" her to a Plan B pill, the audience knows that Rachel and Dev's journey is more relatable than many TV relationships we've seen before. Let's keep our fingers crossed for a Master of None Season 2 so we can get to know Rachel even better.
Image: K.C. Bailey/Netflix