What To Know About Tinder's New Matching Algorithm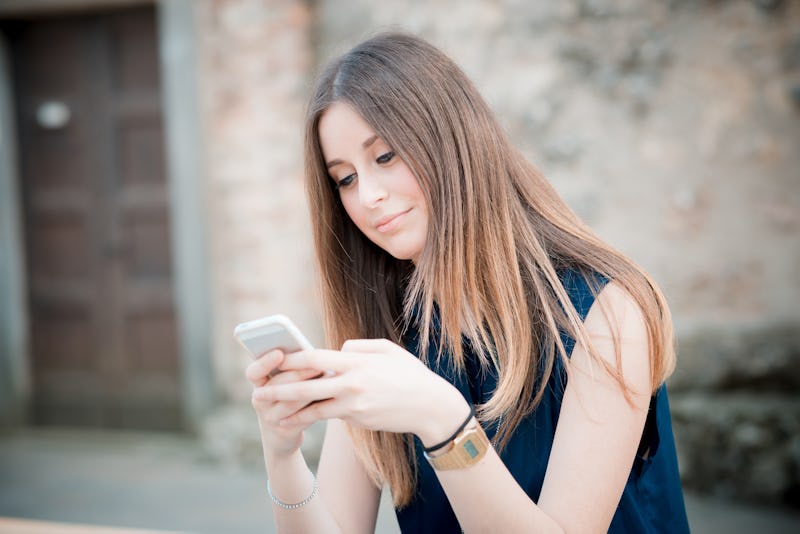 Earlier this week, Tinder released new updates, including expanded profile features (adding things like one's education and job, like many other dating apps do) and a cleaner messaging interface to help us keep track of our many ongoing conversations. With the Tinder's new algorithm, better-suited matches will, hopefully, lead to more (better-suited) dates.
Tinder CEO Sean Rad first announced the new algorithm during the Dublin Web Summit conference, said Sky News . "We're about to announce a huge change we've made to the algorithm and we have increased the number of matches by over 30 percent," Rad said. He added that Tinder users will get "deeper connections," plus see a "series of things that will help you make more sense of the sheer volume of people around you."
As it is, each day, 26 million (!!) matches are made on Tinder, and more than 10 billion matches have been made since it launched in 2012. Plus, over one million first dates are set up each week. Innnnsane! These numbers are bound to go way up due to Tinder's new algorithm, which means it may continue to reign as the most popular dating app for meeting new people.
Ryan Ogle, CTO of Tinder, in a press release announcing the changes, said:
"With the updated algorithm, machine learning technology assesses and interprets the signals sent by our millions of users. With our ears even closer to the ground, we provide users with the most relevant potential matches to result in more meaningful connections — just as we've seen with the introduction of the Super Like, which has increased the quality of matches and lengthened conversations."
Sounds good, right? Though Tinder did not specify what information the algorithm will use in pulling people's data (aside from job and education in its expanded profile features), I guess we'll see how people match up, so to speak, once we start seeing the changes for ourselves. "We are looking at more data signals and, with machine learning, we are getting smarter at optimizing those signals when we're looking at relevance for individuals," Rad tells Mashable.
Of course, dating site OKCupid is renowned for their algorithms, so I'm glad Tinder's adding more match-making techniques to their app. It'll also probably help them be taken more seriously by people who still dub them the "hookup app." (Personally, I've had some of the best dates via Tinder, and not hookup-y ones… some have led to relationships!)
Whether or not you're new to Tinder, here are some hacks to get you through the app.
1. Swipe Selectively
I know some people who play games with Tinder—their friends "choose" matches for them or they have "Wine & Swipe" nights, where they project potential matches' profiles onto a TV screen (!!) and they all vote. No matter why you're on Tinder—for love or hooking up or both—you can find someone. Actually, several someones, if you start to be more selective on your swipes. Don't just look at the pictures (I know it's easy to fall into that trap!), but read the profiles, too.
2. Check Your Profile
Like attracts like, right? So if you're complaining that you're only getting vulgar messages and half your matches have their shirts off, check your profile. Is yours PG-, PG-13- or R-rated? What kinds of pictures do you have up? Solo ones (close-up, medium, and long shots)? Or ones with a bunch of friends (which could be equivalent to the guys who post pictures of them surrounded by a bunch of women)? When you look at the Facebook pictures that are linked to your Tinder profile, just ask yourself: Are these the best representation of me? Same with your written Tinder profile: Is this the real me (and do you give people topics to respond to or ask about)? Check out mine above, for instance, and I have only received one vulgar message EVER.
3. Take Advantage Of "Super Like" Button
If you're already on Tinder, you've probably seen that blue star on the bottom right. That's your Super Like button (or, you can just swipe up). You can only use it once a day (five times a day if you pay and are a Tinder Plus member). When someone Super Likes you, it'll say so when they pop up as a potential match. You can Super Like them back, or simply like (or not like) them.
"The Australian rollout of Super Like indicates that users are finding higher-quality matches, and more matches in general," Rad told Mashable. "Super Like is also a natural conversation-starter, like a digital equivalent of walking over to someone in a bar and buying them a drink." As a result, Tinder said conversations from Super Likes lasted 70 percent longer. And, people who are Super Liked are actually 3X more likely to swipe right on those who Super Liked them. Give it a try!
Want more of Bustle's Sex and Relationships coverage? Check out our new podcast, I Want It That Way, which delves into the difficult and downright dirty parts of a relationship, and find more on our Soundcloud page.
Images: Eugenio Marongiu/Fotolia (1); Giphy