9 Unconventional Chokers You Need To Own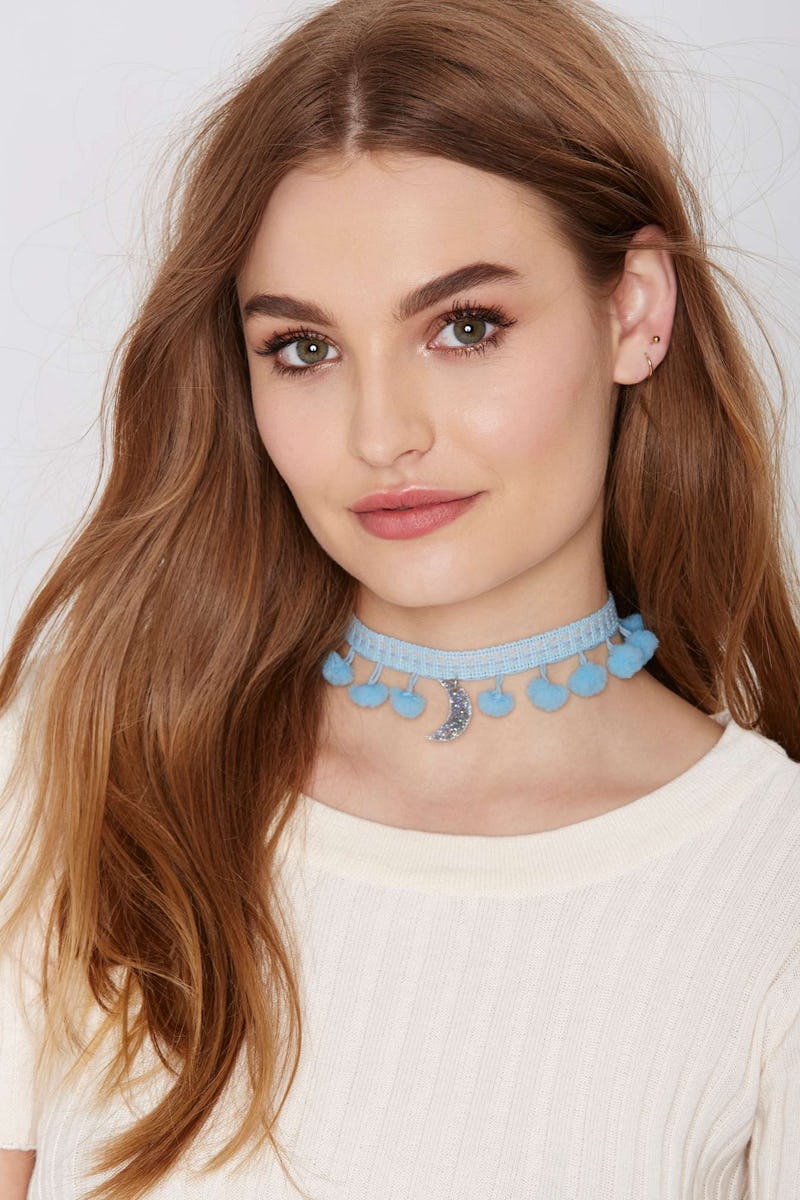 Anyone who knows me knows that I love my tattoo choker more than anything in this world. I wear it every day, and feel naked without it. However, lately I've been scouring the Internet for the best choker necklaces out there because, well, my favorite accessory in the world was lost last week. Chokers, especially black tattoo chokers like the one I owned, are just so versatile. They immediately elevate any look to "cute '90s punk" status, and what could be better than that?
However, there are many other ways besides the classic tattoo choker to rock these necklaces. Ways that involve wild colors, glitter, leather, velvet, and even pom-poms. Whether you want to channel the '90s, '60s flower power, or Victorian looks, there's pretty much a choker for every occasion.
Take it from me — arguably the basic tattoo choker's biggest fan — that it can be hard to step out of your comfort zone. But what better way is there to explore your favorite accessory's various facets than trying out as many unconventional versions of it as you can? Plus, no matter what design or color you opt for, you can't possibly go wrong with a choker necklace.
Here are some of your best options if you're willing to dip your toe into unconventional choker necklace territory.
1. Glitter
Purple Glitter Tattoo Choker, $4, Etsy
Add a touch of glittery color to your tattoo choker repertoire with this necklace.
2. Charmed
The Saturn Choker, $7, Etsy
You can even try a charm choker necklace. There are so many options including Venus symbols, yin yangs, and this cute saturn one. Layer it over your classic tattoo choker to add some more edge to your look.
3. Flower Girl
Tattoo Choker Necklace with Daisies, $5, Claire's
Embrace your inner flower child and wear it across your neck instead of your head with this adorable choker.
4. Velvet
Basic Velvet Choker, $5.50, ASOS
If you love velvet as much as I do, you'll adore this red velvet choker. Try one with a brooch and you'll be exuding all of the Country Western Belle vibes.
5. Victorian
Isabelle Choker Necklace, $18, Urban Outfitters
Channel your inner Victorian self and check out this lace choker with an adjustable clasp at the back.
6. Macrame-Inspired
Suzywan Deluxe Moon Child Choker, $10.50, Nasty Gal
Get really outside of the box and try this cute baby blue choker, complete with fuzzy blue pom-poms. It's definitely a statement piece.
7. Fancy
Ball-Bearing Choker, $10.90, Forever 21
This very modern take on the choker would be perfect for pairing with any formal outfit, as well as dressing up your favorite T-shirt and jeans.
8. Simple & Elegant
Black Velvert Double Strand Choker Collar Necklace, $4.39, Etsy
Go for a simple, more elegant look with this dainty double strand collar. Bonus: This one's velvet too.
9. Edgy
Tighten Up Vegan Leather Choker, $19.60, Nasty Gal
Channel your kinky side and invest in a sexy leather collar.
There is no grander accessory than the choker, my friends.
Images: Courtesy Brands