What Christmas Is Like Around The World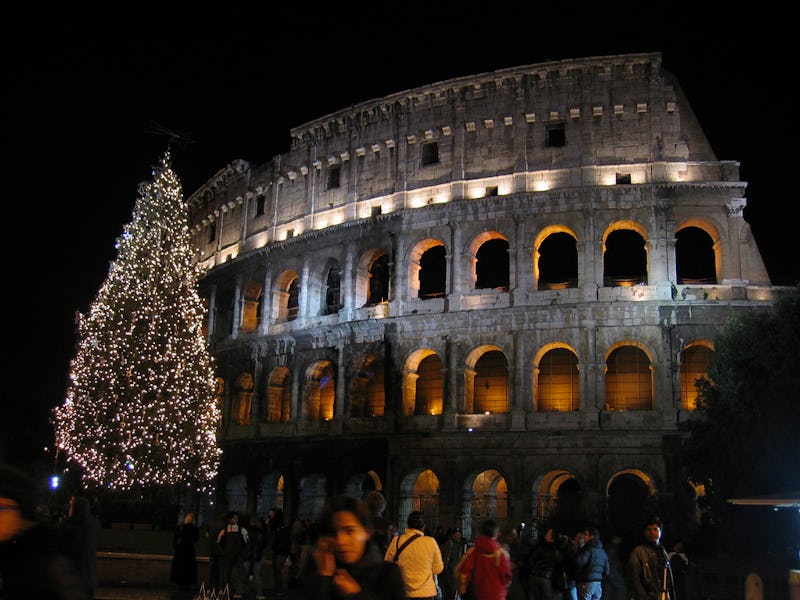 With Christmastime here, what better way to get into the holiday spirit than taking a tour of the globe and learning more about Christmas traditions around the world? Photobox brought us "Snapshots of Christmas Around The World", an interactive map that aggregates photos from major cities across six continents to provide a window into how everyone else is celebrating. Holiday decor company Balsam Hall curated a photo collection of meaningful Christmas ornaments from across the globe as part of a moving project that is sure to melt even the iciest Scrooge-like heart. As we come together with family and loved ones for the holidays, it's moving to see how others, the world over, are spending this cherished time.
Every family has its own way of doing Christmas — whether it's a special way to count down to the big day, a certain recurring dinner staple, or something stranger that might not be understood by others but makes holiday memories unique and unforgettable. Just as traditions vary from household to household, they vary greatly across cities and countries and continents. What is unifying is the act of coming together to celebrate with those we love, whether that's over a feast of seven fish or some KFC.
1. France
On Christmas Eve, French children put their shoes out by the door of the home to be filled with gifts. After Christmas Eve Midnight Mass, the main Christmas meal, called Réveillon, is enjoyed Christmas morning. Dishes can include roast turkey or goose, oysters, and foie gras. For dessert, 12 sweets are served to represent the 12 apostles, and the French also enjoy a chocolate sponge cake called bûche de Noël which is decorated to look like a Yule Log. Real Yule Logs made of cherry wood are often burned on the fire.
2. Mexico
Christmas in Mexico is celebrated from early December through early January. The beginning of the month is devoted to celebrations honoring the Virgin of Guadalupe, Mexico's patron saint. From Dec. 12 and up until Christmas Eve, children perform the "Posada" processions, celebrating the part of the Christmas story where Mary and Joseph were seeking a place to stay, and each night there are Posada parties at different houses. The final Posada party occurs Christmas Eve, called "Noche Buena," and is a time for family. That night, many attend Midnight Mass known as "Misa de Gallo" (Mass of the Rooster), following the tradition that Christ's birth was announced with by the crowing of a rooster.
3. Japan
Japan might be home to one of the strangest Christmas traditions of all, and it has to do with fried chicken. In Japan, Christmas is neither a national holiday nor a religious one, but still, Japanese families will be celebrating come Dec. 25, but not in a way you'd expect. Thanks to a very successful ad campaign by KFC in 1974, " Christmas Chicken " has become a holiday staple, with the fast food restaurant selling full Christmas meals complete with cake and champagne. It's become so popular that lines are out the door at KFC on Christmas day, and many are having to pre-order to ensure they get their Christmas bucket.
4. Austria & Germany
Come Christmastime, while children in these countries look forward to visits from Saint Nicholas, they also fear a visit from his less jovial counterpart Krampus, who instead of rewarding well-behaved children with presents, punishes children who have misbehaved. The roots of this mythical creature are in from Austro-Bavarian Alpine folklore. Prior to "Weihnachten" (Christmas Day), many families celebrate Advent to prepare for the arrival of the child Christ, or das Christkind. The advent calendar is an important part of Christmas tradition, where each day children find a chocolate treat awaiting them when they open a door.
5. Iceland
In Iceland, Christmas is known as "Yule" or "Jól," hailing back to ancient winter solstice traditions that are still practiced today and include feasts, bonfires, and Elfin dances. Each day from Dec. 12 to Yule Eve (Christmas Eve), Yuletide Lads, magical mystical creatures, come down from the mountains to pay visits. Children leave their shoes on the windowsill, expecting presents from the elves or Jólasveinn (Yule Man), but if they've been naughty they'll find a potato instead, or a message telling them to be good.
6. Puerto Rico
Christmastime in Puerto Rico is alive with "Parrandas" (carol singing) and partying in the streets. Friends gather late in the evening and begin visiting houses, awaking sleepers with song. Tradition is that once you've been awoken, you have to join the party, which can last until dawn. "Nochebuena" (Christmas Eve) is when the majority of the festivities take place, leaving "Navidad" (Christmas Day) to be a day of recovery from all the festivities.
7. Italy
In Italy, the Christmas Eve meal is the Feast of Seven Fishes. Meat isn't eaten until Christmas Day to celebrate the birth of Jesus. Also enjoyed is a spongey cake called Panettone, filled with candied fruits and raisins. The nativity scene is an important aspect of the holiday, made popular in the 13th century by Saint Francis of Assisi. Rome also prides itself as being the origin city of Christmas celebrations.
8. Sweden
One of the biggest celebrations in Sweden around Christmastime is St. Lucia's Day on Dec. 13. On this day, girls wear white dresses with red sashes and a crown of candles made of lingonberry branches in honor of the martyred Christian saint. Boys dress up as "Stjärngossar" (Star Boys). Presents are brought by "Jultomten" (Santa) or gnomes and elves.
9. Greece
On Christmas Eve, Greek children go out in the streets singing "Kalanda" (carols) while carrying boats, an old custom of the Greek islands. While Christmas trees are also popular, it's more traditional to decorate using a wooden bowl featuring a sprig of basil wrapped around a suspended cross to keep the "Killantzaroi" (bad spirits) away. On Christmas Eve, "Christopsomo" (Christ's Bread) is baked and decorated with a cross to be displayed on the table and enjoyed Christmas Day.
10. Australia
Christmastime Down Under occurs during children's summer holidays. The hot weather means that when caroling, lyrics like "snow" or "cold" are switched out for more appropriate hot weather terms, the Christmas meal is comprised of salads and cold meats, and Aussie children imagine that Santa changes out of his iconic suit and into cooler clothes. They also believe he gives his reindeers a rest for the Australian leg of his journey, opting instead for kangaroos to pull his sleigh. On Boxing Day, families and friends often make trips to the beach for barbecues.
11. Ukraine
It isn't until after New Year's festivities on Jan. 7 that Christmas is celebrated in Ukraine. Ukrainians decorate their homes with spiderwebs to usher in good luck for the coming year, thanks to an old Christmastime legend. Most fast the day of Christmas Eve before the "Sviata Vecheria" (Holy Supper) is eaten that evening, only after the first star is seen in the sky. The tradition of the first star represents the Wise Men's journey to find baby Jesus, and also makes for some very hungry individuals come nightfall.
12. Czech Republic
A Czech superstition is that if you throw your shoe over your shoulder on Christmas Day and it lands with its toe pointing to the door, you'll be married soon. The traditional Christmas dinner of fish soup, fried carp, and potato salad, is eaten the evening of Christmas Eve. "Ježíšek" (Little Jesus) leaves children presents under the Christmas tree while they are eating dinner in another room.
13. Spain
Like in Mexico, most people in Spain attend the Midnight Mass called "Misa Del Gallo" (Mass of the Rooster). Before the service, families eat their Christmas meal, traditionally "Pavo Trufado de Navidad," Turkey stuffed with truffles. In the Catalonia province of Spain, there's a Christmas character called "Tió de Nadal" (the Christmas log), which has a painted face and is propped up on two legs. Families care for the log by "feeding" it and giving it a blanket for warmth. On Christmas day, presents drop out from beneath it (giving it its nicknamed "Caga Tió" — the pooping log).
14. Brazil
Christmas in Brazil is a multicultural affair with an array of traditions. The Christmas meal varies with influences from different cultures, so it's possible to see Italian Panettone, Portuguese cod, and African dishes. From its Portuguese roots, "Presépio" (nativity scenes) are still very popular. Brazilians enjoy their own version of Secret Santa, called "Amigo Secreto." Otherwise, "Papai Noel" (Father Christmas) arrives to bear presents wearing silk, due to the hotter summer climate.
Looking for more holiday cheer? Check out Bustle on YouTube.
Images: Fox Wu, Bud Ellison, Tribp, Josh Angehr, Jon, Victoria Reay, Guillaume Baviere, Klearchos Kapoutsis, Robert Linsdell, Daniel X. O'Neil, Priit Tammets, Oh-Barcelona.com, Nikolas Moya/Flickr; KFC Japan