5 Shows Fans Of 'The Player' Should Watch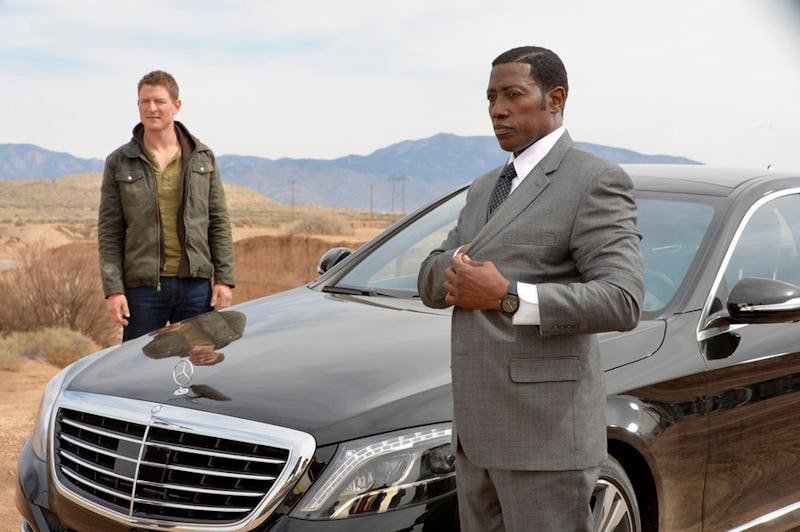 Every new fall show dreads becoming the first to be axed by its network, and this year that title went to ABC's serial killer drama/romance; Wicked City, which was cancelled after three episodes making it the first show to be pulled. However, sometimes networks don't go the full-out cancellation route, sometimes they cut down their original episode order instead, although that never bodes well for the series in question (it's basically a "break" rather than a "breakup"). This year the networks haven't been shy about dishing out order cuts, and recently NBC trimmed The Player episode order from 13 to nine. So, does that mean The Player won't be renewed for Season 2?
For those that haven't been watching it, The Player is an action series based in Las Vegas where a former FBI agent is recruited by a pit boss and forced to prevent crimes while rich people place bets on the outcome. Even though the premise sounds exciting, and the show co-stars Wesley Snipes and Philip Winchester, The Player failed to deliver in ratings and that's what the networks really care about. Although NBC will continue to air The Player through its ninth episode, production wrapped after Episode 9 and it seems like the series is dead in the water — sorry, fans! However, after The Player completes its last run, there are still so many shows to watch. I've compiled a list of five series that are worth seeing if you enjoyed NBC's action/thriller.
1. The Blacklist
James Spader stars as the charismatic former government agent Raymond Reddington, who works with the FBI to put away bad guys. The series has gained massive popularity over its three seasons and it's available to watch on NBC's site. Plus, John Fox, co-creator of The Player, is an executive producer on The Blacklist.
2. Blindspot
A more successful new fall show, NBC's Blindspot has already been renewed for Season 2, and since the show only just started, there isn't too much to catch up on. Blindspot also features an awesome leading lady, Jaime Alexander, who stars as a woman who wakes up in the middle of Times Square with tattoos covering her body that are clues to larger crimes. Intriguing!
3. Human Target
This short-lived Fox show follows a similar format to The Player: A security guard with some serious butt-kicking skills must unravel crime plots. Unfortunately, Human Target only ran for two short seasons, but the first episode is available for free on Amazon if you need something to fill the void left by The Player.
4. Strike Back
Another series about ex-military men being recruited for high-risk missions, there have been five seasons of Strike Back, available on Cineplex. Fun fact: When star Richard Armitage couldn't continue on after the first season, Winchester from The Player and Blindspot co-star Sullivan Stapleton joined Strike Back as its two leads — before they moved on to each star in their own NBC series.
5. Nikita
In this spy thriller, a secret government agency rescues at-risk youth from around the country and recruits them to be super-spies. However, their whole organization is at risk when one operative, Nikita, goes rogue. Filled with great action and international government plots, Nikita is a fun and entertaining spy drama. Plus all four seasons are on Netflix!
So, even if The Player gets cut, there are plenty of other shows in the sea.
Images: Gregory Peters/NBC; Giphy (5)