Connie Is Taking A Break After 'Below Deck'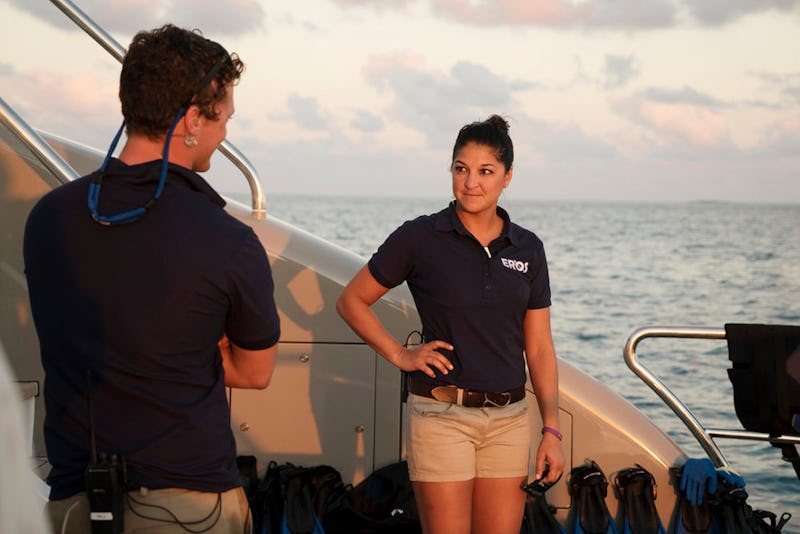 In lieu of the Housewives-style text on the screen, the Below Deck Season 3 crew checked in with a final installment of their Bravo blogs that asked the question: where are they now? And while Rocky's admittedly duplicitous answer is the most exciting, it's not the only interesting little blurb. For example, does Connie still work on Eros? She wrote about remaining on the boat after the Bravo charter was complete, after the TV cameras were long gone, and the Caribbean winter charter season came to an end.
"When our season in the Bahamas ended, I actually ended up staying on the boat and doing the crossing where we ended up chartering throughout the whole Mediterranean," Connie said. Wow, even after she received bad news about her father dying earlier in the season, she decided that she wanted to keep working instead of heading home to be with her family. Connie is obviously physically tough, but she's proven to be emotionally tough as well.
Because it takes nerves of steel to deal with a season of Below Deck, most of the crew wind up taking significant time off or spending time with family after the season is over. And even though Connie put in basically double the time as the rest of her costars, she's also been taking a well-earned vacation now that she's back in Florida. "It feels so good to see my family and friends and also have my bed, truck, and boat," Connie wrote in the blog. And it sure looks like she's having an amazing time.
She's Riding Some Extreme Waves
It's too bad Connie and Rocky don't get along, because I feel like she'd also be down to head to Nicaragua in order to go surfing.
She Celebrated Halloween With Some Admirers
Connie's uncle and cousin paid an adorable tribute to her Below Deck role by dressing as Captain Lee and Connie for Halloween.
Hanging Out With Kate
Connie also wrote in the blog that she's become really close with Kate now that filming has wrapped. "We live close and became closer friends after the show, and we have been having a blast."
Enjoying Her Newfound Fame
This is Connie's first season on Below Deck, so she's also been enjoying the perks of being a local celebrity.
Visiting The Shooting Range
It can help people blow off some steam, right? And in preparation for going into the pressure cooker of the Below Deck reunion, I don't blame Connie for wanting to indulge in some adrenaline-pumping hobbies that could help her chill beforehand.
Image: Virginia Sherwood/Bravo