Seth Rogen Reveals The Worst Gift He Ever Recieved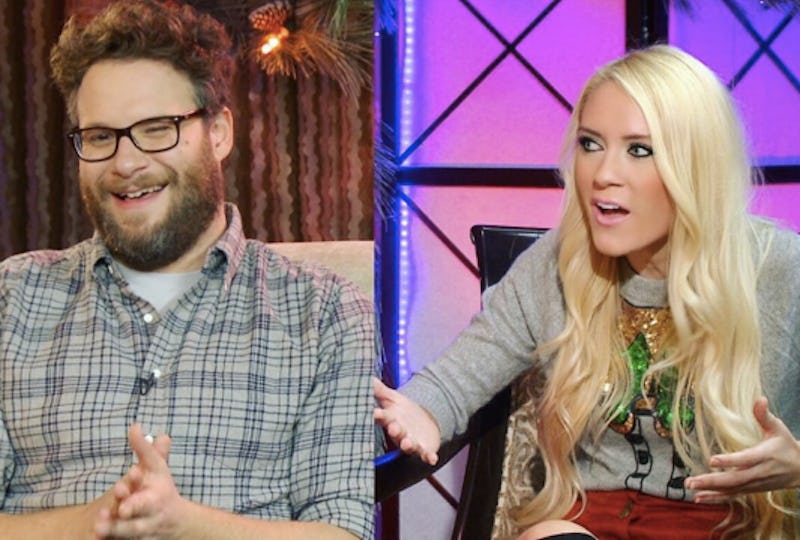 One of the only R-rated Christmas movies you'll see this year stars Seth Rogen, Joseph Gordon-Levitt, Anthony Mackie, Jillian Bell, Ilana Glazer, Mindy Kaling, Miley Cyrus and — OK, I'll stop. The Night Before is a star-studded holiday movie that features both Michael Shannon and [spoiler alert!] James Franco's you-know-what in a single film. Basically, you have to see it to believe it. Er, seeing is believing — is that how that phrase goes?
The Night Before follows three friends as they embark on their Christmas Eve tradition. Each year, the buddies spend the night looking for the Holy Grail of Christmas parties. And this year they've found it in the form of the extravagant Yule Ball.
I had the supreme pleasure of sitting down with five of the stars of the film as they discussed what items their version of the Yule Ball — that is, the ultimate party — would have to include. "Probably a lot of weed," Broad City's Ilana Glazer says. "And the album Thriller played in its entirety," Joseph Gordon-Levitt adds.
They also reminisce about the worst and best holiday gifts they ever received, as well as what it was like to shoot the holiday movie in New York summer heat.
Watch the interview — which includes Rogen discussing his "vagina" — below. The Night Before is in theaters now.
Images: Anna Klassen