A Playlist To Give Thanks To This Turkey Day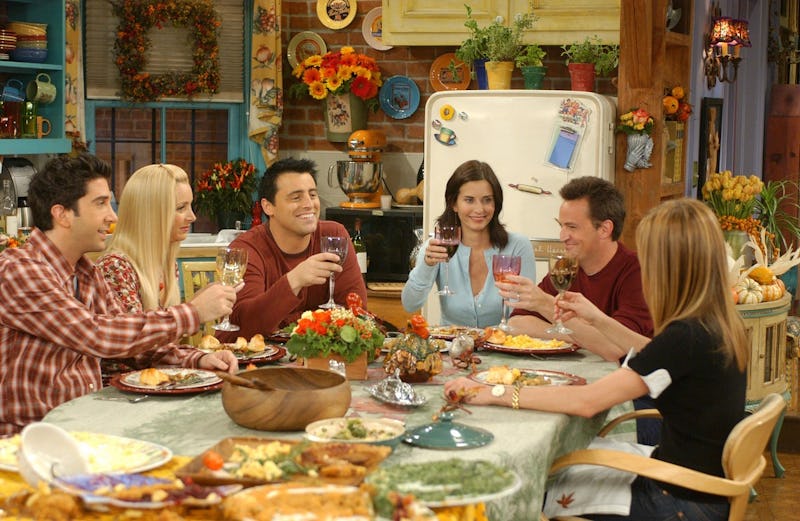 As everyone prepares for Thanksgiving, what better way to get in the mood for the holiday than by listening to some songs about gratitude. Before you groan, thinking that this is going to be one of those cheesy playlists that make you want to vom before you've even eaten too much turkey, just stop, OK? Sure, gratitude can be hella cheesy, but it's also an opportunity to examine songs you might not have thought all that much about before, that remind us of the good things in life. And there are so many things to be thankful for right now, when you think about it. Justin Bieber is back. Adele's somehow bottled all of our collective feelings on her new album. Ryan Gosling will soon host SNL for the very first time.
As the holiday season approaches, it's time to pull out the perfect jams for basting the turkey to. Pop the lid on the cranberries, open a bottle of wine, and get your gratitude playlist at the ready. It's time to get thankful for all the amazing things that have happened in 2015, whilst singing along like no one is listening, and maybe busting a few moves in the process.
1. One Direction — "Perfect"
What better time than Thanksgiving to be grateful for One Direction? It's even more apt as 1D are taking a hiatus and will be gone from our lives for a year or two. "Perfect" is so up-beat, and about seizing the moment with that person you like. A total gratitude jam.
2. Drake — "Hotline Bling"
Perhaps the opposite of a gratitude jam, "Hotline Bling" is about regretting the things you've lost that you should've held on to. But, with dance moves like this, you won't be able to resist doing your best Drake impressions while you consider all the things you're grateful for.
3. Alanis Morissette — "Thank U"
"How about me enjoying the moment for once?" A song all about the necessity of self-reflection, time to give thanks and focus on your own emotional well-being.
4. Katy Perry — "Firework"
If there was ever an anthem about being yourself in the face of your critics, this is it! Believe in yourself, and feel gratitude for the fact that you're alive and awesome.
5. Kelly Clarkson — "Piece By Piece"
A song about appreciating the important things in life, like the people who treat you like gold. Clarkson looks back on her difficult relationship with her father, which makes her focus on the fact that her husband is her rock. It's beautiful.
6. Miley Cyrus — "The Climb"
Is life sometimes a struggle? Sure. But understanding that it is helps us to move forward, pursue our dreams in the face of adversity, and take stock of the good things in our lives. Classic Miley Cyrus!
7. Sia — "Alive"
A song about the magic that is being alive. Despite facing difficulties that seemed impossible to survive, "I'm still breathing." Gratitude for that!
8. Lea Michele — "Cannonball"
With lyrics like "I will start living today," Lea Michele's song is all about believing in yourself and being thankful for fresh starts.
9. Cher Lloyd ft. Becky G — "Oath"
Appreciating your besties and promising to be there for them, always. BFFs forever!
BONUS TRACK: Santino Fontana in Crazy Ex-Girlfriend — "What'll It Be"
Maybe not upbeat, or about gratitude all that much, but this tune from Crazy Ex-Girlfriend is set on Thanksgiving and is about wanting to reach for your dreams but not being able to. If anything, it should push us to really grab the things we want, and not stop until we do.
Happy Thanksgiving, y'all!
Image: Warner Bros. Television