How To Recycle Your Old Bras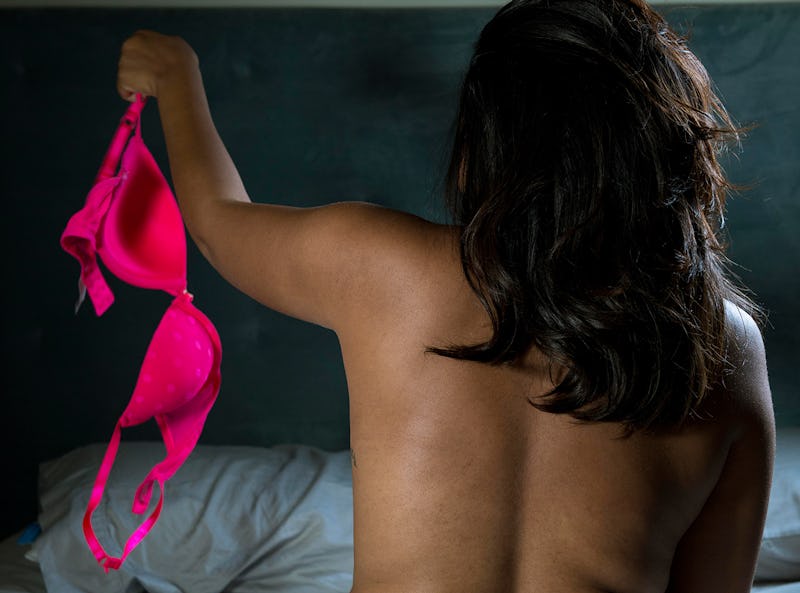 One woman can get through quite a few bras in her lifetime. In order not to be wasteful, it seems like a good idea for all of us bra wearers to recycle our old bras once we're done with them, rather than tossing them in the trash. Personally speaking, my bras are the one thing which I can't live with and I can't live without. At this moment in time, I have started going braless while in the house (and occasionally during the odd trip to the supermarket) and I applaud those women who don't wear bras. Sadly I am not there yet but one day, hopefully in the near future, I will feel comfortable enough to stop wearing a bra altogether.
Although I like the extra confidence bras give me, I often find them uncomfortable and a little annoying. Finding the perfect bra can be difficult and looking after your bras can make you world-weary. All that hand washing and mastering of careful storage techniques can be a real time suck, but tossing your lingerie in the trash after a couple of uses is just plain wasteful. Bras that are slightly worn might not be perfect for everyday anymore, but there are plenty of creative uses for them to consider.
After all of the rigmarole you've been through in searching for the perfect bra and caring for it during its lifetime, you're probably going to want to recycle it. So, here are a bunch of ways to do just that.
1. Donate Them To Support Breast Cancer Survivors
On the Bras For A Cause blog, Nicole Glabman tells readers about her breast reduction. The surgery left her with many bras she no longer needed, which, after a little Googling, she realized she could donate. Bras For A Cause gives gently used lingerie and swimsuits to breast cancer survivors, especially women in less fortunate communities. If you too have any bras you no longer wear, please get in touch with Bras For A Cause to donate.
2. Give Yourself Some Extra Support
I love backless dresses and tops, but hate that I can't wear a regular bra with them. There are special stick-on bras you can buy, but if you have an old bra going spare, you can craft yourself some extra support. Katie of the Skunkboy blog informs readers how to sew bras into backless dresses in order to give you a busty boost of confidence. I will definitely be using this trick.
3. Create A Quirky Caged Bra
This is a super DIY for anyone who loves to wear backless clothing, as it makes a statement out of what would normally be a boring bra strap. The crafter even suggests that you could wear a caged bra as a top, which I think would look really edgy and would keep you cool in the summer months. This craft only repurposes your bra cups, so look to Point 5 to discover what to do with your leftover bra straps.
4. Give Them To Someone In Need
If you're a gal with a bit of a bra obsession that's lead to a huge collection, including some brand new pieces or bras you've never worn, you can donate them to your local Goodwill or similar store. This will enable women who might not be so fortunate to be able to purchase attractive underwear at a discounted cost. You'll be left with some good karma and more space in your underwear drawer.
5. Craft A Bra Strap Floral Headband
Instead of buying a new floral headband each year for the festival season, why not craft your own from your old bra straps? This has got to be one of the easiest yet most effective DIY tutorials out there. To craft a floral headband out of a bra strap, there is no sewing required and very few pieces of equipment are needed. If you're new to DIY this would be a fantastic tutorial to get you crafting.
6. Use The Padding For Shoe Inserts
The clever folks over at the blog Clossette discovered a simple solution to recycling your old bras and making your shoes fit better: using bra padding as shoe inserts. All you need to do is take out the padding from an old bra and slip it into a pair of shoes that are a little too big or uncomfortable to wear. This is also a great solution for those who dislike bra padding in general because whenever you get a new bra, you can take all of your padding out and use it to make your shoes a pleasure to wear.
7. Make A Purse Out Of Your Old Bra
This tutorial is super fun and the finished product looks really cool and rather unrecognizable from its original state. If you're a fan of gorgeous bras that may have cost you a pretty penny this is a great way to recycle the entire thing and make the most out of its beauty. Sometimes it's difficult to throw away your most beloved bras but with this brilliant DIY you don't have to.
Now you don't really have an excuse to throw those bras away, do you?
Want more style tips? Check out the video below and subscribe to Bustle's YouTube channel!
Images: Andrew Zaeh/Bustle