The 'Degrassi: Next Class' Trailer Is Here!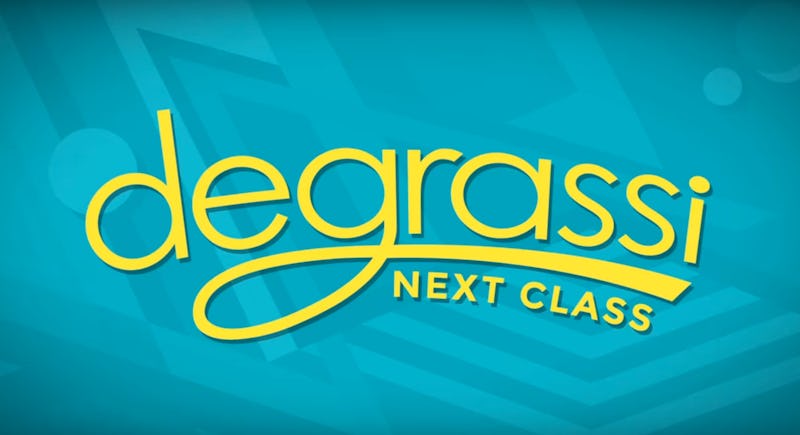 When TeenNick revealed that it and Degrassi would be going their separate ways back in June of 2015, the teen soap opera needed a hero. Fans of the teen soap opera needed a hero. And a popular streaming service was just the hero we were looking for: Netflix scooped up the long-running series before we could say "Heather Sinclair." And because Netflix is the considerate lionheart that it is, we do not have to wait too much longer for the new episodes: The first season of Degrassi: Next Class will be available as of Jan. 15, 2016, and a trailer for the newest installment of the Degrassi franchise hit the Internet Tuesday. (And yes, there's a 100% chance I will spend every last minute of that weekend watching Degrassi: Next Class.)
My main takeaway from the preview? Much like its predecessor, Degrassi: Next Class will most definitely "go there." And I would expect nothing less. Not only does the trailer hint at at a few of the primary Next Class Season 1 story lines (something with Miles, something with Grace, something with Lola, etcetera), but there also happen to be some smaller "it goes there" moments. Smaller "it goes there" moments that deserve some attention. Here are some of the things that happen in the Degrassi: Next Class trailer that really captured my heart:
Tristan's T-Shirt
I am always a fan of a good plunging scoop neck.
Maya's Hairdo
I am always a fan of a good half-up, half-down, teased hairdo.
This Knee Slide Scene
I hope Shay (Reiya Downs) and Lola (Amanda Arcuri) wore kneepads while filming this. If they didn't, I can only assume that the Degrassi Community School hallways are paved in Cool Whip.
Who Is This Guy?
Welcome to the Degrassi fold, basketball face smack dude.
This Computer Keyboard Explosion
The first time I watched the trailer, I wondered why Hunter Hollingsworth felt the need to throw silica pellets on the floor. And then I realized I was looking at the computer keyboard's innards. Its silica pellet innards.
These Degrassi Hoodies
Um, where can I get one?
This show is off to a very, very good start.
Images: Netflix (7)