Rocky Makes A Major Accusation On 'Below Deck'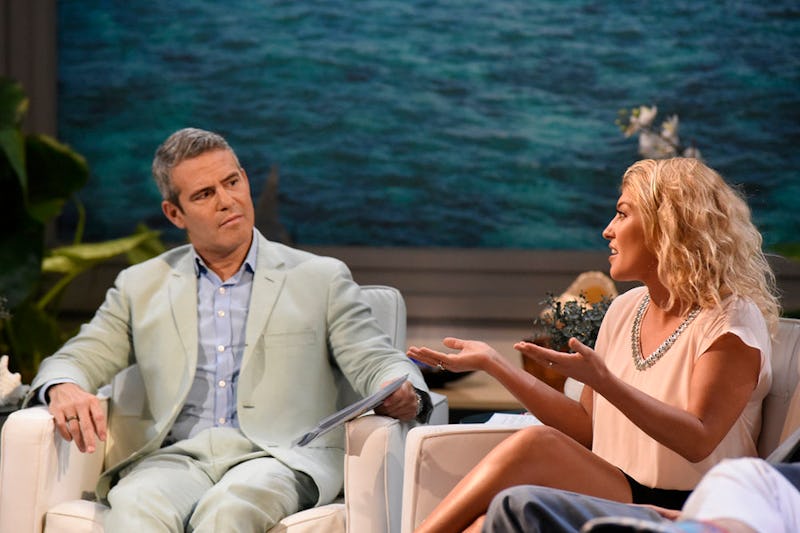 As spacey as Rocky often seemed on Below Deck this season, she came prepared to come for Kate during the Season 3 reunion Tuesday night. The frequent adversaries while aboard the Eros didn't seem to miss an opportunity to make a dig at one another while they revisited the season's biggest moments with host Andy Cohen. When it came time to discuss one of the most dramatic moments of the season, the fire breaking out in the oven in the galley, Rocky added fuel to the proverbial fire when she accused Kate of allegedly drinking before the accident.
As any good Below Deck fan knows, drinking while on charter is a big no-no. If anyone is found drinking on charter, that usually earns a plane ticket home, pronto.
But that didn't happen to Kate. Instead, Captain Lee found Leon, the yacht's chef, to be at fault for the fire, and he got the boot, even though he too made a last-ditch effort to save himself by insinuating that Kate had been allegedly drinking during the charter, which he later admitted was not true. Captain Lee stood by his decision to fire Leon during the reunion because a dirty oven caused the fire, and the chef is always in charge of all of the cooking that occurs on a yacht, no matter what time of day it is.
Rocky, who said she is still friendly and in contact with Leon today, revealed that she had found a mug with alcohol in it that Kate had allegedly been drinking out of before the fire broke out. She said she went to Eddie to ask what they should do about it, and he replied that he would take care of it. Rocky said that she saw him pour out the alcohol. Eddie said he didn't remember doing that.
Kate completely denied drinking on charter and said that there has never been an incident like this involving her. Instead, she took this opportunity to reiterate how unhelpful Rocky had been in the moments leading up to the fire. Kate said that Rocky didn't know how to work the DVD player on the yacht, which she should have learned to do. That meant Kate was forced to take care of the charter guests' entertainment while Rocky was in the kitchen tending to the popcorn and the frozen pizza that Kate had put in the oven.
For the two seasons that we've seen Kate on Below Deck, she has seemed nothing but professional, so it's very hard for me to believe that there would be any truth to Rocky's accusation. It didn't seem like anyone else but Rocky believed it either. Similarly, everyone but Rocky seems to be fine with putting the blame for the fire on Leon, so let's hope this is one fire we can finally put out for good.
Image: Denis Contreras/Bravo