Make Every Day 'Game Of Thrones' Day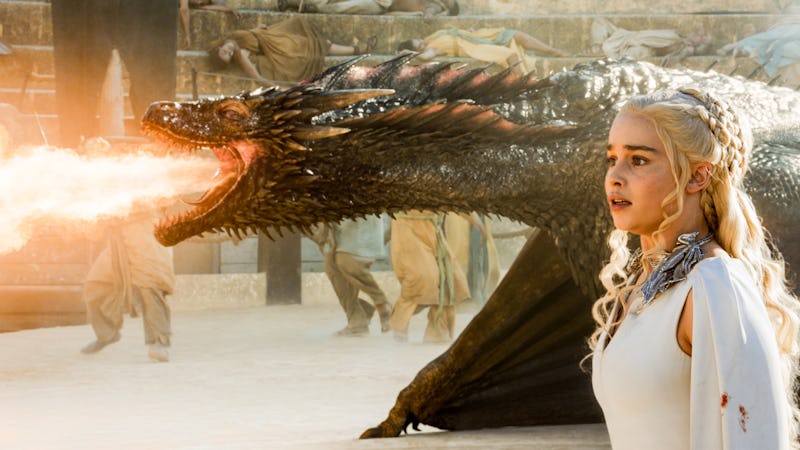 At this point, I think it is safe to say Game of Thrones isn't just a show or a book, it's a way of life. If you are a fan, then you know you spend part of every day theorizing with your fellow fans, thinking up plausible ways to resurrect Jon Snow, or at least daydreaming about Jaime and Brienne's inevitable reunion (I know that last one's not just me). Why shouldn't you always have a little Westeros style flair in your life? Waiting until April to go into full on fan mode is silly when it is so easy to celebrate Game of Thrones every day.
Now, I'm not suggesting you suddenly replace your armchair with an Iron Throne replica (because ow), but there are small ways you can incorporate a little bit of Game of Thrones fun into your day to day routine without anyone else noticing if you don't want them to. From beer straight out of Westeros to stylish necklaces that show your House allegiance, you can express your love for Tyrion, dragons, and the political maneuverings of a fictional kingdom anytime you want. Don't wait for the Season 6 premiere to let your Game of Thrones love flow. Make every day a Game of Thrones day with these cool products.
1. Sample Some Game Of Thrones Beer
HBO and Brewery Ommegang have partnered to roll out several Game of Thrones inspired beers with the latest being the "Three-Eyed Raven." Stock your fridge full of this magical brew and prepare to be transported beyond The Wall with one sip. If you already like beer, then trying one inspired by your favorite show is just good sense.
Price: $9.99 at craftshack.com.
2. Wear A Winterfell Map Necklace
Map and quote necklaces are a beautiful, understated way to keep Game of Thrones close to your heart. The Etsy shop GlamorousGlueDesigns is full of cool jewelry that pays homage to the books and the show (there are even Hodor earrings), but my favorite is definitely this pendant featuring Winterfell on the map of Westeros. It's an elegant piece you can wear with any outfit, making it a versatile way to show your Stark pride.
Price: $21.00
3. Celebrate Your Ship With Throw Pillows
Are you still mourning the loss of Khal Drogo? Then these gorgeous throw pillows are perfect for you. You can spend every night snuggling with Dany and Drogo's heartfelt quote while also enjoying the clean design of the pillows. You can toss these on your couch or bed and be absolutely certain they will look amazing in your home.
Price: $32.72 at Traviart
4. Bask In The Scents Of Westeros
These candles from Etsy shop The Melting Library will transport you across the Narrow Sea, to the Weirwood, and let you imagine what dragons smell like. Imagine coming home after a long day of work and lighting a candle that will make your whole apartment smell like your favorite fantasy series. That sounds like the perfect evening, right?
Price: $26.00 for three soy candles
5. Whip Up A Game Of Thrones Dinner
What better way is there to celebrate than with food? Instead of ordering pizza, pick a recipe out of the official Game of Thrones cookbook and try your hand at making some faux medieval tastiness.
Price: $21.41 at Amazon.com
6. Break Out A Game Of Thrones Board Game
Everyone loves game night, and there's no better game than the Game of Thrones. While there are several Game of Thrones games on the market, I prefer to stick with the classics. Game of Thrones Monopoly will inspire your friends to make more political maneuvers than Cersei and Tyrion combined, and even non-fans can get in on the action since Monopoly is pretty much universally beloved.
Price: $59.99 at Toys R Us
7. Mark Your Place With Jon Snow
If you love reading, then one of the cutest ways to add some extra Game of Thrones joy to your life on a daily basis is to mark your place with a bookmark featuring your favorite character. There are tons of Game of Thrones inspired bookmarks out there (and you could probably get crafty and make your own), but I love the chibi style used by Etsy shop Magicbookmarks.
Price: $4.10 for a set of three
8. Protect Your Cookies With Dragons
You have to admit, this cookie jar is the coolest cookie jar in all the land. Shaped like one of Dany's eggs, the cookie jar has no discernible Game of Thrones markings which means only fans will get the reference. Everyone else will just wonder where you got such an epic jar to store your snacks.
Price: $29.99 at Think Geek
9. Carry Game Of Thrones With You Wherever You Go
You take your phone everywhere, so why not trick it out with all the major Game of Thrones' houses? This case can also be personalized as an added touch. This is a cool, but lowkey, way to celebrate your love for the series every single day.
Price: $16.99 at baby5studio
Grab some of this nifty Game of Thrones gear and prepare to always have a little Thrones in your life. Trust me, when you celebrate your favorite show every day the world is a happier place (for you).
Image: Helen Sloan/HBO; Brewery Ommegang; Etsy (5); HBO/Game of Thrones (2)