Introducing #GlitterPits, Your New Favorite Trend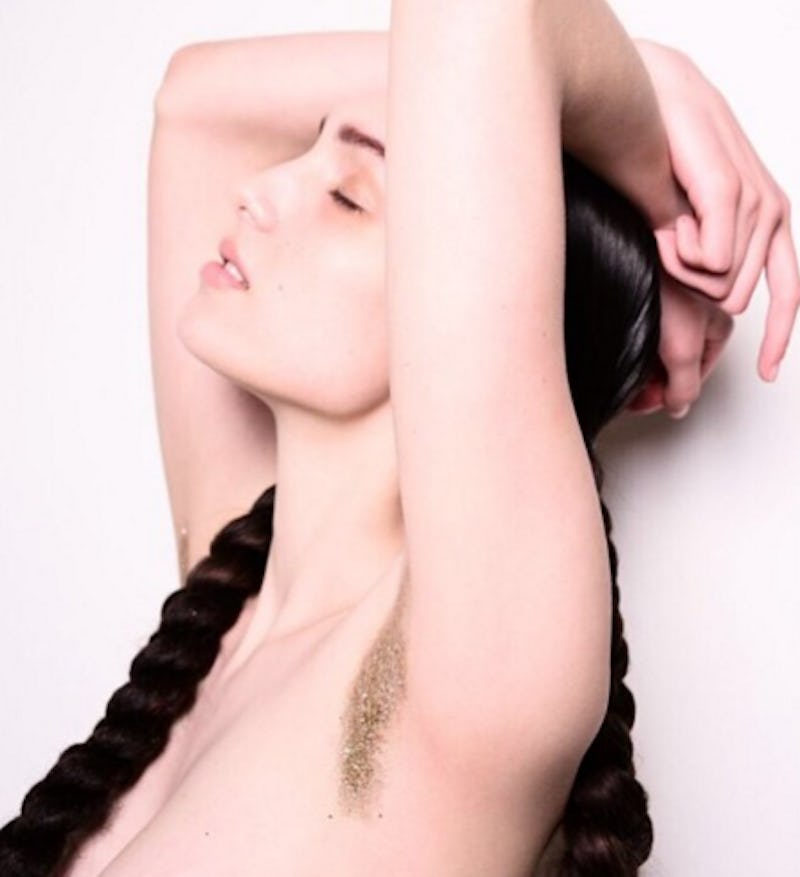 Colored arm pit hair is no more. The latest trend in making a feminist beauty statement while also flaunting natural armpits is — drum roll please — #GlitterPits. Similar to the recent #GlitterBeard trend but for the female set, #GlitterPits encourages women to apply glitter to their under arms in the name of equality, rather than promote society's body hair norms. Plus, sparkles. Need I say more?
As you may remember, #GlitterBeards were headline-making news a few weeks ago. It has been established that the glitter beard trend was not only was a perfectly festive way to kick off the holiday season, but also to share the tedious experience of simply just wearing glitter (It. Gets. Everywhere). Now, it seems as though glittery armpits are taking it to the next level. Women (and some men) are smearing glitter all over their arm pit regions and sharing the experience on social media.
Search #GlitterPits on any social media platform and you'll be mesmerized at the popularity of this trend. Not only because of the gorgeous sparkles, but because of how confident and beautiful the women posting about this trend seem to be.
What better way is there to promote underarm-equality than with gold, glittery arm pits? Feminism-meets-beauty at its finest!
Although this trend has been around for a while now, as social media posts show, it couldn't be gaining popularity at a better time. This time of year makes all things sparkly absolutely irresistible. Since the approaching winter will have arm pits snuggled and covered from the harsh weather, they deserve some extra love and attention.
This trend isn't for everyone, as I predict only the most daring, outspoken social media users out there will actually try out #GlitterPits for themselves. That being said, it's definitely a fabulously sparkly act for an important message.
So for those of you that are as excited about #GlitterPits as I am, here are a few easy steps to achieve the sparkling arm pits of your dreams.
1. Pick Out Some Glitter
Creatology Glitter, $4.99, Michael's
You would think that the first step would be to grow out your arm pit hair (if it isn't already grown!). But I know for me personally, I like a little motivation. And what's more motivating than a huge jar of glitter just waiting to be used? Pick out a glitter from a local craft store — they'll inevitably have a lot of option to choose from, so pick one you adore!
2. Grow Out Some Arm Pit Hair
Unless you already prepped with natural hair at the ready, this step may take some time. I'm a naturally hairy person, so to grow out my arm pit hair typically takes about a week or two. Depending on your body hair, this make take some extra time. But just remember how cool your arm pits will look covered with glitter, and you'll endure. I promise.
3. Prep Your Hair
Taking some tips from The Gay Beards and their fantastic tutorial on how to get a perfectly flawless Glitter Beard, make sure to prepare your pits for the best glitter application. While they suggest beard oils, I'm sure a hair oil like jojoba or argan would also work on arm pit hair. Hairspray is a great option too!
4. Apply The Glitter
Finally, the best part! Apply the glitter as evenly as possible. Feel free to add as much or as little as you'd like, but make sure it's fabulously sparkling.
5. Attempt To Clean Up
I know, I hate that this is a step, too. But, alas, unless you are a fairy the glitter clean up will be inevitable.
5. Share Your Experience
Finally, if you're going to take the plunge and do glitter pits, the last step is to post your experience on social media. Because frankly, those sparkling armpits are too amazing not to share!
Want more beauty tips? Check out the video below, and be sure to subscribe to Bustle's YouTube page for more hacks and tricks!
Images: KatrinaMolson/Instagram, Courtesy Brands