13 Tattoo Ideas For Forever BFFs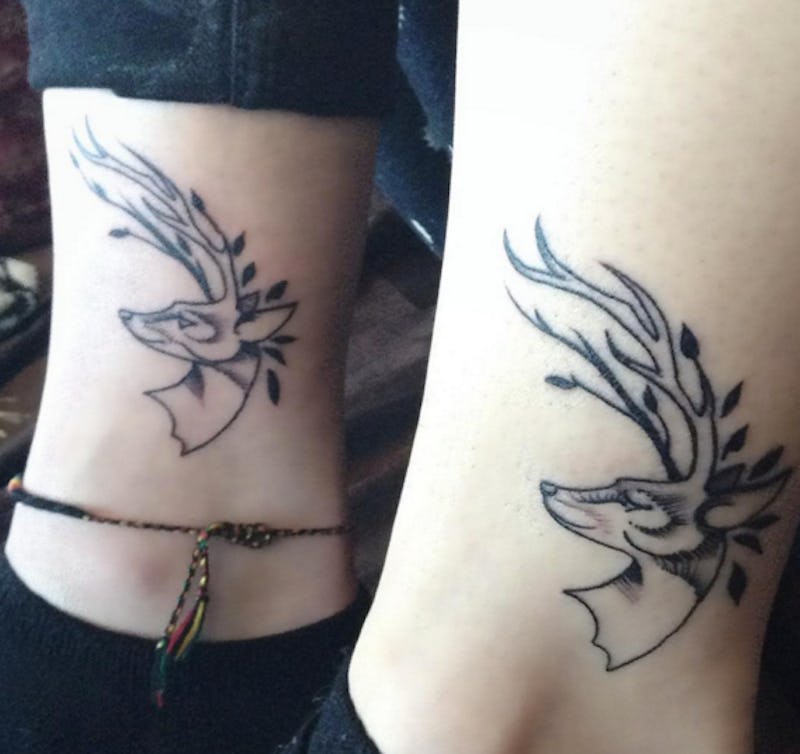 Best friend tattoos are a great way of showing your bestie some eternal love, even if you're not always together. And since the world is your oyster when it comes to BFF tats, so you should definitely consider checking out some tattoo ideas for best friends before you both go under the needle. Obviously it's worth putting some deep thought into your BFF tattoos, since you'll both share illustrated skin for the rest of your lives. You need to make sure you're both on board with your designs and the concept.
Personally, I'd never considered BFF tattoos until I saw Kendall Jenner and Hailey Baldwin's matching tattoos of little broken hearts in red and white, respectively. I'm not sure what the meaning behind the broken hearts is, but they remind me of those adorable split necklaces so many of us used to wear with our best friends when we were kids. There are actually tons of celebs sporting matching tattoos, such as Lady Gaga and Brian Newman's trumpet tattoos and Miley Cyrus and Wayne Coyne's matching ink of Cyrus' deceased pooch.
With celebs like these to draw inkspiration from, how could you not want to celebrate your beautiful friendship in such a permanent way? Here are some other heartwarming designs to draw tips from as you contemplate commemorating your friendship with BFF tattoos.
1. The Ethereal Deer
If you and your bestie are looking for something really unique, why not put a spin on an animal design? These intriguing deer look totally magical with antlers that appear to be tree branches.
2. The Nautical Symbolism
Friends who live by the sea could get nautical-inspired designs to make a nod to their seaside heritage.
3. The Behind The Ear Designs
This elegant, symbolic design tucked neatly behind the ear is incredibly unique.
4. The Pinky Promise
If you promise to always be there for your BFF through thick and thin, this lovely "Promise" tattoo inked onto your little finger could be the one for you.
5. The Puzzle Piece Ink
These quirky tats symbolize that these mates fit together like a jigsaw puzzle. They have also incorporated what looks to be an important date, which could be the year they met. Other ideas could include utilizing another meaningful date, like when you graduated together or the date you started a business together. The only limit is your imagination.
6. The Cute Cupcakes
Perhaps you and your foodie BFF bonded over a mutual love of sugary treats? If that's the case, you'll both be needing an adorable cupcake tattoo so you can get your sugar rush on demand.
7. The Disney Family Tattoos
Sometimes in life, you truly do choose your own family. This sweet tattoo featuring a phrase from Disney's Lilo & Stitch is adorable and shows the world what this pair mean to each other.
8. The Forever Pizza Friends
Want to commemorate your shared interest in pizza and the acknowledgment that this is a friendship to last forever? Well, an infinity pizza might just be the ticket.
9. The Cat Lovers' Tats
These cute cat tattoos are a wonderful choice for any BFFs who are aspiring to be cat ladies when they get older. You could live in one huge house filled to the rafters with kitties.
10. The Meaningful Script
You may be in a position where you're lucky enough to have not just one BFF, but two. If that's the case, you could all opt for a meaningful verse, such as this thoughtful design that reads, "There ain't no me if there ain't no you." You could even choose different fonts to showcase your individuality and make yours a little different.
11. The Butterfly Designs
These beautiful tattoos feature butterflies and the infinity sign, possibly as a metaphor for the pair being free spirits who will forever be friends.
12. The Artsy Animal Tattoos
If you and your BFFL are creative types, an artsy animal tattoo could be your perfect match. This pair chose a beautiful watercolor-style elephant and zebra.
13. The Favorite Movie Reference
Film aficionados can take inspiration from their favorite film. These pals picked The Fault In Our Stars and referenced an iconic conversation from the movie that is super meaningful and packed full of feels.
Above all, remember to have fun as you come up with your own BFF tattoo design that is as unique as your friendship.
Image: tallywatorment /Instagram