Hulu's 'Casual' Scored A Golden Globe Nomination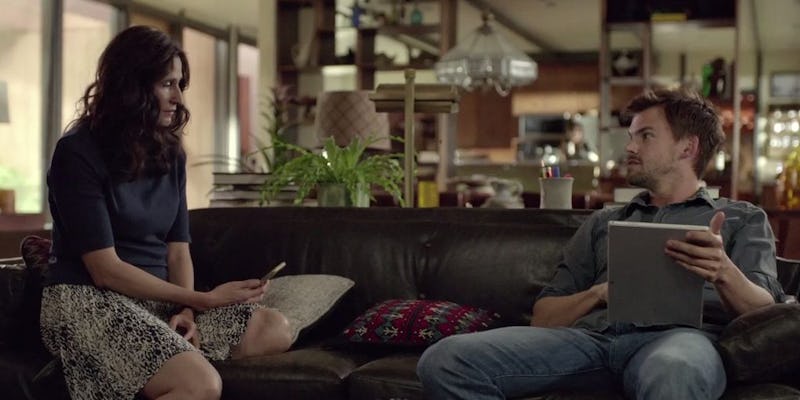 In case you haven't caught on that streaming TV is here to stay just yet, it's time to catch up with the rest of the world. When Golden Globe nominations were announced on Thursday, December 10, enough shows from Netflix, Hulu, and Amazon's rosters received nods to prove that this is officially a legitimate source of TV... and that people are paying attention. The only problem? Not everyone is familiar with shows they aren't seeing commercials for while they're watching traditional television, so some of the names in the GG's TV nominations categories might seem a little unfamiliar to you. One example? One of Hulu's newest comedies, Casual , which was nominated for Best TV Comedy. So what is Casual? If you're not watching it, you'll probably want to hop on board ASAP.
The general premise of the show is this: A brother and a sister (played by Tommy Dewey and Michaela Watkins) are living together, and stuff happens. OK, you need more detail? We can do that too. They're both single — Alex is a bachelor and Valerie is recently divorced — and trying to date while also raising Valerie's teenage daughter, Laura (Tara Lynne Barr), and everything that comes with that.
As you can probably predict, hilarity ensues when Alex and Valerie try to meet their perfect matches as Valerie deals with her divorce at the same time... especially since Alex works for a dating site, so you'd think he'd have more luck with the whole thing. It's not an insane concept, but simple is better, and it definitely works for comedy. Besides, it helps that so many of Casual's themes are something many of us face in our own, actual, non-streaming lives. Relationship problems, family drama — who can't relate to that?
The fact that Casual is up against strong contenders like Orange is The New Black and Veep is pretty impressive, so for a show that premiered in October, it's amazing that it has managed to gain so much acclaim. In fact, its track record already speaks for itself. Looking for something new to binge? Casual might be perfect for you!
The first season is on Hulu's website, and all 10 episodes are available for paid subscribers. And in case you're new to the show, watch Season 1, and are dying for more, there's good news: Casual has already been picked up for Season 2, so there are already new episodes on the way.
Image: Hulu