Noel Wells' Golden Globes Snub Is No Surprise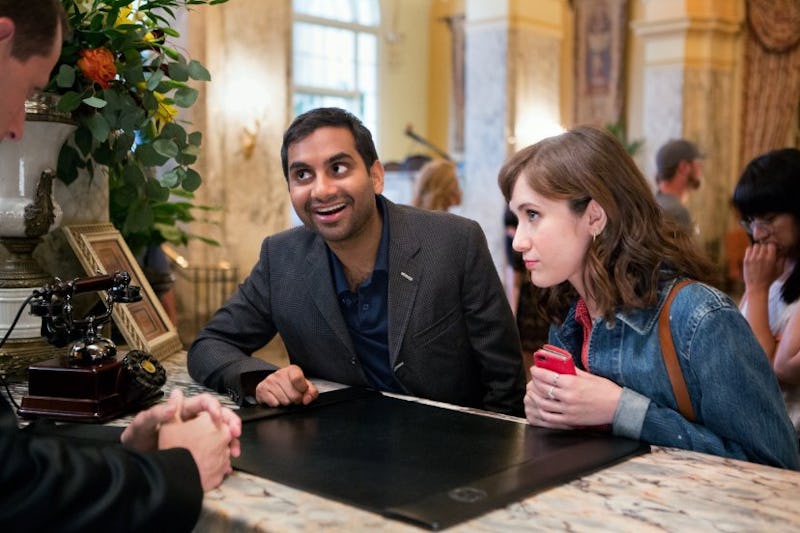 In Aziz Ansari's Netflix original comedy Master of None, Noël Wells — one-time Saturday Night Live! cast member — plays the comedian's one-night-stand-turned-girlfriend. In the uncomfortable first episode, they share an uber to a bodega to purchase Plan B after a condom breaks, and Ansari encourages Wells to try Martinelli's apple juice as they check out. (Read the room, dude.) They reunite several episodes later, and the arc of their relationship composes the arc of the rest of the season, from meeting the parents to moving in together to their (spoilers!) inevitable decline. Master of None is candid and honest — few shows would dare set up their premises around contraception, even in 2015 — and Ansari is infinitely deserving of his Best Actor Golden Globe nomination for television comedy. Yet Wells is nowhere to be found on the list. Where is Noël Wells' Golden Globe nomination?
Wells, who likely would have been among the Best Supporting Actress nominations had she earned a spot, was overlooked at the Golden Globe nominations Thursday morning. Indeed, Ansari was the only part of Master of None to earn a nomination — the series was not included among TV comedies (though its Netflix peer Orange is the New Black was nominated for Best Television Series — Comedy). So it's not a snub for Wells alone; like Jessica Jones, Master of None did not receive nearly the awards love it deserved this year.
Though Wells would have deserved a spot on the list, had she been nominated, it doesn't come as too much of a surprise that she was shown up. While the lead actor and actress spots are divided into two awards, one for comedies and one for dramas, the Golden Globes don't acknowledge the different skills that go into supporting roles for comedy versus drama. Instead, the Globes lump all supporting roles into a single category that pits actors like Uzo Aduba of Orange is the New Black (a dramedy that is categorized among comedies) against Regina King of American Crime (clearly a drama). None of the honorees among the Best Supporting Actress nominees are quite as straightforwardly comedic as Wells in Master of None. They all toe the line between drama and comedy, down to Judith Light of Transparent.
First seasons of series confront special difficulty earning awards-show recognition. This might be even more evident in comedies, whose audiences must parse the humor and the serious themes shielded by jokes. Master of None accomplishes this particularly seamlessly, examining racism, gender disparities, and immigration issues beneath a veneer of hilarity. So despite being overlooked this year, if Wells appears in future Master of None seasons, she will be one to watch.
Images: Netflix (2)