13 'Fringe' Quotes That Describe Christmas Morning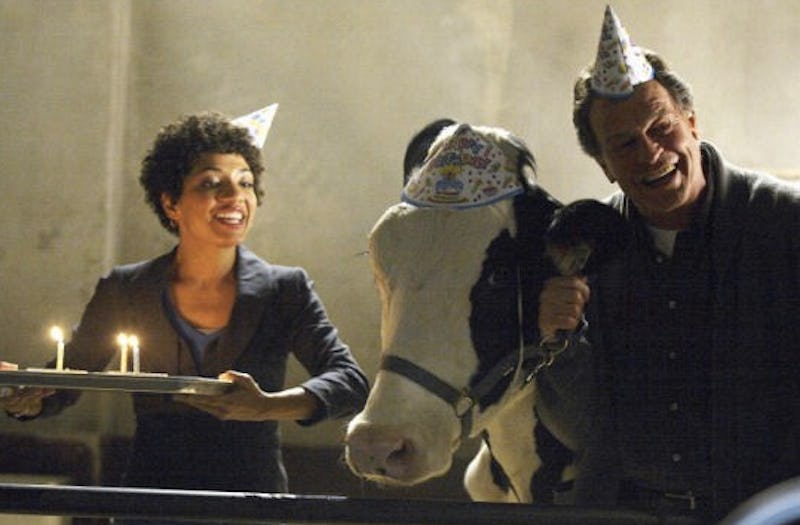 The Christmas season is upon us (I'm wearing a Christmas sweater — this is how I know), and with not long to go until the big day, it's time to start preparing if you haven't already. Maybe you're one of those smug, lucky people who have finished their Christmas shopping already, posted their cards, and started planning out a schedule for the day itself. Or maybe like me you're avoiding the fact that you have to wrap about a million presents now and start making excuses as to why you didn't send cards in 2016. And the answer is simple — there was just too much amazing TV to watch, and you're not a quitter. Fear not though, because the TV might become your most surprising Christmas inspiration. Which is why I've compiled a list of Christmas quotes from Fringe which sum up all your feels on Christmas morning!
OK, so Fringe wasn't a very Christmassy show, but it was about family, love, interesting discoveries, and beautiful Joshua Jackson (I'd love to find him wrapped under my tree). Dec. 25 will soon be here, and I can already predict you'll eat too much, watch some amaze festive movies, and open some unexpected gifts. And you'll be thinking of Fringe the whole time.
1. The Day Is Finally Here!
Maybe you woke up early, excited for the day ahead. Or maybe you're still in a crazy dream about your Christmas Eve antics. Either way, it's time to wake up!
2. Breakfast Or Presents, Breakfast Or Presents?
One of the most difficult decisions you'll have to make all day. As a kid, you could stave off the hunger and eat chocolate for breakfast once you'd opened your presents. But now, Christmas is a game of longevity. Time to have your morning caffeine and snack for the stealth day ahead.
3. Present Time Is Paramount
Maybe you gather your presents close to you, or watch like a hawk until everyone's in the room. Either way, you know which presents are yours and can't wait to open them. You've been trying to guess what they are for weeks now.
4. You Forget What Some Of The Presents Are
It's so long since you wrapped them, and you forgot to put name labels on, you might momentarily forget which presents are which. Hopefully you'll have an epiphany in time!
5. Someone Always Unwraps The Wrong Present
Without fail, someone will "accidentally" open a present that isn't theirs. But you're waiting like a hawk. No-one's going to steal your pudding!
6. Someone Bought Something From Your Wishlist And You Love Them
True love, after all, is stalking someone online until you know all of the items on their wishlist before they've told you they even have one.
7. There's One Thing You Wanted But Didn't Get
Santa can't always get you the things you want. That's just a fact. Be a grown up and ask for it for your birthday instead.
8. Buying Presents Put You In Your Overdraft A Little Bit
Debt is one of the downsides of Christmas. We've all gone a little crazy with the Christmas spending one time or another. But don't worry, January is about staying in, saving money, and selling any unwanted presents on eBay.
9. Christmas Spirit Is Real
Even though you're a grown up now, the festive spirit is alive and well.
10. You Want Your Entire Family To Have A Good Day
As a kid, you were focussed on the food and the presents. While you still LOVE those things, the most important thing to you is that your family has a great day together.
11. You're Ready To Eat Too Much
Mealtimes are out the window. It's Christmas! Eat as much and as often as you like.
12. Let The Games Commence
You've been preparing for this day all year. Christmas sweater is on, and you're ready to party hard.
13. Thank You, Santa!
Everyone's prone to a little overexcitement on Christmas Day. Emotions are high. You've maybe drunk a little too much eggnog before dinner is served, and your sugar crash is real.
Don't despair, as Boxing Day is all about staying in your pajamas and eating copious amounts of leftovers. Stay strong!
Images: Warner Bros. Television; Giphy (13)