7 Gifts That'll Make Your Vagina Feel Pampered AF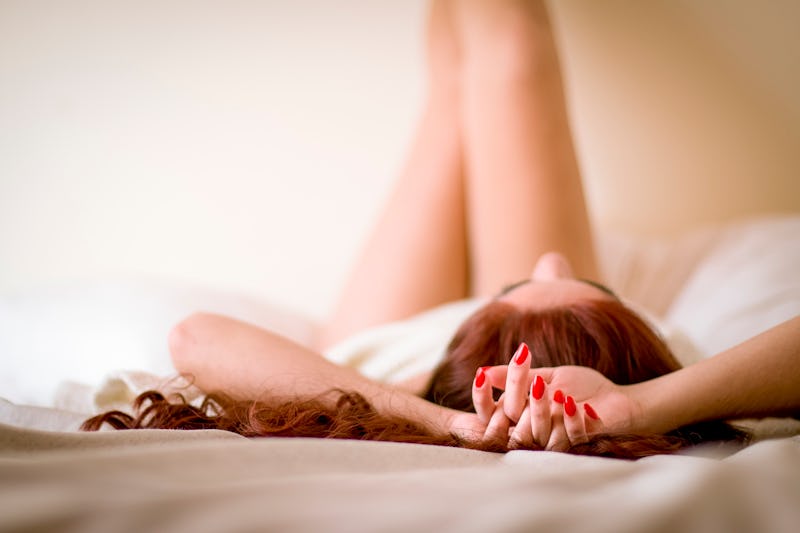 Sure, Christmas is all about spending time with your loved ones and showing them your appreciation, but there's definitely room for pampering yourself as well. And what better way to treat yo'self than by giving your vagina some much-needed TLC with some sexy holiday presents?
If you're wondering what kind of "gift" you can get for your vagina — what could it possibly need, anyways? — I am happy to report that there are many, many vagina-friendly things you're probably lacking. Vaginas aren't just a source of monthly strife — they're one of the most sensual, strong, and beautiful body parts, and they require some upkeep to keep them in pristine condition. You may not think about spoiling your vagina very often, but Christmas is the perfect time to indulge in some products that you might otherwise not be able to justify splurging on.
There's something magical and empowering about the idea of giving yourself some self-love, so if you're in the mood to treat your vagina to a fun, sexy gift this Christmas, here are seven awesome gift ideas that will make your nether region feel pampered AF.
These vibrating balls of joy are a fun and adorable take on a traditional female sex toy. You might already own a bullet or rabbit vibrator, but you probably don't have these little vibrating balls that get you all warmed up during foreplay. Just slip them in and they enhance the sensations your vagina feels, and even help you have bigger, stronger orgasms in the future, too. Plus, they're festive — they look just like little ornaments for your vagina.
LELO Luna Beads , $64, Babeland
I don't think there's anything worse than nicking yourself while shaving down there, but with an electric pubic hair trimmer, the risk is far less. Sure, it may not seem like the sexiest gift, but you'll thank yourself when you're able to keep your vagina as smooth as you want without the fear of cutting yourself and/or the need to drop dollars on getting waxed regularly. No matter your pubic hair preference, this cute electric trimmer will help you keep things looking fresh and on point.
Panasonic Close Curves Razor , $17, Amazon
Yes, this is a thing that exists. If you want to show your vagina a little extra love and/or show it off to the world (or maybe just your S.O.), use this special vibrator/camera to help you take some amazing, perfectly angled shots of yourself, or sync it to FaceTime if you want real-time footage of your beautiful V in action. Pro-tip: You can even vajazzle it for the photo shoot, if you're feeling extra festive.
Svakom Gaga Camera Vibrator , $185, Amazon
Keeping your vagina clean is a major part of its health, and this wash/lubricant combo from Good Clean Love will help keep things balanced and refreshed downstairs. The Bio-Match formula is designed to mimic the body's natural equilibrium, to keep things like your vagina's pH levels and salt balance as close to au naturel as possible. The "restore" part of this duo is the lubricant, and the "balance" is the personal wash — you can get them both for only $30!
Bio Match Restore and Balance , $35, Amazon
If you're fed up with tampons, pads, panty liners, and all the other methods of stopping your monthly flow in its tracks, consider switching to these super cute period panties instead. THINX makes a line of underwear — from thongs to boyshorts to hiphuggers — that are designed to catch your flow, even on your heavy period days. You can use them on their own or in addition to a tampon, and the blood washes right out. These are the perfect gift if you want to say goodbye to the fear of having a spontaneous leak.
THINX, $24-$34, Shethinx.com
What better way to thank you vagina for all its hard work this year than by getting an Elvie so you can exercise your pelvic floor and make your V even stronger next year? The vagina is a muscle and it needs to be worked out every now and then — and stronger pelvic floor muscles mean better, more intense orgasms. Elvie is small, discreet, and makes doing kegels fun and easy, so your pelvic floor muscles will be in tip-top shape in no time.
Sexual pleasure meets and spirituality in this handcrafted tool. No batteries, no bluetooth, no chargers — this simple dildo made of 100 percent, pure organic crystal is designed to "bring a sense of sacredness to your playtime." Try the Original Indian Jade, made of natural Green Aventurine stone, which balances the emotional body and guides you toward inner harmony. Now, that's the gift that keeps on giving.
The Original Indian Jade Chakrub, $150, Chakrubs
Want more of Bustle's Sex and Relationships coverage? Check out our new podcast, I Want It That Way, which delves into the difficult and downright dirty parts of a relationship, and find more on our Soundcloud page.
Images: Pexels.com; Elvie; Chakrubs; LELO; Good Clean Love; SheTHINX; Amazon; Svakom