How To Celebrate When You're Away From Family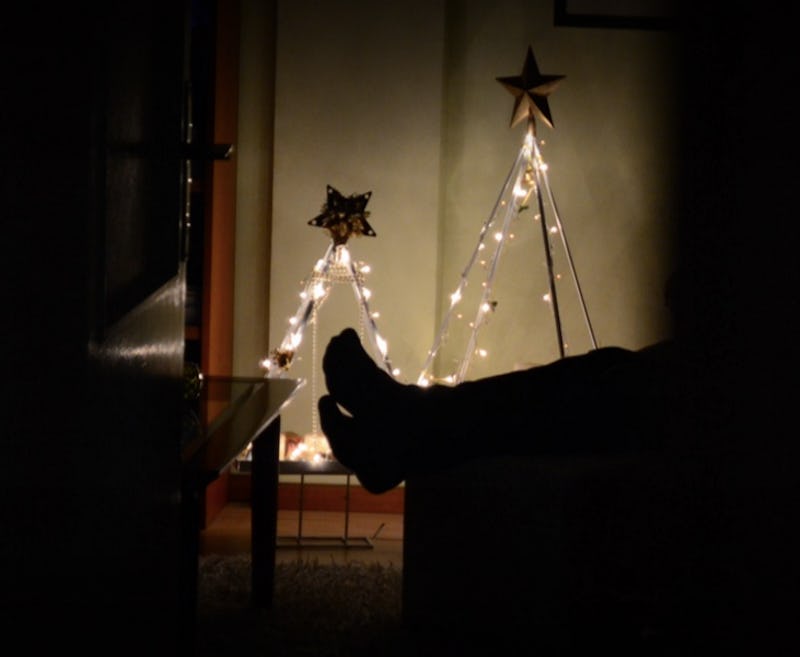 I live in New York and my family lives in Melbourne, Australia. This Christmas, I'm staying in the US, and having spent Christmases away from home before, I can tell you with complete certainty, it ain't easy. Being away from family on a regular day is hard, but add the love, magic and nostalgia of the holidays and it's downright torturous to have to spend it away from loved ones. It's not just being away from family that stings, it's being away from anyone you love at a time when people who love each other generally celebrate together. Seeing other families and friends enjoy each others company is always bittersweet when you can't be with yours.
I've come up with ways to help ease the pain of being alone on the holidays. Ways to feel closer to your family and friends when they're oceans away at Christmas. It just takes an extra little bit of work on your part and theirs, but if you're that homesick, putting in the extra effort to feel close to one another during the holidays is well worth it. Here are some things you can do to feel closer to your family and friends if you're spending the holidays far apart.
1. Use Skype/FaceTime/Video Chat On Important Occasions
When I spend Christmas away from home, my family and I Skype while we open presents. I always end up crying, and so does my mum, but it's also really lovely to be able to join in on that family tradition, even if it is as a screen. Whatever your family's special time is, make a time to join in via some form of video chat.
2. Talk On The Phone/Text/Email/Social Media Wherever You Can
Likewise, make the time to connect with your family. Don't make excuses. If you miss them, pick up the damn phone. There are a thousand ways to connect. Use them.
3. Do The Traditions You Do With Your Family Wherever You Are
Do your family traditions wherever you are. If your mum makes a certain kind of cookie, make them for yourself. If you have champagne on Christmas morning, make a toast (even if it's just in your head) while clinking glasses. Do the things you would do with your family. Incorporate the traditions you miss into the new traditions you're partaking in with others, or building for yourself.
4. Frame Some Photos
I love to have photos of my family around the house. It's a nice reminder that even though they're far away, they're there, and we love one another. Also I have a lot of stupid photos with my little brothers that make me laugh. Put your family around your house so that you can see their smiling faces every day.
5. Send Physical Mementos
Send each other little mementos, cards, your favorite sweets, little gifts or letters. It will make you feel more physically connected, as things pass from their hands to yours and vice versa. Technology is great, but there's nothing like the tactile feeling and emotion that comes with opening or sending a package from/to loved ones.
6. Print Out Photos Of Their Faces And Make A Family Of Life-Sized Dolls
OK this one is kind of a job. But seriously, do it. Just joking. Or am I?
Images: Nikola Jelenkovic/Unsplash; Giphy (6)