The Most Popular Place For NYE Hookups Is...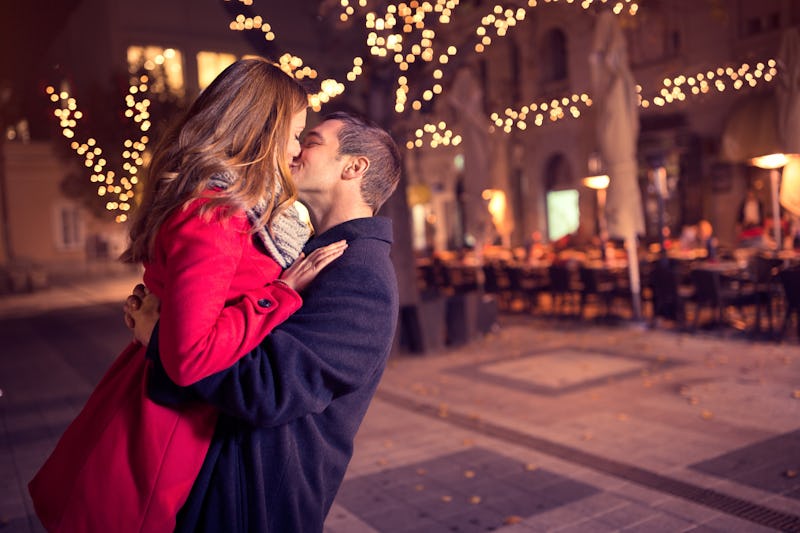 Because New Year's Eve is synonymous with alcohol, sparkly hats, and hookups, travel dating site, MissTravel, surveyed more than 50,000 of their members to see, when it comes to New Year's Eve hookups, where are all the sex is taking place. Here's a hint: In public.
If you celebrate New Year's Eve in style, it means you'll be dressed to the nines, downing lots of champagne, and probably over-paying for some mediocre prix fix dinner that's half the price any other night of the year. But that's what we do on New Year's Eve: Splurge. If 2016 is supposed to give us clean slate with which to work, we might as well go out on a high note. We also might as well get lucky, before New Year's resolutions like, "I will stop sleeping with my neighbor," kick in and make us behave.
According to Brandon Wade, CEO of MissTravel:
"Public hookups are an exciting way to spice up a date and with New Year's Eve celebrations quickly coming up, there's no doubt sparks will be flying between couples all over the country. Whether they're slipping into the party coat closet or sneaking some action into the cab ride home, the thrill of getting caught in the moment adds a little spontaneity to the night."
Having had sex in public places, I'm going to have to agree with Wade. It is pretty hot. But my opinion aside, here's what 57,652 singles had to say about New Year's Eve hookups.
1. Almost Half Of People Have Hooked Up In Public
According to the survey, 43 percent of people admitted to having hooked up in public on New Year's Eve, which makes sense. If the clock hasn't struck midnight, why would you run home to get it on, when the world is basically your oyster of places to sneak off to?
2. Most People Prefer A Public Restroom
Once you get over the lack of cleanliness, a public restroom is pretty much the ideal spot. For starters, restrooms have doors, and even if it's not a private bathroom, hooking up in a stall is really easy… and really exciting, until someone notices the two sets of feet and calls you out for it. But for the 35 percent of those surveyed, that's the hookup spot of choice.
3. More Than A Quarter Of People Prefer A Stairwell
For 26 percent of NYE revelers, retreating to a stairwell for some sexy fun is the best place to go. Although there may not be any doors for privacy, I imagine the possibility of getting caught is part of the thrill. And, to be honest, if someone catches you hooking up, they're just going to keep going about their business, so it's only a mild disruption.
4. 13 Percent Will Risk The Cold For Some Action
While it looks like it might be a fairly mild New Year's Eve this year, that's not always the case. However, for 13 percent of people a balcony, even if the weather is blustery and snowy, is the place to go.
5. Cabs See A Lot Of Action On NYE
I've heard of people having sex and/or hooking up in cabs, but I still just don't know how they swing it. Even if there's a partition between the cabbie and you, how can you be relaxed enough to… oh, alcohol! So, yes, for 10 percent of those surveyed, finding the nearest cab and getting it on is the way to do it.
6. Elevators Are Practically Ignored
OK, I'm confused here, because, honestly, who wouldn't want to hookup in an elevator? You have a door for privacy and, when the elevator stops moving, you get a heads-up that someone is about to get on and interrupt your fun. But despite those obvious perks to elevator action, only eight percent copped to getting it on in an elevator on New Year's Eve.
7. Coat Closets Are Last On The List
Again we have a place with a door but, for whatever reason, only three percent of people head to the closest closet to hook up on New Year's Eve. Maybe if closet doors locked from the inside, the percentage would be different.
Want more of Bustle's Sex and Relationships coverage? Check out our video on sex positions for small penises:
Images: Igor Mojzes/Fotolia; Giphy(7)