'The Voice's Barrett Baber Spills On His New Album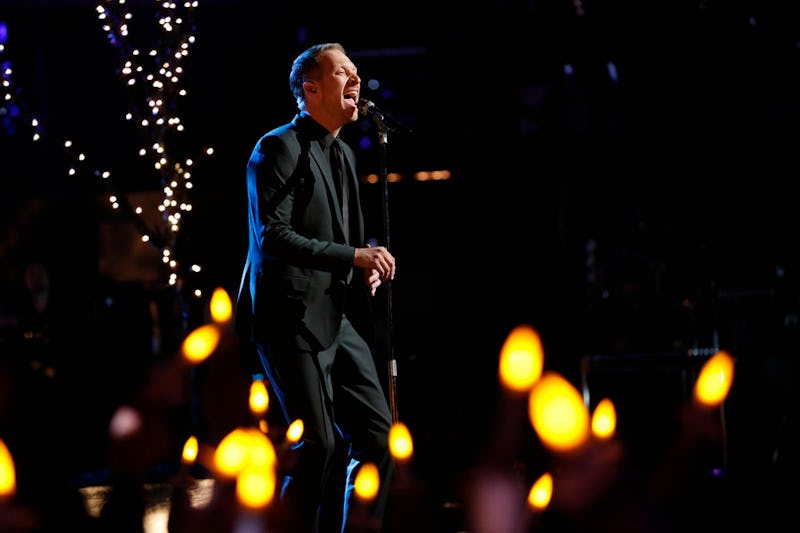 The Voice Season 9 finalist Barrett Baber wants everyone to know he's fine — really. Earlier this month, the Arkansas native and former teacher finished third on the NBC vocal competition show, but talking to Bustle, Baber says that the show's big finale was actually just the beginning for him — and that there will be a Barrett Baber album released in the future. The singer says that he's definitely planning on getting a record made, but he's waiting on certain pieces of the puzzle to fall into place. "I've gotten so many well-wishes from people who think I'm upset that I didn't win, but that wasn't my mindset at all," Baber says. "I know that I'm going to make records and make them soon — it's just a matter of with who. We'll see what the opportunities are, but they are coming and they're coming fast."
Right now, Baber is waiting for either Republic Records, who gave Season 9 winner Jordan Smith a recording contract and also gets first right of refusal for the rest of The Voice contestants, to pick up his option or to be given the go-ahead explore the other avenues he's been presented. "As far as a recording contract, we're in a wait-and-see mode," Baber says. "But I have the material ready and I'm looking forward to doing a full-length record."
On The Voice, Baber charmed coach Blake Shelton and viewers with his performances of songs like Zac Brown Band's "Colder Weather" and Thomas Rhett's "Die A Happy Man," during which he blended country and soul together — and he hopes to bring that same sound to his upcoming album. "What we saw on the show is that people really responded to that sound and the idea of molding the two genres of soul and country," he says. "Every single song that either I decided to do or Blake suggested I do, I brought it into my world and put my soulful country spin on it and it got me to the Top Four. I think there's proof that people are hungry for that kind of sound and are excited about it. "
The performance that probably best personifies this sound is Baber's cover of Conrad Twitty's "I Just Love To Lay You Down," which was his best-seller on iTunes and one of his favorite moments of the season. "I think that song established me as an artist and showed I can take a song and bring it into my world," he says. "Blake mostly let me do my thing on that one."
But Baber is also looking forward to putting some of his original material out there. He's been writing songs since he learned how to play guitar, but he says he has really honed his songwriting and has partnered with other songwriters in the past three years. "I think that's the exciting thing," the musician says. "I don't just have five or six songs. In preparation for an album, we have a lot to choose from. I'm also looking forward to hearing songs that other people have written and I've always been open to hearing other people's stuff, too."
It really does seem like just the beginning for Baber, who expresses much gratitude to his fans and supporters. "The Voice finale was just a celebration of reaching the starting line," he says. "I recognize that the finish line is still a long way away and there's a lot of hard work that has to happen between now and then. But if there was ever a contestant on the Voice who was willing to do it, it's me."
Image: Trae Patton/NBC