'Agent Carter' Is The Heroine To Watch In 2016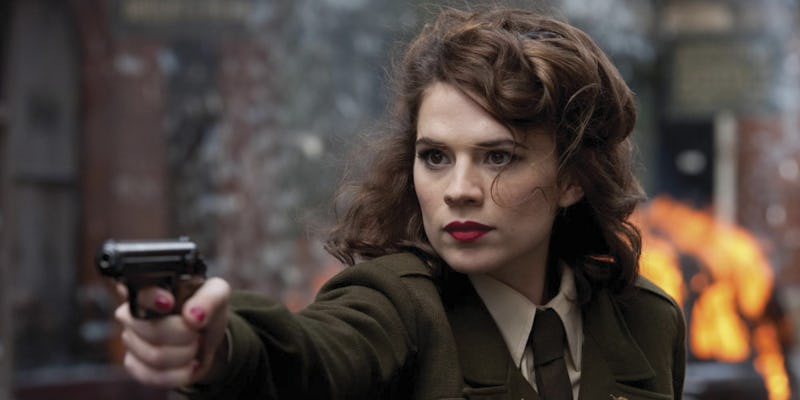 When you think kick-ass female superheroes on television today you probably think of Supergirl, Jessica Jones, or even the fierce ladies on Agents of S.H.E.I.L.D. However, one of Marvel's greatest triumph's in the phenomenon that is television heroes often flies under the radar: Agent Carter. Yes, she's not exactly a superhero in the sense that her former lover Captain America is, but that doesn't make her any less worth watching. And the 1946 original S.H.E.I.L.D. agent Peggy Carter (played by the ever-so-talented Hayley Atwell) is in fact set to return for a Season 2 of Agent Carter on January 19.
While the show did not gain the greatest ratings during its eight episode first season, it did the one thing that not many other shows have done in that genre or in that time period: reflected on feminist issues. Whether it was Peggy's snide remarks, her overall ability to fight like a real girl (or woman), or her love life that didn't seem to be the most important aspect of the show, it's really no wonder that ABC has invited her back for a second season. And, as expected, Agent Carter is coming back in January looking as bad-ass as ever.
Peggy is proving one thing to myself and audiences of women and young girls everywhere: it's possible to be a classy, fashionable woman who can not only solve a case, but one who can also protect and defend herself and take charge of her own love life. Just from the new sneak peak alone, we get a sense of Peggy's general sass, master skills at using weapons (multiple ones if I may add), and her ability to take charge in her own desired hook-ups. These are all things that we can expect to find in Season 2, and things that you know are not lacking in this show if you've already watched Season 1. And that's what really sets this show a part from the rest.
Yes, Jessica Jones is tackling the issues of consent with it's eery villain, and Supergirl shows us a woman who is not afraid to fight for her own value, but Agent Carter shows us that you don't need to have superpowers to be a strong female character. Women can handle themselves alongside men all the same, powers or no powers, no matter the time period. Here's to a second season of pure female empowerment in one of it's best forms.
Images: ABC; Giphy