17 Awesome Movies To Stream In January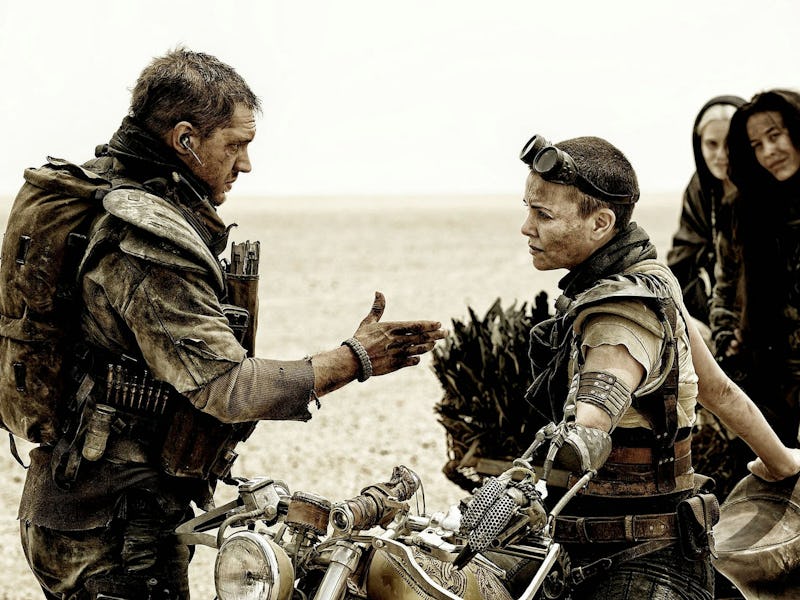 If your New Year's resolution is to get out more, then do I have bad news for you. Heaps of amazing movies are making their way to streaming services this January, and these babies aren't going to watch themselves. HBO Now, Netflix, Amazon Prime, and Hulu are adding a mix of new releases and older gems to their catalogs this month. So why not start 2016 the same way you spent 2015? Spend those first few weeks of the new year streaming the best movies January has to offer, wearing your coziest flannel PJs and live-tweeting your reactions for your faithful followers.
Whatever memberships you have, there are some amazing options out there. But how to decide where to start? I combed through the January additions to these four major streaming services to find 17 stand-out films. Are you in the mood to watch Charlize Theron master defensive driving? Or would you rather take a walk around the grounds of Pemberley with Keira Knightley? If you'd prefer to travel farther back in movie history, classic Bond and Audrey Hepburn are also right at your fingertips.
Socializing is great, but the safe comfort of your living room might be even better — especially with a fresh list of must-watch films. Here are 17 movies to stream from HBO Now, Netflix, Amazon Prime, and Hulu this January.
1. Crybaby (HBO Now, Jan. 1)
Johnny Depp is the greaser with a heart of gold in this technicolor John Waters musical. His voice may have been dubbed, but Depp does shake his rockabilly hips all over one of the off-the-wall director's twisted Baltimore fairytales.
2. Milk (HBO Now, Jan. 1)
Sean Penn won the Oscar for portraying California gay rights activist and politician Harvey Milk in his inspiring life story.
3. Troop Beverly Hills (HBO Now, Jan. 1)
Cheers star Shelley Long stars in the crowning pinnacle of all sleepover movies, the 1989 film about a pampered mom who takes over den mother duties for a group of Wilderness Girls. Look out for indie songbird Jenny Lewis as her daughter.
4. Far From The Madding Crowd (HBO Now, Jan. 3)
Carey Mulligan leads this sumptuous and overtly feminist period drama based on the Thomas Hardy novel. Single young woman Bathsheba Everdene builds her own livelihood while doing her best to dodge the various suitors that want to tie her down.
5. Mad Max: Fury Road (HBO Now, Jan. 9)
Speaking of the overtly feminist: Mad Max. The continuation of the Mad Max series puts women quite literally in the driver's seat. Visually stunning and ideologically progressive, it's the rare non-stop action film that had critics jumping out of their seats.
6. Meet The Parents (Netflix, Jan. 1)
Fresh off the holidays with an overbearing but lovable family? Cringe at Greg Focker's increasingly uncomfortable encounters with his girlfriend's relatives and feel much better about your own.
7. Pride & Prejudice (Netflix, Jan. 1)
Mr. Darcy is an immortal romantic hero for a reason, especially if the strong and silent type is your thing. Joe Wright's adaptation of Jane Austen's novel of class struggles and off-base first impressions is tailor-made for star Kiera Knightley.
8. We Need To Talk About Kevin (Netflix, Jan. 1)
A dark and disturbing study of the mother and child bond, We Need To Talk About Kevin is a movie you'll be thinking about for days afterwards.
9. Training Day (Netflix, Jan. 4)
Denzel Washington blew minds and subverted expectations as an LAPD cop with a shoddy set of morals in this drama/thriller. Audiences were used to Washington playing the hero, but welcomed him in this role too. He won the Best Actor Oscar for his performance.
10. The Last Five Years (Netflix, Jan. 15)
This one's for the Pitch Perfect fans who can't get enough of Anna Kendrick's voice. She stars alongside Supergirl actor Jeremy Jordan in the adaptation of a cult favorite Off-Broadway musical about the heady honeymoon days of a relationship and its sad and inevitable end.
The remake of Annie received tepid reviews, but the big, splashy Hollywood musical is such a rarity these days that even Jamie Foxx as a 21st century Daddy Warbucks by the name of Will Stacks deserves a watch.
Curious what Meg Ryan and Rosie O'Donnell's Sleepless In Seattle characters were crying about the whole movie? Cary Grant and Deborah Kerr romance each other in this 1959 film that's honestly worth all those tears and more.
It's a little too late for Thanksgiving, but Steve Martin and John Candy's odd-couple schtick in this John Hughes road movie works at any time of the year.
Al Pacino is at peak '70s Pacino in this gritty biopic about an NYPD police officer who uncovers a culture of approved corruption permeating the department.
15. Footloose (Hulu, Jan. 1)
Ren McCormick (Kevin Bacon) and his mom move to a town where dancing is literally illegal. Dancing ensues.
16. License To Kill (Hulu, Jan. 1)
Timothy Dalton is 007 for the last time in this 1989 James Bond outing. Catch a young Benicio del Toro as a low-level henchman and Vegas crooner Wayne Newton in a cameo role.
Audrey Hepburn shines as a existentially weary social butterfly who ingratiates herself into the life of her straight-arrow neighbor. But the real star of the film may be Henry Mancini's score, particularly the haunting and romantic "Moon River."
With all these varied choices for indoor entertainment, who needs to get dressed and stomp out into the snow?
Image: Warner Bros. Pictures