What To Wear On A First Date If It's Cold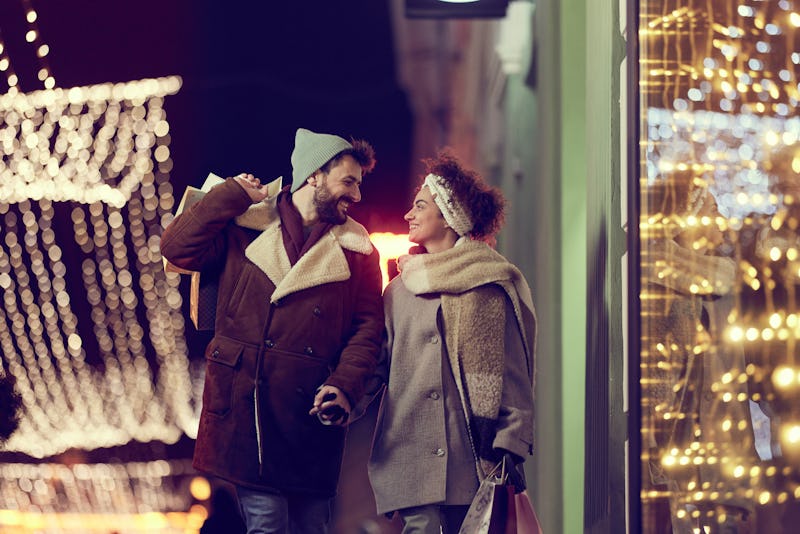 skynesher/E+/Getty Images
Is anybody worth freezing your butt off for on a first date? The answer is debatable, and that's what makes figuring out what to wear on a first date when it's cold a fashion challenge of Herculean proportions. It's a choice between two evils: dress for warmth and risk looking like a mish mosh of thermal fabrics and knitting; or dress for your date in and come home with décolletage so cold you could chill a bottle of wine on it.
Dating is hard enough, with its awkward social niceties and the pressure of making conversation with a stranger for hours, and adding chilly weather to the mix is enough to give even the most seasoned dater a case of cold feet. We've heard all our lives about the importance of making a good first impression (and how to fix a bad one), so picking out an outfit for a first date carries more weight than what you wear to a second or third. In my experience, I always fell back on my favorite staples: a simple black tee and jeans, which are easy to dress up or down for the occasion. When it got cold, I'd switch out the black tee for a black turtleneck. Unoriginal? Maybe, but I always felt confident and comfortable. That's what it all comes down to: figuring out what makes you feel confident and comfortable so you can kick back and enjoy the night.
Here are some cozy ideas to get you ready for your date in a winter wonderland:
1. A Simple Sweater Dress
Nasty Gal Somebody to Love Ribbed Turtleneck Dress, $58, Nasty Gal
A sweater dress is warm, chic, and can most importantly be accessorized with thermal tights.
2. An Off-Shoulder Sweater
Plus Size Off-the-Shoulder Sweater, $20, Forever 21
Stay warm and show off a little skin (without freezing in a V-neck) with an off the shoulder sweater.
3. An Ultra-Glam Coat
Luxe-y in Love Coat in Pine, $299, Modcloth
A coat with a nipped waist is super elegant.
4. A Blarf
Reversible Double Plaid Blanket Scarf, $25, Express
Blanket Scarves are ultra-versatile and super warm, making them the perfect accessory for jazzing up a chilly date outfit.
5. A Fur-Lined Boot
Mootsies Tootsies Quill, $60, Off Broadway Shoes
A fur-lined boot is functional, warm, and easy to dress up or down. Also, a major plus for adding texture.
6. A Cowl
Super Chunky Cowl Scarf, $138, Etsy
If you're nervous about the date, why not take inspiration from Katniss and don a cowl? Look badass and keep your ears warm. It's a win-win.
7. A Cloche
Cloche To Your Heart, $50, Modcloth
A cloche is a great option if you want to wear a hat, but a beanie feels too casual.
Want more beauty tips? Check out the video below, and be sure to subscribe to Bustle's YouTube page for more hacks and tricks!
Images: skynesher/E+/Getty Images; Courtesy Brands (7)