The Most Googled Dating App In 2015 Was...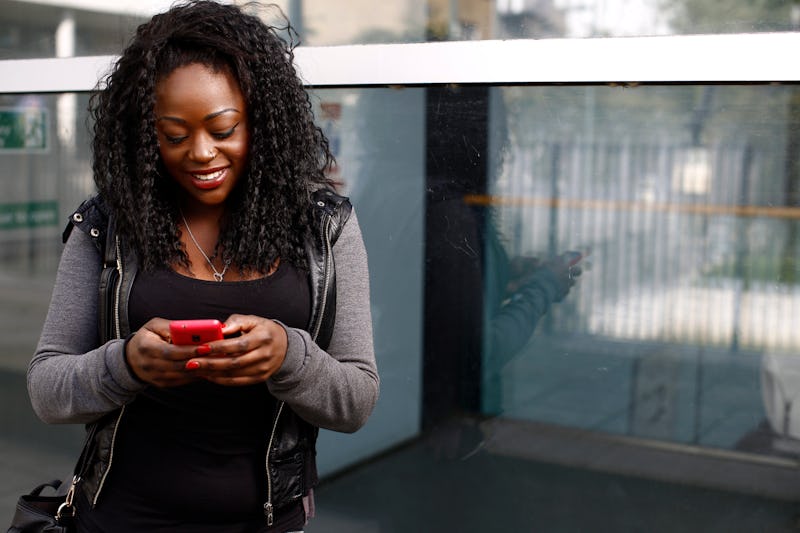 With dating apps designed specifically for bacon lovers, beard aficionados, and marijuana users, today's world of online dating can be overwhelming — especially if you're new to the game. So what are the most popular dating apps and websites? Google shared the top-searched dating apps and sites in the U.S. from 2014 to 2015 with Bustle, and as you'll see below, there's really something for everyone.
While just 10 years ago there was a stigma attached to the whole notion of meeting someone online and dating them, that stigma is long gone. According to the Pew Research Center, dating sites and apps are more popular than ever. In 2005, only 44 percent of people thought that online dating was a good way to meet someone, while in 2013, 59 percent of people felt that way. Definitely proof that the tides are changing.
Although those ages 25 to 34 are still the largest group of online or mobile daters, at 22 percent of them choosing this as their preferred method to meet someone, other age groups aren't far behind. For those ages 35 to 44, 17 percent use online or mobile sites for dating, and 45- to 54-year-olds are getting in on the action, too, at eight percent.
Here are the top 10 searched dating apps of 2015 in the United States, as well as the price, the pros, the cons, and what makes this particular app so damn special.
10. Farmers Only
When I first heard of the dating site Farmers Only, I thought it was a joke. But it's not! It really is a dating site specifically for farmers!
Price: Free, but you need to become a premium member to correspond. That's $21.95 a month.
Pro: It's probably a great idea if you're a farmer or someone who has an affinity for farmers.
Con: It probably won't do you any good if you're not a farmer and don't like farming.
What makes it unique: Well, this one is easy. It's for farmers only.
9. Grouper
What the dating app Grouper does is take the awkwardness out of a first date, by adding more to the party.
Price: Free, but you have to pay for the "grouper," as in the actual meet-up. That's $17 a person.
Pro: Grouper lets you meet friends of friends with your friends, so it's not like you're meeting a total stranger alone.
Con: If you're more of a one-on-one sort of person, it might not be your scene.
What makes it unique: Double dating or group dates are the best way to show a side of you that a one-on-one date might not. If you feel more comfortable meeting people in groups, this is your thing.
8. Hinge
Dating app Hinge likes to market itself as the anti-Tinder, which is great for those who are so over the whole Tinder thing. It also keeps people you have no connection to out of your potential matches as it works through Facebook to pull in your friends' friends.
Price: Free
Pro: Since it pulls from Facebook, it's pretty easy to set up. You also get the last names of matches that are verified.
Con: You only have 24 hours to initiate a conversation and two weeks to give the match your phone number.
What makes it unique: You immediately get seven matches every day at noon, then the amount of those matches increase depending on how many friends you get to join it.
7. Bumble
The dating app Bumble is like the uncreepy cousin of Tinder. You get to swipe, but it's the female members who call the shots. In fact, it's become known as "The Feminist Tinder."
Price: Free
Pro: Bumble monitors the behavior of their members, and when there's a match, women are the ones who can initiate or pass. For LGBT members, either party can initiate the conversation.
Con: You only have 24 hours to make your move if you've been matched.
What makes it unique: It puts women in charge and protects them, at least more than Tinder does.
6. Zoosk
Available in 80 countries, 25 different languages, and on your computer, phone, tablet, and Facebook, dating site Zoosk is really all around you.
Price: $29.95 a month.
Pro: It's massiveness gives you a lot of potential matches from which to choose.
Con: You have to be a member before you can even check out anyone.
What makes it unique: The very fact that it's available pretty much everywhere is a huge selling point.
5. eHarmony
Although once something strictly for Christians, dating site eHarmony has branched out in the last few years.
Price: Up to $60 a month.
Pro: If you're looking to get married ASAP, then it could be your best bet out there.
Con: While they now have same-sex relationship options, the company has a history of not looking unfavorably on the LGBT community.
What makes it unique: It's a haven for people who want to find their soulmate and get married.
4. OkCupid
In many ways, dating site OkCupid started the whole free online dating service. Since then they've really improved themselves by creating an algorithm for finding matches to which many other sites and apps can't compare.
Price: Free
Pro: It's definitely an open-minded dating site/app.
Con: Like Tinder, the site has its fair share of synonymous with spammers, scammers, and unsolicited dick pics ― although this isn't to say everyone on there is doing that.
What makes it unique: OkCupid knows that not everyone is gay, straight, or bisexual. Because of that, they offer more sexuality options than any other dating sites, like being a sapiosexual, pansexual, homoflexible, and questioning, among many others.
3. Match
If the commercials are accurate, dating site Match has been behind the majority of marriages and relationships more than any other dating site or app.
Price: Free, but you need a subscription to really do anything. That's $41.99 a month.
Pro: If it boasts about being the "#1 in dates, relationships, and marriages," then that's something.
Con: You have to put in the effort of weeding through thousands of profiles.
What makes it unique: If you don't meet someone in six months, they'll give you another six months for free.
2. Tinder
If the dating app Tinder's big claim to fame is anything, it's that it gives a deeper meaning to swiping right. It's also a great way to kill time.
Price: Free, but Tinder Plus is $9.99 a month IF you're under 30.
Pro: It's a great way to get laid, as it's pretty much become known as "the hookup app" more than anything else. Yet, most of us know a LTR or two that began on Tinder.
Con: Horror stories aside, Tinder is kind of ageist in that Tinder Plus costs $19.99 a month if you're over 30.
What makes it unique: It invented the swipe technique.
1. Plenty Of Fish
According to Plenty of Fish, they get 50,000 new members every day and there are three million daily active users.
Price: Free, but upgrading can cost up to $9.80 a month, depending on the package you choose.
Pro: It's bigger than both Match and OkCupid, giving you even more people to choose from.
Con: It actually doesn't allow you to identify as bisexual, so that's not cool.
What makes it unique: It offers a lot of options of how to "meet" someone thanks to the "meet me" button.
Want more of Bustle's Sex and Relationships coverage? Check out our new podcast, I Want It That Way, which delves into the difficult and downright dirty parts of a relationship, and find more on our Soundcloud page.
Images: Fotolia; Giphy(10)