Here's The Meaning Behind 'Anomalisa's Title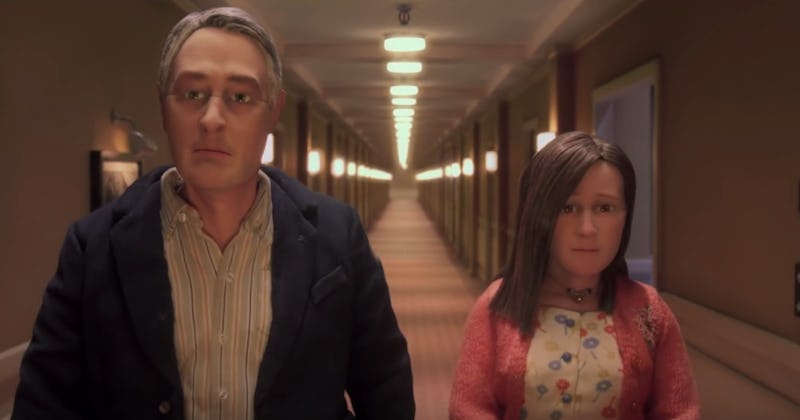 Anomalisa, the new drama from writer-director Charlie Kaufman (Eternal Sunshine of the Spotless Mind, Being John Malkovich), is a first for the filmmaker: a movie made entirely by stop-motion animation. Based on a play Kaufman also wrote, Anomalisa tells the story of a lonely man, Michael Stone (David Thewlis), who meets a woman, Lisa (Jennifer Jason Leigh), at a hotel on a business trip. The plot sounds like your stereotypical "boy meets girl" story, and, in some ways, Anomalisa is just that — or, at least, as cliche as anything Kaufman might write and direct. One of the great mysteries of the film, though, which is currently enjoying a limited release as well as a wave of critical love, is that of its title. What does Anomalisa mean, actually?
If you're anything like me (enthusiastic with a dash of clueless), you probably thought Anomalisa was some sort of Latin or Greek name, perhaps with a mythological meaning. Or maybe it's an Italian word for indie puppets or something. Well, it turns out that Anomalisa doesn't actually mean, well, anything. At least, it didn't until Kaufman invented it. The word "Anomalisa" is coined by Michael in the film, who, after meeting Lisa, determines that she is both an anomaly (meaning not the norm, unique) and named Lisa (self explanatory). Thus, she is Anomalisa (Anomaly + Lisa). Think about it as an artsy version of the Bennifer.
Both Lisa and Michael are outsiders who keep to themselves in Anomalisa. Michael, a motivational speaker, is bored with everyone he meets and sees everybody as the same person. Lisa, on the other hand, isolates herself not due to boredom or fear, but due to her own insecurities. So, when Michael calls her "Anomalisa," it's both the highest compliment he could pay her and the very thing she longs to hear. "She's never felt herself to be of any interest to anyone. And his focus on her is so intense and kind of bright that she feels very beautiful and loved for a period of time," noted Leigh, in an interview with Variety . Being called an anomaly might not sound pleasant, but in the world of Anomalisa, it's beyond sweet, reflecting the outsider theme of the film.
An anomaly in its own right, Anomalisa is quickly gaining momentum as the race to the Oscars heats up. With a Golden Globe nomination for Best Animated Feature, Anomalisa could very well be in the running for the Oscar for Best Animated Feature, going up against heavyweight Inside Out. Quite the oddity, indeed.
Images: Paramount Pictures