The 16 Best YA Books Of February 2016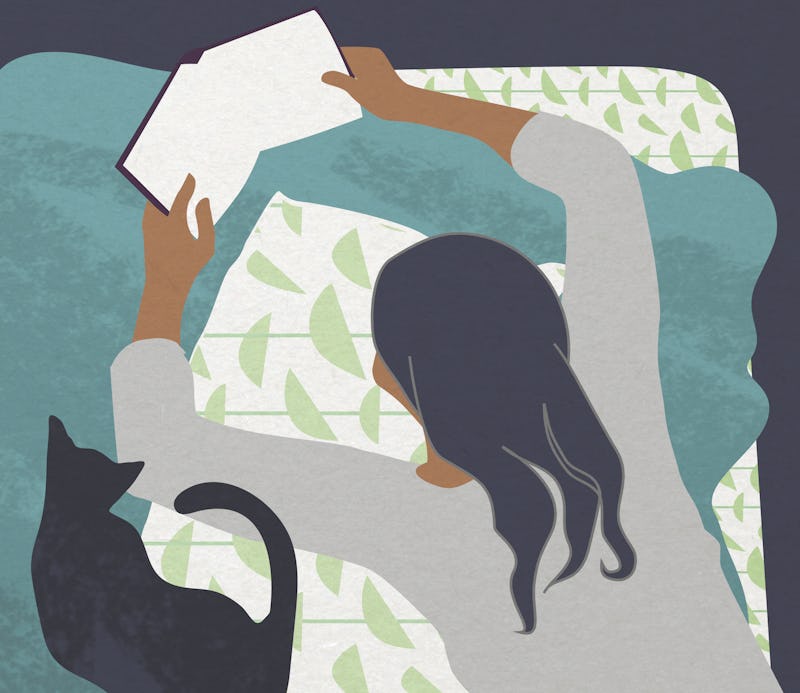 February is admittedly a pretty brutal month. We're in the depths of winter, when the cold hurts your nose when you step outside, peeking out from above your scarf and beneath your hat. The days are short and dark. Valentine's Day throws an emotional wrench into the whole proceedings whether you're contently married, in a relationship, happily single, or newly, heartbreakingly single. It's a month I'd prefer to skip, thanks. But I can't skip it this year because young adult authors have decided that this is the month when they're going to release some of my most anticipated books of 2016. It's like they gathered together in revolt of February and decided to give us all way better presents than any valentines.
Before we get to the content of the pages of these book, I'd be remiss if I didn't mention that, wow, book designers have seriously upped the ante this month. These are some seriously stunning books that are going to look insanely awesome on your bookshelves. Go ahead, skip quickly and scroll down to see.
OK, and now for the content. First off, time travel is so hot right now. But each author that has tackled the subject has come from a completely different and unique angle to tell entirely new stories, whether they're on a boat telling mythological stories from Hawaii or interlocking four unsuspecting teenage lives. And speaking of time travel, YA authors will also be grabbing our hands and taking us to the past to witness major historical events from a fictional perspective we won't soon forget.
This month has magical westerns (yes, magical westerns), thrilling Occupy-leaning science fiction, fairy tale re-imaginings, jinni, boy bands, family stories, and stories of gender exploration. Basically, you're going to have your eyes on reading until you look up and realize it's suddenly March. Here are 16 of the best YA books of February 2016.
1. Salt to the Sea by Ruta Sepetys (Feb. 2; Philomel Books)
Ruta Sepetys only adds to her stellar reputation in historical fiction with Salt to the Sea, which tells the story of the the greatest loss of life due to a ship sinking in history. And no, it's not the Titanic; it's the Wilhelm Gustloff. The ship sank in the Baltic Sea in January 1945, during World War II, carrying German civilian refugees and soldiers. Sepetys adds a human aspect to the historical event by following four different people who find their ways onto the Wilhelm Gustloff, from Poland, Lithuania, and Germany, both a Nazi sympathizer and one who is definitely not. Each has their own allegiances, but they must come together to save their own lives and find refuge. Today, when we are having a different refugee discussion, Sepetys brings a new historical element to the conversation.
2. Burning Midnight by Will McIntosh (Feb. 2; Delacorte Press)
Do you like twists, turns, and crazy, unpredictable endings? Then you're going to need Will McIntosh's Burning Midnight. Colored spheres arrived on the Earth nine years ago, and everyone knows that if you burn a pair of them, you gain skills — an inch taller, a new talent for singing, a higher IQ, better looking — but when teenagers Sully and Hunter find a gold sphere, they know they have something no one has seen before. But billionaire Alex Holliday learns the disadvantaged teens' secret, and he'll doing anything to take what they have. It's a thrill ride for the Occupy age.
3. Unhooked by Lisa Maxwell (Feb. 2; Simon Pulse)
I've always been one of those people who thought Peter Pan was a pretty creepy little kid, who lurks outside bedroom windows and never wants to grow up, so I'm totally in on Peter Pan fairy tale re-imaginings. Enter: Lisa Maxwell's Unhooked. Maxwell's Neverland isn't the one you read about when you were a kid. Shadowy figures and faeries kidnap Gwendolyn and her BFF Olivia out of their window in London, and she's thrust into a world where the longer she stays, the more her memories of her "real" life slip away from here. And moreover, she doesn't know whether to trust the sea captain or the young boy hero. Her mother had warned Gwen about the monsters, but Gwen never believed her delusions until now.
4. Symptoms of Being Human by Jeff Garvin (Feb. 2; Balzer + Bray)
Riley is gender fluid; some days Riley identifies as a boy and others as a girl. After a therapist encourages Riley to let out pent-up feelings by writing about them, Riley starts a blog about what it's like to live as a gender fluid teenager. The only problem? Someone at Riley's new school figured out who was behind the blog and is threatening to let the whole school know. And with Riley's father running for congress in their ultra-conservative Orange County, there's an extra amount of pressure for Riley to not be outed. Debut author Jeff Garvin's story is powerful, and ultimately it's a story everyone can relate to: Who am I?
5. Revenge and the Wild by Michelle Modesto (Feb. 2; Balzer + Bray)
Picture Rogue City like Deadwood: It's a lawless, Wild Wild West town with saloons, gun duels, and gangsters. Except Rogue City also has magic. Our protagonist Westie is an orphan who lost her family and her arm to cannibals on the wagon trail years back, and she has sworn revenge. Inventor Nigel has built Westie a mechanical arm, but his attention is pulled to a new family in Rogue City who are looking to invest in Nigel's latest invention: a machine that harvests magic from gold. But, um, that family? Westie is pretty darn sure they're who she has been looking for.
6. Peas and Carrots by Tanita S. Davis (Feb. 9; Knopf Books for Young Readers)
Tanita S. Davis is already a force in the YA world — if you haven't already read her Coretta Scott King Honor book Mare's War, do it — and she's back with Peas and Carrots. It's a story about two completely different girls who must become a family. White teenager Dess is put into foster care when, after a string of family troubles, her alcoholic mother is arrested. Her abusive father is already gone. Her younger brother was put in foster care when he was just a baby. And now she's been placed with the Carters, a happy, comfortable black family. How can she even bond with her new sister Hope, who seems hopelessly naive to the harsh realities of the world?
7. Blackhearts by Nicole Castroman (Feb. 9; Simon Pulse)
Blackhearts tells the fictional origin story of one of the most legendary, fearsome pirates ever: Blackbeard. More specifically, Nicole Castroman imagines a woman, the penniless Anne Barrett, who stole Blackbeard's heart and then destroyed it, sending him careening down the path to become the Blackbeard we know. Before he was the pirate of our stories, he was Edward "Teach" Drummond, a rich merchant who finds his home on the sea. He is set afire by Anne, who works as a servant in his home, and she too longs for a sea adventure back to her mother's homeland in Curacao.
8. Where Futures End by Parker Peevyhouse (Feb. 9; Kathy Dawson Books)
Inspired by the twisted, time-travelling of Cloud Atlas, Parker Peevyhouse's Where Futures End is a collection of five interconnected novellas of five teenagers as our world collides with an alternate universe. The stories stretch from our present into the future to a point 100 years from now when one teenager finds a secret that links all the stories, and all five teenagers, together.
9. The Word For Yes by Claire Needell (Feb. 16; HarperTeen)
Claire Needell in The Word for Yes tells a powerful, necessary story about rape and consent. Three sisters Jan, Erika, and Melanie must try to pull together in the wake of their parents' divorce, as both their mother and father grow physically and emotionally distant. Erika invites Melanie to a Halloween party, and she finds Melanie unconscious and half naked on the floor. Melanie doesn't want anyone to know what happened, and Jan, away at college, is too wrapped up in her own troubles to pay attention. The story isn't easy to read, but it's crucial, especially as a reminder that rape isn't people hiding in the shadows with weapons, it's often someone we know.
10. The Girl From Everywhere by Heidi Heilig (Feb. 16; Greenwillow Books)
Nix sails on the Temptation alongside a crew of time refugees. She's a time-traveller, just like her father. Nix was born in the Chinatown section of Honolulu in 1868, and her mother passed away during childbirth. Since then, she has traveled across the world and across time. But now, her opium-addicted father is taking her on the most dangerous adventure yet: back to when Nix's mother died to try to change the past, and perhaps wipe out Nix's existence entirely. Heidi Heilig's story is mythology and history blended together with science fiction and adventure, and it's incredibly fun and engaging the entire way through.
11. The Bitter Side of Sweet by Tara Sullivan (Feb. 23; G.P. Putnam's Sons Books for Young Readers)
Set in modern-day Ivory Coast, two young brothers struggle to escape slavery on a cacao plantation in Tara Sullivan's The Bitter Side of Sweet. When a drought sent their family into financial ruin, Amadou and Seydou find work on the plantation to help contribute to the family. But years have passed and they're still forced to work. Then one day a firecracker girl, the first girl ever, arrives and changes everything. Khadija's frequent escape attempts threaten the boys' safety, but also push them to make their own escape plans.
12. Kill the Boy Band by Goldy Moldavsky (Feb. 23; Point/Scholastic)
Did the title and bold cover capture your attention yet? This darkly funny book tells about the underbelly of obsessive fan culture. The Ruperts are the hot new boy band, formed from a U.K. reality show, and a group of queen bee mean girls decide to infiltrate the hotel the band is staying in. Things quickly devolve into mayhem, as the girls basically lose their minds for The Ruperts and end up kidnapping one of the members — and that's just the start. Our unnamed narrator starts to realize that her new pals are straight-up lunatics, but we can't trust this unreliable narrator either.
13. The Forbidden Wish by Jessica Khoury (Feb. 23; Razorbill)
What if the genie fell in love with Aladdin? That's the conceit of Jessica Khoury's spell-binding (get it?) new novel The Forbidden Wish. Zahra is the most powerful jinni in existence, but she threatens to lose it all when she breaks the biggest rule: falling in love with her master. Aladdin discovers her lamp and is given three wishes, but the King of the Jinn offers Zahra a deal to escape her lamp forever, only if she betrays Aladdin. The story is lush and magical, and anyone who ever loved Aladdin or One Thousand and One Nights is going to be hooked.
14. After the Woods by Kim Savage (Feb. 23; FSG)
Julia fought back against a man in the woods who was attacking her best friend Liv. Liv got away, but Julia was kidnapped and kept for a horrifying 48 hours by the man. Today, Julia can barely remember what happened and her kidnapper is behind bars, but when another girl is found dead in those same woods, Julia's memories start to come back. She agrees to give her story to a local reporter in exchange for information about the current case. Kim Savage draws such real-to-life, compelling characters, and you'll be entirely invested in the heart-pumping mystery because you'll feel so drawn to the people involved.
15. The Smell of Other People's Houses by Bonnie-Sue Hitchcock (Feb. 23; Wendy Lamb Books)
Four teenagers' lives become intertwined in 1970s Fairbanks, Alaska in The Smell of Other People's Houses. As an Alaskan herself, Bonnie Sue Hitchcock is able to bring alive this town, and this group of poor teens and their families that live there. There's Ruth, Dora, Alyce, and Hank, who all struggle with family troubles, broken families, childhood poverty, and other turbulences, but they all feel completely unique and the types of people who aren't often seen in the pages of literature.
16. Unbecoming by Jenny Downham (Feb. 23; David Fickling Books/Scholastic)
Jenny Downham's Unbecoming follows three generations of women in one family, and they all have something to hide. 17-year-old Katie's Alzheimer's suffering grandmother Mary is back in their lives after she breaks up with her boyfriend; Katie's mother Caroline is overprotective of both her and Mary; and Katie is afraid to reveal that she finds herself attracted to other girls. With the three women under one roof, their secrets and pasts bubble up beneath them in Downham's beautiful, funny, and heart-breaking story of family and life itself.
Image: Cora Foxx for Bustle