How To Create Brows If You Don't Have Any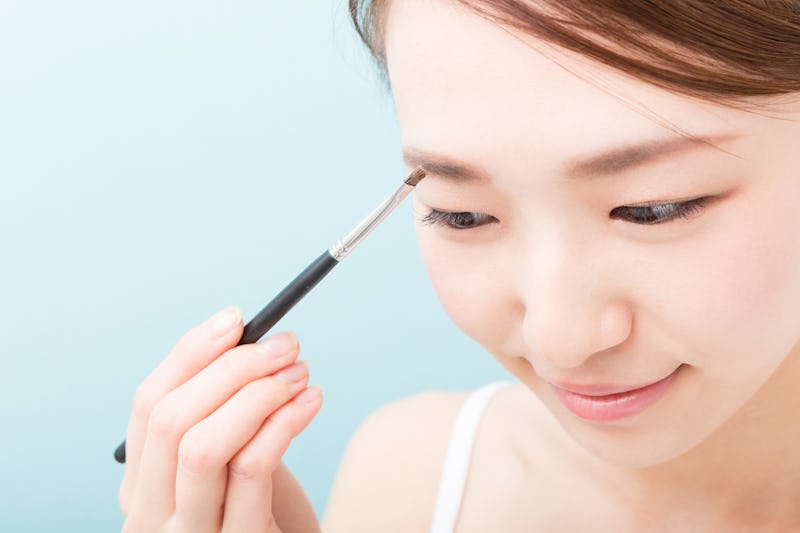 Finally, big brows are beautiful. Celebrities like Cara Delevingne and Miranda Kerr love to flaunt their naturally bold brows, and it looks like others who used to shape their brows thin (like Jessica Alba) are parting ways with their tweezers. But if you're still trying to overcome over-plucking, here's how to create brows if you have none.
If you over-plucked in your early years (thanks a lot, 2000s) then you may have thin brows that don't quite frame your face or really show up at all. If your brows are struggling and you want to grow them back, first thing's first: Put down the wax and tweezers. Instead, pick up vitamins high in vitamin E to promote hair growth. You can also add certain items to your diet. Foods rich in amino acids and vitamin E, like leafy green foods, will promote healthy hair growth. But if greens aren't your thing, you can apply olive oil or castor oil to your eyebrows with a Q-tip or cotton ball. This will keep your brow strands strong! In addition to all those things, you can stimulate growth by brushing your brows twice daily.
If eating vitamin-rich foods and wiping oil onto your brows doesn't provide you with the instant gratification you're looking for, worry not. Makeup and a brow brush are your best friends. Here's how you can create brows from next to nothing.
Sigma Beauty E80 Brow & Lash Brush, $15, Amazon
To begin shaping a killer brow, start by brushing your brows upward, starting from the front and working toward the tail end. This will help you see what spaces need to be filled in.
IT Cosmetics Brow Power Super Skinny , $21, Amazon
Next, you should use a brow pencil or brush to measure where your "natural" brows should begin and end. Your "best" brow should begin above the tear duct and arch at 11 o'clock.
Anastasia Beverly Hills Brow Powder Duo, $23, Amazon
Start filling in the sparse spots, starting at the back half of your brow.
Anastasia Beverly Hills Perfect Brow Pencil, $23, Amazon
After defining the middle and tail, start to create hairs with a pencil toward the front of the brow. Press lightly here and draw hairs toward the nose.
Anastasia Beverly Hills Clear Brow Gel, $22, Sephora
Finally, you want to set all your hard work with a clear brow gel. If you don't have any handy, you can always spray a Q-tip with hairspray and run it lightly over your brows.
Want more beauty tips? Check out the video below, and be sure to subscribe to Bustle's YouTube page for more hacks and tricks!
Image: Fotolia; Courtesy of Brands