Here's What 'Anomalisa' Is Really About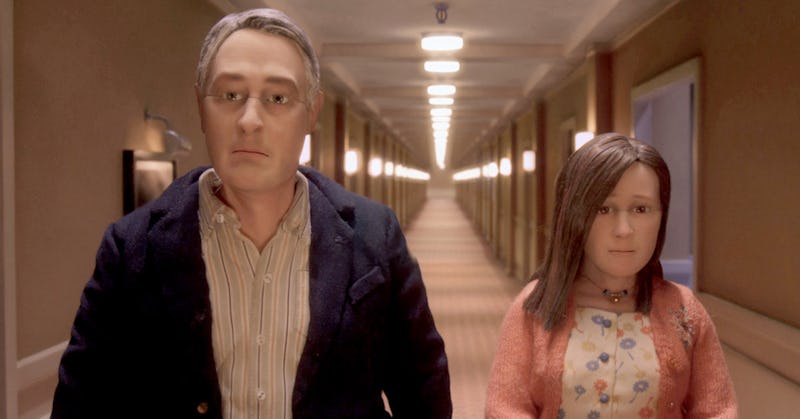 I'm officially referring to 2015 as the Year of Enigmatic Trailers, because I swear, there were more movie previews that made absolutely no sense than I care to even mention. I mean, a trailer full of pretty pictures and some ambiguous dialogue is fine once in a while, but it doesn't do much in the way of telling anyone what a specific movie's plot is. Sorry to be a pain, but I need a little bit more than that to know what a movie is actually about. And, while it wasn't nearly as vague as some others this year, I totally felt this way when I saw that obscure trailer for Anomalisa in which a bunch of people with seams in their skulls walked around looking sad for two minutes and 20 seconds. So, when I heard that same movie had been nominated for a Golden Globe, I was determined to figure it out: What is Anomalisa about?
If you're wondering the same thing, good news: I have an answer for you. Here's what the movie that critics are calling "the most human movie of the year" (a movie about clay puppets, mind you) is really about: There's this guy, Michael Stone, and he is an author who has a hard time interacting with people on a meaningful level. He lives a pretty boring and uninteresting life because of it. But, in the middle of a business trip, he meets a stranger who changes his view of the world and of his life and his days are forever changed because of it.
Does that sound like some others stories you might have heard of? Probably. It's a pretty common narrative arc, and for good reason: It's compelling. Character is missing something in his life, character goes somewhere or meets someone or does something that changes his life, character becomes a better person because of it. The thing that makes Anomalisa so different (aside from the whole claymation thing) is its incredible heart. These non-human characters are brought to life by the perceptive and sensitive skills of Charlie Kaufman, the writer and director who brought us all similarly strange but equally-as-moving movies such as Being John Malkovich, Eternal Sunshine of the Spotless Mind, and, my favorite, Adaptation.
With Kaufman working behind-the-scenes to make this movie what it is, it has become so much more than it's rather predictable narrative arc. The plot is deeply moving and the characters incredibly compelling. It's definitely worthy of the Golden Globe nomination it earned this year.
Image: Paramount Pictures (2)