15 Winter Salads To Enjoy In 2016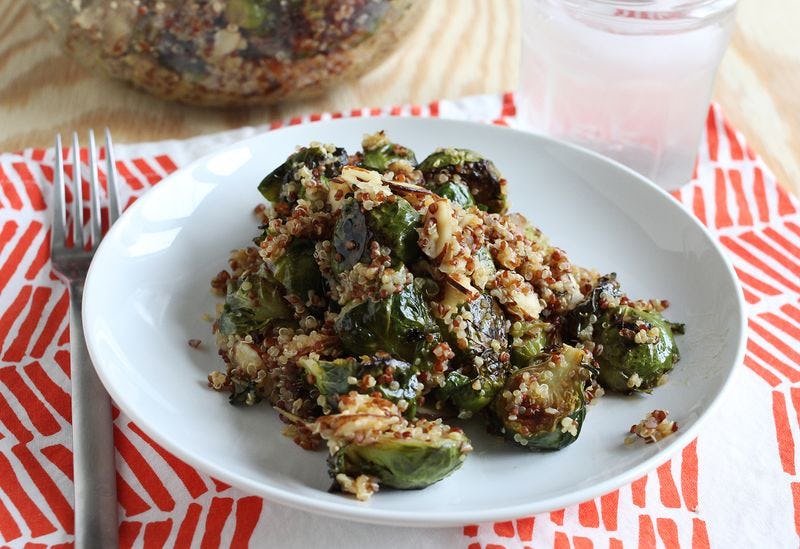 Salad isn't exactly the food most associated with winter. With so many tasty soup and comfort food recipes to enjoy in colder temperatures, it sometimes takes a lot of convincing to actually indulge in some healthy winter salad recipes. But it takes a whole lot less convincing when those recipes are incredibly delicious, easy to make, and super pretty (you know, because Instagram).
The extra dose of motivation that always comes with any new year makes it far more likely that you'll try out some healthy recipes for 2016 instead of continuing a holiday season full of decadence. Swapping out a less-than-wholesome meal for a salad can do wonders, but that doesn't mean you have to settle on boring lettuce and rabbit food. Think of this as a lifestyle change that actually tastes good.
These 15 salad recipes rely on seasonal ingredients to make the most of wintertime, but feel free to get creative by adding your own toppings or playing around with different dressings. They make great dinners, as well as healthy packable lunches — but who says you can't put an egg on top and call it breakfast? Go crazy. It's a new year, new you, and you deserve some new salads.
1. Cauliflower, Fennel, And White Bean Winter Salad
Just because The Kitchn's winter salad is monochromatic doesn't mean it's not bursting with flavor. Fennel adds an aromatic touch.
2. Basil And Persimmon Salad
Persimmons can usually only be found for a few prime weeks of the year. Take advantage of them with A Beautiful Mess' vibrant salad.
3. Winter Farro And Kale Salad
Pomegranate seeds and roasted hazelnuts make Love and Lemons' winter salad taste perfectly delectable.
4. Winter Apple Slaw
Cabbages, apples, and radishes make a perfectly crunchy salad. Thanks, Cookie and Kate!
5. Warm Roasted Winter Salad Bowl
Oh She Glows knows what we want: potatoes in our salads. This one is a win for all starch-loving folk.
6. Roasted Winter Vegetable And Millet Salad
If you don't consider yourself a salad person, Naturally Ella will change that. A topping of hummus makes this dish extra savory.
7. Mushroom And Green Bean Salad
Think of The Crepes of Wrath's mushroom green bean salad as the healthier salad-version of your favorite green bean casserole.
8. Winter Beet And Pomegranate Salad
Pomegranate season doesn't last all year! Take advantage of it right now with Half Baked Harvest's colorful salad.
9. Roasted Cauliflower Kale Salad
While it's cold enough to encourage you to turn on that oven, you might as well roast some cauliflower to make Love and Lemons' surprisingly cozy salad.
10. Kale, Clementine, And Feta Salad
Skip the goat cheese or parmesan. Cookie and Kate proves that feta is an unlikely winner in this fruity salad.
11. Superfood Crunch Salad
With dino kale, coconut flakes, and homemade balsamic apple vinaigrette, Oh She Glows' superfood salad is basically a work of art.
12. Roasted Root Vegetable Salad
Salads can be cozy, too! Naturally Ella's winter go-to is filled with plenty of warm veggies like parsnips, carrots, and beets.
13. Winter Wheat Berry Salad
Sick of quinoa? Try wheat berries for a fiberful grain that will leave you satisfied. The Kitchn's salad with wheat berries, figs, and red onion makes a great winter lunch.
14. Winter Citrus Fruit Salad
Need some extra vitamin C to fight against winter colds? The Crepes of Wrath has your perfect preventative care.
15. Quinoa And Brussels Sprout Salad
If you're not quite on the kale bandwagon, A Beautiful Mess' quinoa and Brussels sprout salad will ensure you get plenty of greens in the tastiest way possible.
For more food inspiration and ideas, check out Bustle on YouTube.
Images: A Beautiful Mess (3); The Kitchn (2); Love and Lemons (2); Cookie and Kate (2); Oh She Glows (2); Naturally Ella (2); The Crepes of Wrath (2); Half Baked Harvest