'Arrested Development' Season 5 Has A Plot Line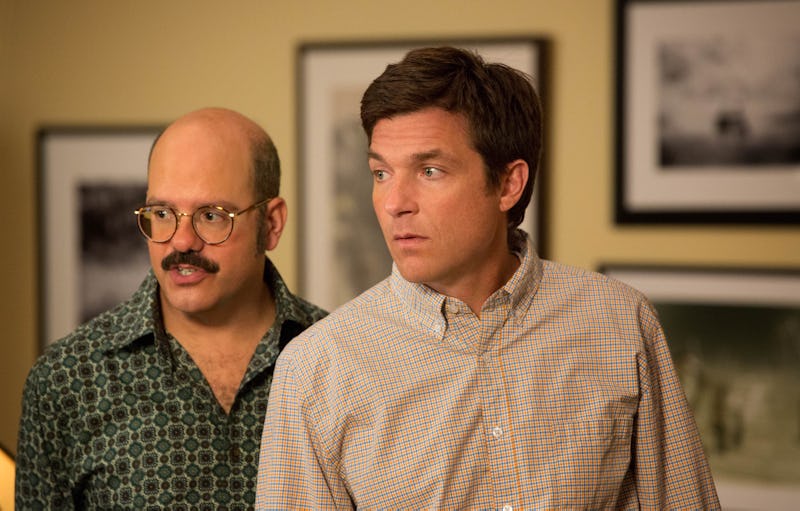 Following the massive success of Netflix's Making a Murderer, it only makes sense for the streaming service to give its fans more of what they want, right? Right. Cue the upcoming fifth season of Arrested Development. As Deadline reports, the aftermath of Season 4 has set Arrested Development Season 5 up for a serialized crime drama, in the vein of Making a Murderer, The Jinx, and Serial.
To refresh your memory, when we left the Bluth family all the way back in 2013 for the Season 4 finale, Buster was arrested for the murder of Lucille Austero. It's this plot line that will apparently carry us through the murder mystery in Season 5. According to Deadline, the show's creator Mitch Hurwitz was unaware that the true-crime genre would accrete to such a culture phenomenon in the interim between his writing it, and the show starting production.
HBO's The Jinx, NPR's Serial podcast, and just recently Making a Murderer are all telling us something about the type of media our culture wants to consume right now: Real-crime documentary series are taking the spotlight, and people can't get enough. If Hurwitz and the creative team behind the cult hit have anything to do with it, perhaps Season 5 of Arrested Development will serve as a comedic respite for ardent spectators of the genre.
Back in 2013, Netflix reinstated an already off-air Arrested Development. It was one of the streaming service's first attempts at original programming — a 15-episode season that weaved in and out of separate Bluth family plot-lines, and ultimately came to together for the final moment of Buster's arrest. It was the best case scenario for (some) avid fan's of the show, as Season 4 proved to be even weirder, quirkier — and at times darker — than it had ever been while it ran a short-lived life on Fox. Now it's delving into more topical terrain.
If Season 5's story line feels all too relevant and on the nose, that's because it is. Making a Murderer continues to entrance audiences and captures headlines. (It's even reached the White House.) But again, according to Deadline, Hurwitz maintained that the fittingness is just a coincidence — albeit a chillingly predictive one.
The prescience of Hurwitz's decision to make Season 5 a true-crime spoof wasn't the only coincidence he came across while brainstorming ideas for the Bluth family. In Season 4, when Lindsay was running for Congress as a Republican, she advocated for the building of a wall between the U.S. and Mexico. Sound familiar now, 2016? Maybe that's where Donald Trump got the idea. Hey, anything's possible.
Safe to say that Hurwitz had to take out a few plot-lines along the way. If Hurwitz — and the Bluth family — can tackle true-crime though, there's no telling how big and crazy Season 5 of Arrested Development will turn out. Let's just hope they don't wait too much longer to release it!
Images: Netflix; Giphy (2)