Olivia Inspired So Many Memes On 'The Bachelor'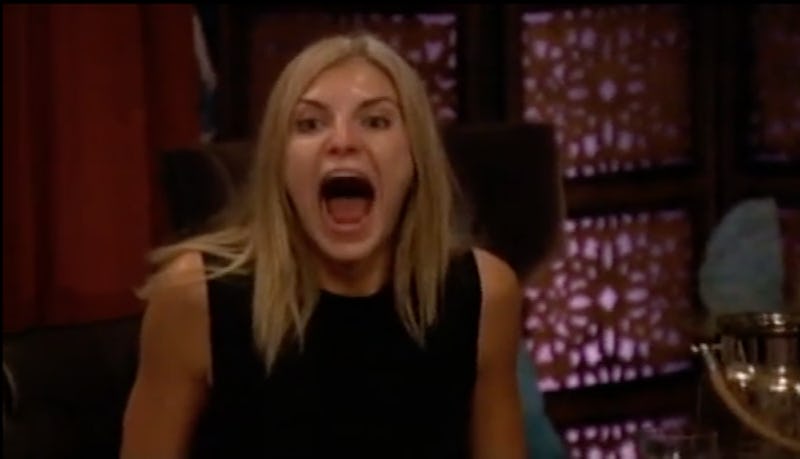 It might be a little too early to pick a frontrunner on The Bachelor after just two episodes, but the frontrunner has already been self appointed. First Impression Rose winner and Bachelor contestant Olivia Caridi thinks she has this one in the bag, and she's hardly able to contain herself. After a group date where it was scientifically proven that she is Ben's perfect date, scoring another rose, and stealing a moment with our Bachelor, she's feeling pretty confident right about now, and she shows it a hilarious yet perplexing way: By opening her mouth as wide as possible. And, since the Internet is such a beautiful place, Olivia's mouth has inspired so many memes.
Just as we all loved a good montage of Ashley Iaconetti's crying face last season or Andi Dorfman saying staaahhhpp, this season Olivia and her chompers have taken the Internet by storm. Bachelor fans (and Bachelor alumni) wasted exactly zero time in heading directly to Twitter to joke about the expressions she was making. Because it wasn't just the one scene. It was on multiple occasions. Anytime Olivia is excited, she opens her mouth. And her jaw span is HUGE. I don't know whether to be confused or impressed at this point.
Here are some of the most perfect memes that have come out of this phenomenon:
My fingers are so crossed that the mouth opening doesn't end here. It's gold.
For everything Bachelor Nation, follow our Bachelor fan page on Facebook.
Image: Rick Rowell/ABC