Lace Might Be 'The Bachelor' Villain... Or Not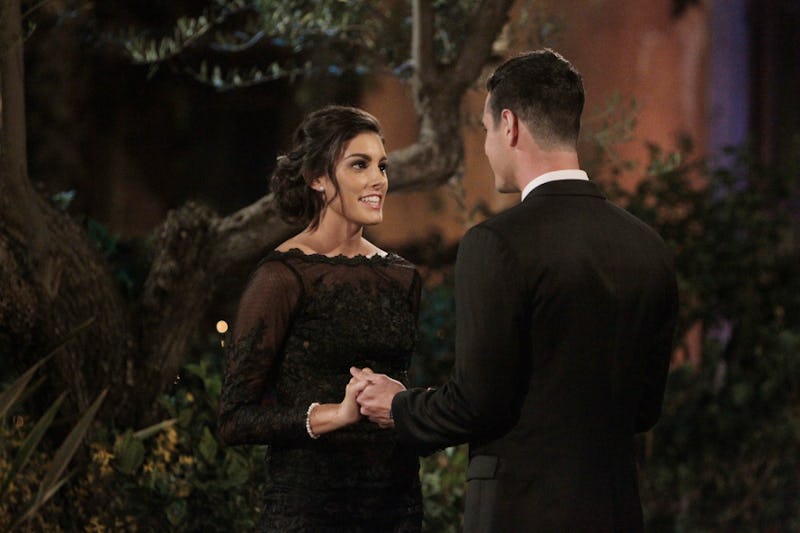 There are certain things that every single season of The Bachelor has: Roses, awkward dates, hot tubs, and... a villain. Last year, that villain was Kelsey Poe and her "amazing story," but it took a few episodes to establish that. On Monday's Bachelor premiere with Ben Higgins, though, that wasn't the case. A clear cut villain seems to have appeared from the beginning — Lace, a 25-year-old real estate agent from Denver. And, while watching the episode, I couldn't help but wonder what Lace's deal is on The Bachelor. Is she a villain? Or was she just drunk for the rose ceremony? Or did she simply get a villain edit? The way she was shown on the first night doesn't tell us everything we need to know.
OK, so her arrival was a little out there when she marched right up to Ben and wasted no time staking her claim on the first kiss of the season. And, once she made it into the rose ceremony, she didn't exactly make friends. After just a few minute of screen time, her fellow contestants were immediately sensing something was off about her, and she didn't waste time passing judgment about the other women (and how they looked) either.
But, it's hard to tell if Lace is the villain on her premiere behavior alone. First of all, it's a weird situation. You pull up to a mansion in a limo, meet a guy, drink a bunch, and and try to mingle with women who could potentially steal this guy you like — or are planning to like, anyway — out from under you. Not everybody is on their best behavior. Then add in the fact that producers often edit the content down to what they want us to see, and things get pretty confusing.
The first night has never been indicative of who somebody is. Remember how literally no one liked Kaitlyn Bristowe after her "plow your field" comment to Chris Soules during her limo arrival? Now, she's basically one of the most beloved Bachelorettes ever. I'm willing to hold judgment on Lace until we've seen more of her. Regular contestant until proven villain, right?
But, let this be said: If she is the villain, I am here for it. Based on this episode alone, it seems like she's going to be entertaining as hell. I am so ready!
For everything Bachelor Nation, check out Bustle's podcast, Will You Accept This Podcast? and follow our Bachelor fan page on Facebook.
Image: Rick Rowell/ABC