Oreo Is Bringing Back This Flavor For V-Day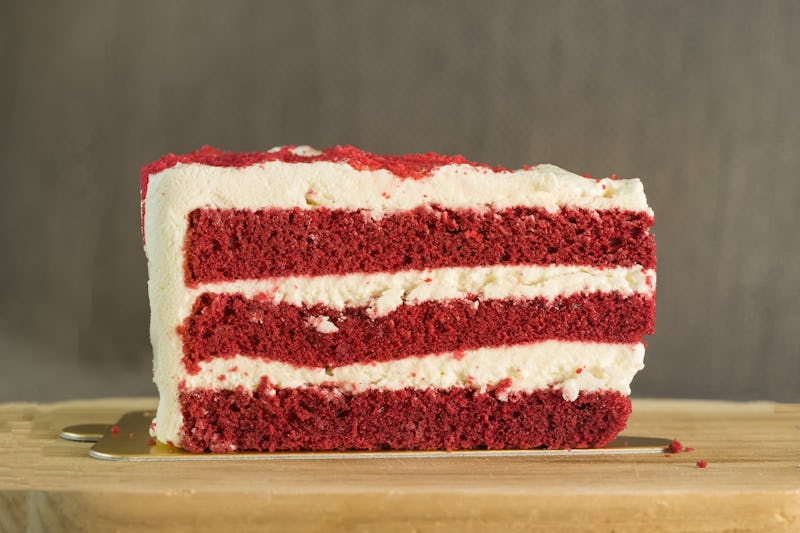 Here's some news that's sure to get your pulse racing this Valentine's Day — Red Velvet Oreos are back, and they are available in stores right now. Yes, your favorite seasonal sandwich cookie is making its triumphant return, having won over all of our hearts after its impressive debut last year. At the time, it seemed like a whirlwind romance — a brief but passionate affair where we scrambled to get our hands on the limited-edition treat, knowing that the target of our adoration would only be around on shelves for a pure but fleeting moment. But surprise! Not only are Red Velvet Oreos back, they are here to stay. The cookies appeared in stores nationwide on Jan. 18, and according to an Oreos rep, will become an "ongoing offering." Be still, my heart.
For those of you unfamiliar with the delectable offering, allow me to walk you through this delightful flavor profile. Imagine, for a second, a perfect red velvet cupcake, sitting in front of you. Obviously, it's topped with cream cheese frosting, because to pair red velvet with anything else is a mistake. Oreo has managed to encapsulate everything you love about the classic dessert into a bite-size snack — and it's so good. Of course, it will take a lot to usurp brownie batter Oreos as my favorite novelty flavor, but these come pretty close. The cream cheese frosting-flavored creme filling, though not made from real cream cheese, certainly plays the part well, and once the initial sweetness passes, there's a subtle chocolatey after-taste that seals the whole deal. Summed up, it's Oreo perfection.
Then again, coming up with new and amazing flavors is kind of Oreo's specialty. (For reference, please see Birthday Cake Oreos, Cookie Dough Oreos, and another favorite of mine, S'moreos.) To sweeten the deal this Valentine's Day, Nabisco also launched Cinnamon Bun Oreos, a treat it hinted at back in September, but is just now adding to the Oreo Wonder Vault (yes, that's a real thing). Inspired by your favorite breakfast pastry, the new flavor became available Jan. 18, and finally gives you a reason to eat cookies for breakfast. You're welcome.
Both red velvet and cinnamon bun flavors retail for $4.49, and are available now. Oh, and stay tuned! Oreo says there's a new flavor on its way to the vault, too, but you're going to have to sit tight for the big reveal.
Images: Fotolia; Oreo