11 Things You Wore To High School In The '00s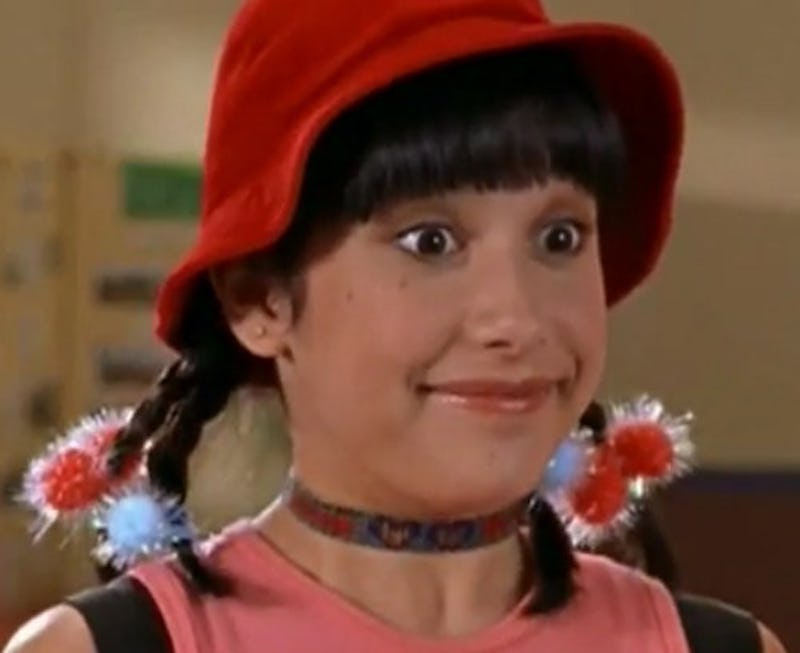 When looking back at our teenage pictures, it's very hard not to wince at the unfortunate fashion choices that came out of our closets. But even though most of it was borderline tragic, it's sweetly nostalgic to look back on what we wore to high school in the '00s. You probably rolled up to school wearing stylistic choices your mom secretly cringed at when you hopped out of her minivan, with your Polo collars popped and your flared corduroys pressed. This came out of a closet brimming with asymmetrical jersey skirts and off-the-shoulder knits with too-long sleeves, making every morning a fashion show in front of your closet mirror.
It's not like you were alone on this adventure, either. Your whole high school probably resembled a Lizzie McGuire scene or the cafeteria from Sabrina The Teenage Witch. So let's take a trip down memory lane together and look back on what the cool kids wore while traveling in packs down the halls, what your pals experimented with during lunchtime at the cafeteria, and what you wore out for Friday night games. Let's go back and fondly recollect what we thought was cool to wear to high school in the mid '00s.
1. Birkenstock Slip-Ons
Birkenstock Boston, $140, zappos.com
These were also known as the "cool girl shoes." If you made your way to math class wearing these suede slip-ons, then you ate lunch in the prime real-estate section of the cafeteria and had a boyfriend with a Mustang who picked you up after school. Meanwhile, the rest of us schlubbed around the hallways in gym shoes that our moms got from the clearance racks. So not on your level.
2. All The Polos
With them collars popped.
Usually a regular Polo worked well, too, but if you wanted to make your way up the high school hierarchy, you'd have better odds with quality logos emblazoned across your chest, like Abercrombie or Hollister.
3. Ruffled Skirts
For those mornings when you woke up feeling flirty, you likely glossed over the Juicy Couture velour sweatpants and went straight for the ruffled minis with the satin sashes. And if you really wanted to make an impression, I'm willing to bet you paired them with your cork wedges for an extra Mean Girls vibe.
Enter Missy Elliott's track as you walk slow-mo down the hallways with your RBF on.
4. Coach Totes
These were another cool girl staple. Instead of carrying your notebooks and pens in your arms like the rest of us peasants, you stuck them into a Coach tote the size of a beach bag. Bonus points if the straps were covered with gold sparkles or if the bag came in a dizzying patchwork design.
5. Velour Sweatsuits
During the summer, it was all about the booty shorts and the midriff zip-ups. And during the winter, it was all about the velour sweats in citrus colors, with hems tucked into Ugg boots. Ah, the uniform of the early 2000s girl brigade.
6. Belts On Top Of Your Shirts
One of our first forays into layering, this was our definition of "spicing up" a denim skirt and cotton tank combo. Simply cinch a woven belt loosely over the pairing, and you're good to go. Bonus points if it was a metallic belt.
7. Platform Sandals
The teenager's tentative first step into high heel territories, the raised foam platform gave you just enough sex appeal to make it through school without any warning slips. They made mini skirts feel just a little more adult and college-like, and they gave baggy jeans a stylish edge.
8. Cropped Sweaters
To combat the chilly air conditioning in chemistry class, you shrugged on your favorite shrunken cardigan — the one that was so loosely woven that your hanger poked through the sleeves every time you tried to hang it, and that tied right under your boobs. Because missing three quarters of your sweater made perfect sense in the '00s.
9. Cargo Army Pants
No one could pull off the print, yet we were all determined to try. We looked like people who owned transitional lens glasses and pet iguanas. Some people opted for the tight, flared options that looked like they came off a Bratz doll, while others went with the utilitarian cargo pairings that promised you'd never have a Friday night date, ever.
10. Glitter-ified Sportswear
Step one: Take a jersey or cotton shirt with an arbitrary number on it. Step two: Add sequins and a sprinkling of glitter, because yes. Step three: Cut the neckline down and possibly add crisscross laces. Step four: Tell somebody you're 99 percent angel. Step five: Regret all the decisions you've ever made.
11. Jean Capris
Just the thing for your layered tank tops or your collared shirt plus sweater combos.
Have you made it all this way without groaning at least once? While all these options were terribly questionable, here's to imagining what we'll think of our 2016 wardrobes 10 years from now. Fingers crossed that we've grown out of our mistakes (but also kind of hoping that we haven't).
Images: Disney (1); Zappos (1); Marlen Komar (3); L.E.S. Record Company (1); ABC (1); Disney (2)