14 Easy DIY V-Day Ideas That Celebrate Love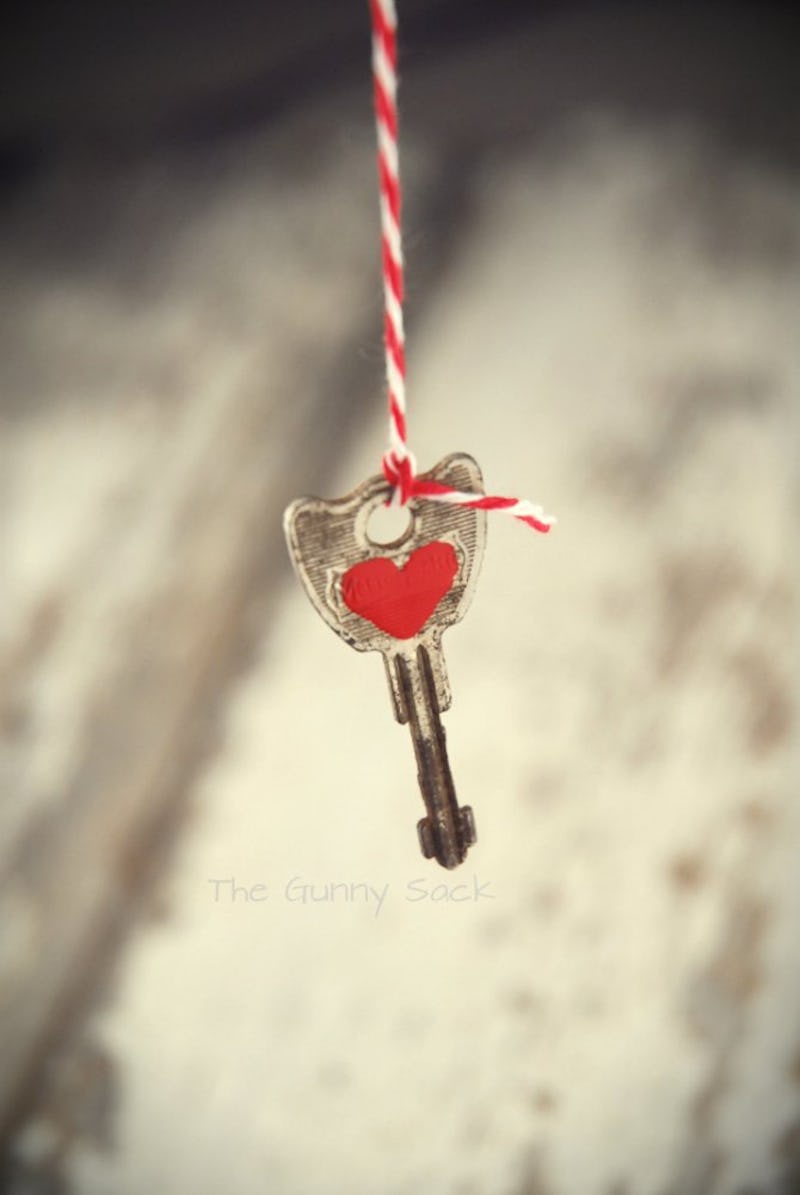 Like most holidays, Valentine's Day is one of the best times to get crafty. There's really nothing quite like coming up with Valentine's Day DIY ideas and gifting them to that special someone. Unless you're making homemade chocolate-covered strawberry hearts, of course. I would totally support gifting those to yourself.
Holiday craft projects are also wonderful for sprucing up your space. It's a great way to create a sense of time as 2016 runs its course. No one likes to feel stagnant and bored, anyway. Even if you're not a fan of V-Day, it provides the perfect opportunity to exercise your creativity and imagination. Remember, you don't always have to go for the cutesy combination of pink and red. You can always customize a project to feature the elements and colors that you love.
To top it off, homemade crafts are ideal for gift-giving. Sure, it's easy to stop by the store and grab a gift or five. But when it comes to showing someone that you care, shouldn't the gift be totally unique? Making your own V-Day gifts is a fool-proof way to top any commercialized store-bought gift out there.
Here are 14 DIY ideas to get you started. Happy Valentine's Day!
1. Paper Heart Wreath
This Feb. 14, ditch the conventional ring-shaped wreath for this eye-catching paper wreath DIY by Blooming Homestead. It might look complicated, but it's really just made up of paper cones. I love the way it pops against that black and white background.
2. Framed Button Heart
This project by Cafenohut is the epitome of charmingly simple. It also happens to be inexpensive and beginner-friendly. Even the most novice of crafters can take this on... promise!
3. Heart Tree
This DIY from Money Hip Mamas proves that the most clever projects don't have to cost a fortune. Using branches from the closest park or your own backyard, you can whip up an adorable V-Day heart tree.
4. Concrete Heart Necklace
Who knew concrete could look so pretty? The awesome part about this project by Fall for DIY is that you can wear this all year round.
5. Heart Hand Warmers
Depending on where you live, there's a good chance that Valentine's Day will be a chilly one. Thanks to The Idea Room, you can heat things up with a DIY heart hand warmer. These lovelies are also surprisingly easy to make.
6. Bath Bombs
This V-Day treat yourself to a relaxing bath, complete with homemade bath bombs. This cutie heart-shaped version even features a sprinkling of glitter. Visit The Gunny Sack for the full tutorial.
7. Heart Print Tights
Thanks to Brit + Co, you can transform any dress into a V-Day ensemble with a pair of DIY heart print tights. The tutorial also demonstrates how to create a homemade heart stencil.
8. The Key To My Heart
Well, not my heart, obviously. I think that one's lost.
However, if you want to grant someone access to your own, this is the cutest way to do it. Nostalgic folks who love knick-knacks will adore this one. Head to The Gunny Sack for the full tutorial.
9. Heart Print Socks
Thanks to eHow, you can keep those toes warm and cozy with a set of heart print socks. It's the perfect accessory for cuddling by the fire.
10. Strawberry Sugar Scrub
When it comes to Valentine's Day, strawberries seem to steal the spotlight. This year, treat yourself (or someone you love) to a delicious-smelling batch of strawberry sugar scrub. Visit Totally the Bomb to learn how to make it.
11. Watercolor Coffee Filter Wreath
For inexpensive wall decor, try making this fun and flirty piece by Place of My Taste. No one will ever believe that it was made with watercolor paints and paper coffee filters.
12. Doily Stamped Tea Towels
Looking for a quick way to adorn your table? Make these doily stamped tea towels from Designed Improvised. Just paint, stamp, and let dry.
13. Cupid's Arrow Topper
Dress up your V-Day cupcakes with darling DIY Cupid's arrow cupcake toppers by Catch My Party. The glitter-topped feather idea makes me swoon. If you'd like, you can even make the feather-glitter combo to match whatever decor or theme you have going on.
14. White Chocolate Heart Toppers
For an edible way to embellish your treats, try these white chocolate heart toppers by Handmade Charlotte. This version is simple, charming, and easy to make. You can even create letters to spell out a super sweet message.
For more DIY inspiration, check out Bustle on YouTube.
Images: Blooming Homestead; Cafenohut; Money Hip Mamas; Fall for DIY; The Idea Room; The Gunny Sack; Brit + Co; The Gunny Sack; eHow; Totally the Bomb; Place of My Taste; Designed Improvised; Catch My Party; Handmade Charlotte