This Plus Size Blogger Proved Mesh Is For All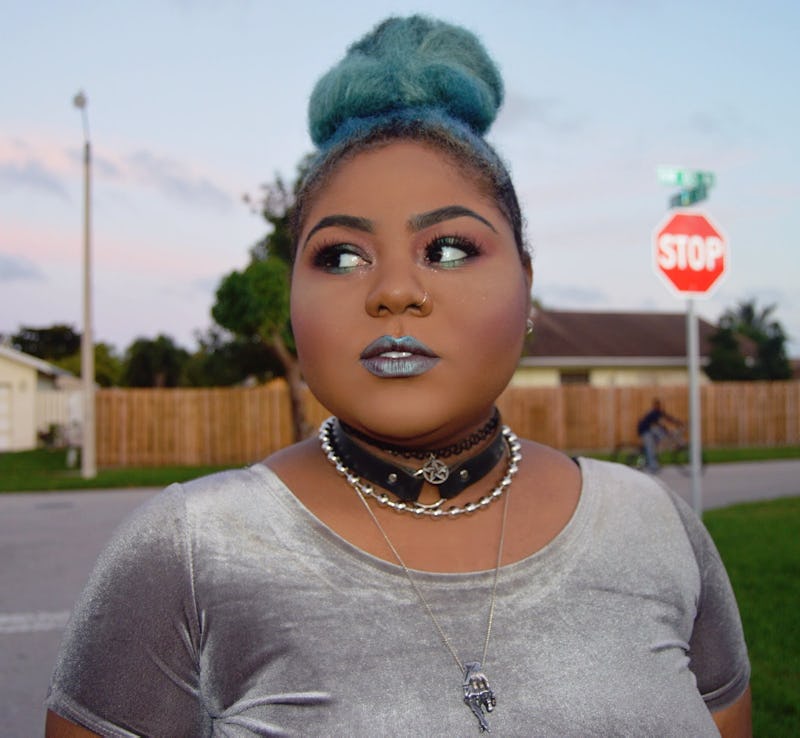 When it comes to styling sheer fashions, things can get pretty intimidating. When it comes to styling sheer fashions for plus size people, the struggle can arguably feel twice as hard. Blogger Stacey of Hantise De L'oubli never shies away from breaking plus size fashion rules and presenting her alternative style in the realest, most interesting ways, though. Not only does she constantly experiment with different hair and makeup trends, but she does it with her wardrobe as well. In a world where "playing it safe" when you're plus size can feel so much more comfortable than taking a risk, that is something to admire. She also happens to be a pro at balancing the revealing with the modest while still looking chic in sheer.
In Stacey's recent look on Instagram, she can be seen rocking a bold white lip and clown-inspired eye makeup, high-waisted metallic leggings that compliment the blue of her hair perfectly, a harness bra, a "cover thingy" (her term for the long cardigan that flows so fabulously behind her), and a Chubby Cartwheels mesh bodysuit. Paired with some pretty impressive platform boots as well as a decidedly contrasting suburban street, Stacey is the ultimate in edgy fashion and an inspiration for all alternative plus sizers out there.
I'm all for plus size mesh clothes, and I think that plus size babes look so good in this trend that it needs to be spread to the masses. With the versatility of mesh, there are a million different ways to rock this look and stay in keeping with your own style.
If you want to copy the Hantise De L'oubli outfit exactly, then the mesh bodysuit from Chubby Cartwheels is a dream and comes in three colors (just in case the all-black route isn't for you). It's also available in four different sleeve lengths, from sleeveless to full sleeve, if you're not ready to bare the bingo wings.
Mesh Body Suit, $45, chubbycartwheels.com
If the full-frontal, all mesh bodysuit look isn't for you, there are plenty more subtle mesh styles to rock instead. There's a huge array of amazing plus size mesh looks in the Boohoo Plus collection, for instance, but this one is definitely my favorite of the bunch.
Plus Spotty Mesh Detail Body Suit, $26, boohoo.com
Your reasons for avoiding the sheer mesh trend might not come from a place of modesty, but rather wanting to avoid the all-black clothing trend that is très chic right now. And I hear you. My New Year's resolution was to start wearing more color, but that doesn't mean I can't be a sheer goddess, too. The entire Isolated Heroes collection leaves me drooling, but its colorful mesh pieces will let you fit into the sheer trend without having to give up on your bright personal style.
Barbie Pink Sequins Tear Dress, $135, isolated-heroes.com
And if you have any qualms about whether these styles — which go up to a size 20 — would look good on a plus sizer, have no fear. Fatshion icons Tess Holliday and Gabi Gregg were spotted rocking Isolated Heroes throughout 2015.
So if you want to go the full alternative route, you can cop the entire look for yourself with the help of Stacey's outfit posts. If not, there are plenty of mesh alternatives out there for all you fearless fatshionistas.
Images: Courtesy hantisedeloubli; hantisedeloubli/Instagram; Courtesy Brands