Fantastical Perfumes For A Whimsical Vanity Stand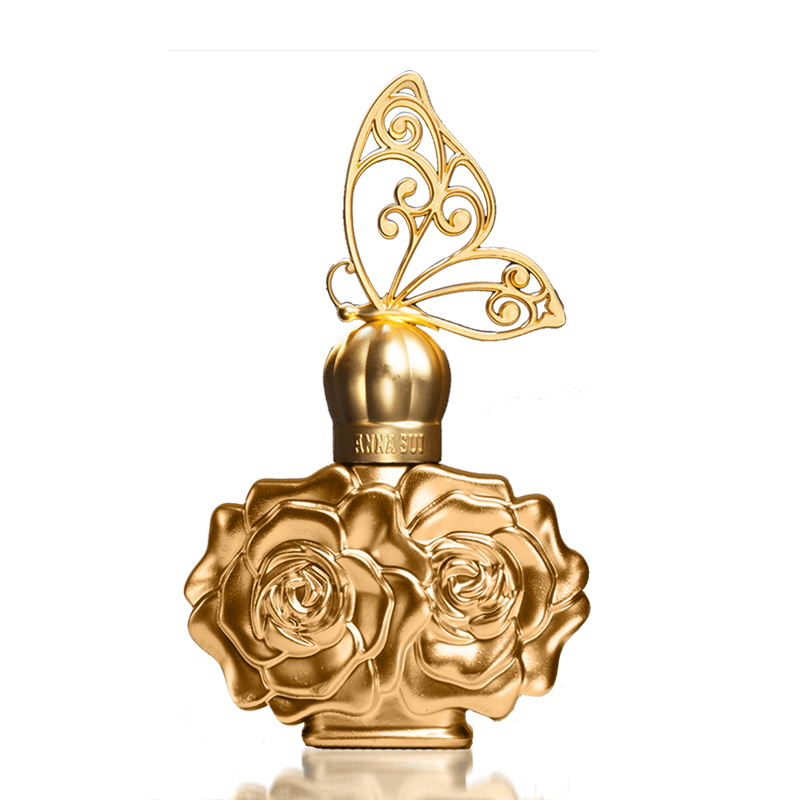 There's been a buzz around perfume in recent years, not least because of the beautiful perfume bottle designs perfumeries are dreaming up. Every year, designers are becoming more creative with their scents and the fragrance bottles in which they are packaged. I've always dreamed of having a fantastical vanity stand, filled with ethereal scent bottles and whimsical beauty wonders, which would make onlookers gasp in delight. Of course, the fragrance of the perfume is what's most important, but a good looking perfume bottle is a fabulous bonus.
Celebrities are hopping on the fragrance bandwagon and they appear to be in competition with each other to create the most avant-garde fragrance bottles. Katy Perry has a range of scents encased in quirky bottles, Gwen Stefani's range of Harajuku Lovers scent bottles look like cutesy dolls, and Nicki Minaj perfume bottles appear to be modelled on the Minajesty herself. They even go all out with their theatrical celebrity perfume adverts, which aren't very realistic, but they're definitely fun to watch.
On the flip side, perfumers are developing highly unusual scents which are often encased in simple bottles. Diane Pernet's koala inspired scent, the eccentric fragrance by Sécrétions Magnifiques which apparently smells like sperm, and Sweet Tea Apothecary's Dead Writers fragrances (which smell like old books) are just a sample of the unusual scents out there.
If your aim is to create a beautiful vanity that sets your heart fluttering, here are some whimsical perfume bottles to add to your collection.
1. Daisy Dream By Marc Jacobs
Daisy Dream Marc Jacobs Eau De Toilette 1.7 Oz, $80, Sephora
This adorable daisy patterned bottle reminds me of childhood summers and Sofia Coppola movies – in particular The Virgin Suicides – probably because Ms. Coppola shot the Daisy Dream TV ad. Girly girls are sure to love this feminine design.
2. Féerie By Van Cleef & Arpels
Van Cleef & Arpels Féerie By Van Cleef & Arpels For Women Eau De Parfum Spray 3.3-Ounce / 100 Ml, $36, Amazon
This enchanting perfume bottle comes complete with a little fairy. It's so elegant and beautiful with a smattering of magic, which will have your guests looking twice. Scent notes include a bouquet of florals like jasmine, violet, rose, and iris plus mandarin orange, musks, and more.
3. La Nuit De Boheme By Anna Sui
Anna Sui La Nuit De Boheme Eau De Toilette Spray 50ml, $78, Lord and Taylor
If decadence is more your cup of tea, this stunning, golden bottle looks like a summer garden scene which has been caressed by King Midas. The fragrance inside sounds equally as luxurious, including notes of Champagne Citrus, Lotus Flower, and Haitian Vanilla Orchid.
4. Ghost Deep Night By Ghost
Ghost Deep Night Eau De Toilette Spray 50ml, $35, Amazon
Mystery, intrigue, and romance might be more your vibe and if that's the case, this mystical moon-shaped bottle by Ghost will satisfy your needs. This is a sweet and fruity fragrance, including notes of apricot, orange, and vanilla yet it is described as, "a freshly oriental composition."
5. Magical Moon By Hanae Mori
Hanae Mori Magical Moon Eau De Parfum Spray – 50ml/1.7oz, $66, Jet
This intriguing fragrance sounds like something Titania the Queen of the Fairies would wear in A Midsummer Night's Dream. Fragrantica describes the Magical Moon scent as, "Oriental-floral, very seductive fragrance..." which sounds more than a little alluring.
6. Lolita Lempicka By Lolita Lempicka
Women's Lolita Lempicka by Lolita Lempicka Eau De Parfum Spray, $33, Target
This magical bottle reminds me of an enchanted apple found in a fairytale. If the charming bottle doesn't do it for you, the story behind the scent will. On her website, Lolita Lempicka the creator of this fragrance and a range of others says, "I drew from my earliest memories to recreate this intense moment where the child is waiting to become a woman. I gave the aroma to the child, and the flower to the woman."
7. The Afternoon Of A Faun By Etat Libre D'Orange
The Afternoon Of A Faun Eau De Parfum 100ml, $149, Amazon
Make believe you're in Narnia with this fragrance inspired by the passionate dance of Vaslav Nijinski in 1912. The Etat Libre D'Orange website says, "In this scent, find the relationship between the suggestive fantasy and the seductive reality. Then go ahead and make your own scandal."
8. Good Girl Gone Bad By Kilian
Kilian Good Girl Gone Bad Eau De Parfum, $275, Nordstrom
If you prefer Greek mythology, you may be entranced by this glamorous, golden reptile, snaking its way around this perfume bottle. This scent is for any aspiring Medusas out there – that gal was badass! It's good to be a little bit naughty and nice.
9. Angel Passion Star By Thierry Mugler
Angel By Thierry Mugler Refillable Passion Star 1.7 Oz, $82, Macy's
Passion Star is a new fragrance based on the popular Thierry Mugler scent Angel. The Thierry Mugler website describes Angel Passion Star as, "BOLD. DARING. FIERY. ANGEL Passion Star is the ultimate in absolute seduction..." This is for all the sassy folks out there, who aren't afraid to follow their dreams and go for what they want.
Create a vanity table which delights the senses and begin your collection of fantastical perfumes!
Images: Courtesy Brands