The True Hollywood Story Behind 'Hail, Caesar!'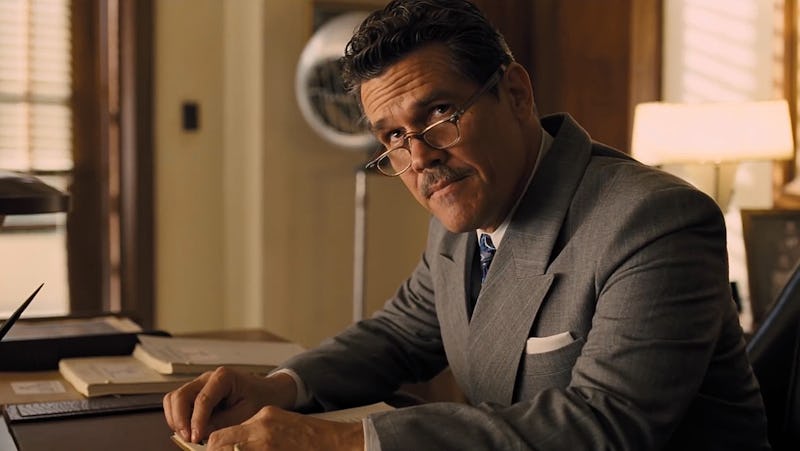 The Coen Brothers are some of the most prolific, adaptable filmmakers of their generation. If their names were kept out of the credits, would anyone ever guess that the discomfiting starkness of No Country For Old Men and zaniness of The Big Lebowski came from the same creators? The Coen Brothers upcoming release is an addition to the Lebowski family of exaggerated, cameo-heavy comedies; but the true story behind Hail, Caesar! is all old Hollywood drama and intrigue. In the movie, Josh Brolin plays a real fixer named Eddie Mannix, who's charged with corralling and controlling the studio's assets: the stars. When an actor (George Clooney) goes A.W.O.L. in the middle of shooting, it's Mannix's job to track him down.
You didn't miss an important lecture in your Film History class: Clooney's character Baird Whitlock isn't directly based on a real star. But Eddie Mannix was a real person. A former amusement park worker, Mannix worked his way up in the hierarchy of the film industry and eventually became a general manager of Metro-Goldwyn-Mayer. Mannix's duties at MGM weren't strictly conducted on set or in a boardroom. According to Slate, he became renowned (albeit quietly) for diffusing scandals that threatened the lucrative business of making movies. If an actor's dalliances needed to be buried, Mannix was dispatched. If another actor's sexuality had to be kept out of the press, Mannix was your man. He brokered fake relationships and even arranged abortions for the studio's unruly stable of artists. I can assume Mannix took a lot of frantic, middle-of-the-night phone calls.
Eddie Mannix's tactics were allegedly less than savory in more extreme cases. Slate also reports that the New Jersey native had ties to organized crime and would cash in favors from his gangster pals if anyone he was dealing with needed more aggressive convincing than he could offer himself. Mannix was such an influential figure in Hollywood that Hail, Caesar! doesn't mark the first time he's been portrayed in a major movie. Bob Hoskins played Mannix in Hollywoodland, the 2006 drama that explores the shadowy circumstances around the alleged suicide of TV's then-Superman, George Reeves. If true, Mannix's involvement in the conspiracy to kill Reeves was personal, not professional. His wife Toni Mannix had been carrying on an affair with Reeves until he threw her over for a socialite. After her death, her friend and former publicist Edward Lozzi told The Los Angeles Times that Toni had kept a shrine to her deceased lover and eventually confessed to a priest that she and her husband had murdered Reeves. Lozzi said:
She was absolutely terrified of going to hell...I was holding her hand and the priest said to me, "You can't say anything about this...because your life would be in danger."
It was never proven that Mannix had a hand in Reeves's death, though the fixer wasn't known to hesitate to use forceful methods to get results. The stylized version of Mannix who appears in Hail, Caesar! looks like the kind of flawed hero that the Coen Brothers love to build stories around. Expect plenty of shenanigans, but not necessarily the hard-hitting truth of the real Mannix's day-to-day activities.
Mannix included, old Hollywood aficionados should find tons of golden age easter eggs in Hail, Caeser! The trailer includes references to On The Town, Ben-Hur, and other classic movies. Scarlett Johansson plays a fictional take on bathing beauty actress Esther Williams, and Tilda Swinton plays real Los Angeles gossip columnist Hedda Hopper. But it's the real life and work of fixer Eddie Mannix that really proves how scandalous old-timey Hollywood could be.
Image: Universal Pictures