Signs That Ben Gets Married On 'The Bachelor'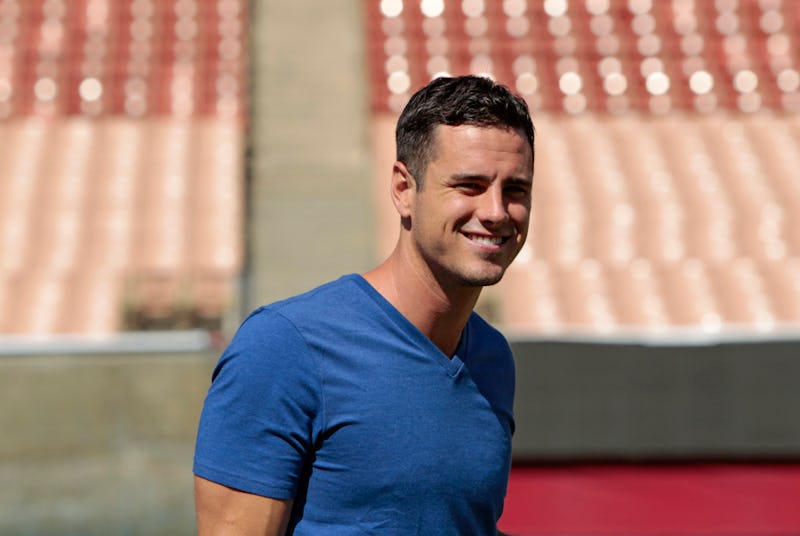 Though we're only a few episodes into this season of The Bachelor, if you're anything like me, you already want to know if Ben Higgins is engaged or not. It's not a completely ridiculous question — the man himself has said that he wants to find his wife, and all of the contestants seem to be pretty focused on marriage as the ultimate goal here, so I just really want to know if any of them got their wish.
The most recent episode really upped the ante with the dramatic elimination of one twin, Haley, and the controversial decision to keep Olivia despite her seemingly desperate ploys for Ben's affection. And, before her one-on-one with Ben, Becca was sent a wedding dress, and then the two of them married a few lucky couples in Las Vegas. She said that she could envision herself marrying him, but does he feel the same way about her? Does he feel the same about any of the women? And, most importantly, will Olivia ever stop prematurely calling him her husband?
All of this marriage talk and drama really has me wondering if Ben ended up finding everlasting love with any of the remaining 11 contestants.
So, I analyzed some of his most recent interviews and social media posts in search of the answer.
He Seemed Undecided On The Ellen DeGeneres Show...
Ben didn't have much to say about the contestants in a recent interview with Ellen DeGeneres -- well, because, she only gave him one word to say about each. His quickie responses about each contestant didn't really sound like he had strong ties to anyone. Ben described Caila Quinn as "sexy," and Lauren B. as "sweet," while he said that JoJo was "passionate," and Jubilee had "depth." Kind words, indeed, but I think perhaps the biggest red flag here was his response to Olivia's picture being flashed. "Intense," he said, as the audience laughed.
...But His Life Has Been "Great" This Year
Like, he found the love of his life great? In addition to saying, "Life has been really great to me over the last year," Ben revealed in an interview with Parade that, this past year, he has been "generally happy," and "has very few things in life that make [him] sad." Gonna go ahead and interpret that as the sign that he's betrothed to a woman who makes him that elated.
His Instagram Alludes To A Wedding...
...albeit it wasn't his wedding, any sign of matrimony sends off some smoke signals to me. The sweet snap from the episode where he and Becca married couples in a Las Vegas chapel may be an indicator that he is already engaged and just jumping to walk down that aisle.
...But Social Media Can Be Confusing
I didn't know Ben was starring in a reboot of The Boy. This is uncharacteristically creepy, but serves as a reminder that social media doesn't necessarily dictate anything accurate about a person's love life. Sometimes a picture is just a picture posted for the sake of starting conversation and not alluding to anything.
I guess we'll just have to stick around with Ben and the gang until the bitter end! Oh, twist my arm!
Image: Rick Rowell, Eniac Martinez/ABC