One Step Makeup Routines You'll Love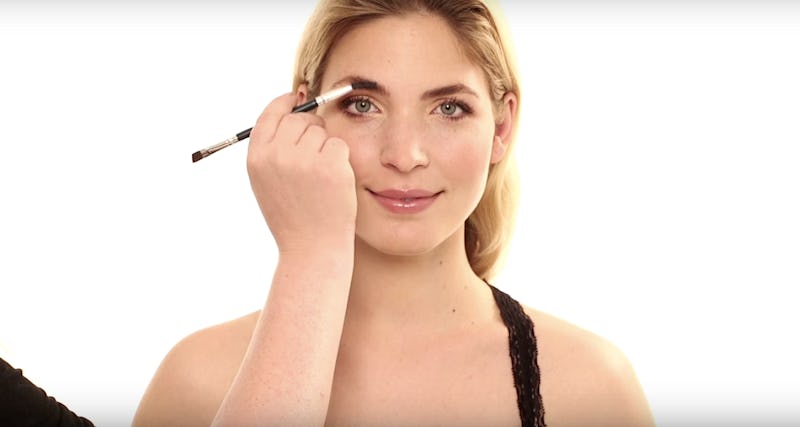 In the interest of making things easy for my dear Bustle readers and makeup lovers, I put together a list of one step daytime makeup tutorials to use on the daily. Living life as just a girl with a makeup addiction can be hard, especially if you are not a professional makeup guru with an unlimited supply of money. If I could live life as Michelle Phan, I most certainly would.
Additionally, some people's "daily makeup routines" can take up to an hour or more. Ain't nobody got time for that! I barely have time to line my eyes in the morning, much less cover my entire face and neck in contour, bronzer, and an illuminator (although strobing is the coolest trend to ever happen). Don't even get me started about styling your hair.
However, it's always nice to know that there are hundreds of thousands of girls in the same position that I am who can turn to the Internet for help. Sometimes, all anyone needs is a community of like-minded women to make them feel not so idiotic. So, with that and all of you in mind, here is a list of tutorials for each feature to help turn a mostly complicated process into a less complicated process.
1. Contouring
Contouring is arguably the most frustrating process in the beauty sphere. You add so much makeup, draw literal lines on your face, and risk looking like a cake. Why contour when you can just strobe? Rant aside, a lot of people gain confidence and can flaunt their cheekbones better when contouring correctly. Plus, you can give yourself a tan in the winter with a slightly darker foundation than your skin tone or a honey-kissed bronzer. Here's the NYX Wonder stick to help!
2. Brows
Having brows that can be described as "on fleek" is not as hard as Nicki Minaj makes it seem. Brow crayons are the future, and are super easy to use. Because the consistency is creamy it is easier to apply than both a brow pencil, gel, or marker. Plus, you are able to create both very natural looks, and extremely dramatic ones with the same instrument.
3. Face
Your face is what people see you as. Therefore, with that in mind, your skin is probably the most important part of your beauty and makeup routine. Whatever you do, don't jeopardize the quality of your skin for intense makeup looks. Moisturize! Don't get melanoma! You're still going to have your face in forty years! Use creams and foundations that say hydrating.
4. Eyes
These little windows to your soul deserve the best. If you only want to do one thing to your eyes for real, I'd say either pump up their volume with some jet black mascara, or go for a cool shadow to give them some depth/match with your outfit.
5. Cat Eyes
Meow! This girl's hair is full of makeup secrets. Her lining technique is super easy to replicate and you can follow her process super quickly. I love finding makeup hacks!
6. Cheeks
Getting great looking cheeks is no hard task. Whether you want to be a blushing beauty or an illuminated angel, Sephora has you covered. The secret in all cases is light coverage!
7. Lips
OK, OK. I'm cheating a little with this one. However, the Kylie Jenner lip kit is technically only one product and it's so simple. Plus there are tons of other products now that mimic the liner plus lipstick dual-ended effect. There is also lipstick plus gloss, if that's your route! If you truly want one step, go with a cool tint or crayon!
Hopefully these help save you some time, but keep on keeping on makeup lovers! Being insanely busy and loving makeup are not mutually exclusive concepts.
Image: Eylure Official/YouTube