Here's Why Jerome Buting Thinks Avery Is Innocent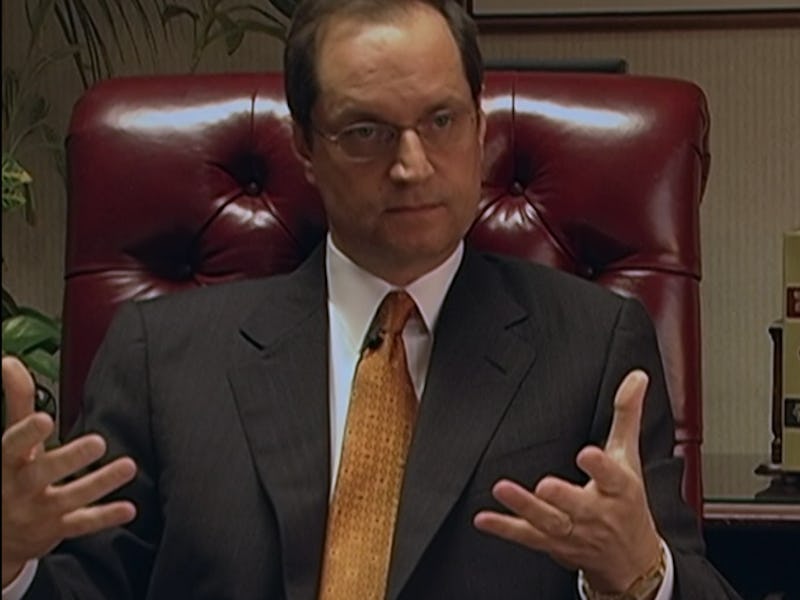 Now that Netflix's true crime docuseries Making a Murderer has viewers all over the world talking about Teresa Halbach's 2005 murder and Steven Avery's 2007 conviction for it (of which he still maintains he's innocent), Dateline revisited the Avery case on Jan. 29 and spoke with key players including prosecutor Ken Kratz and one of Steven Avery's defense attorneys, Jerome Buting. Kratz maintained on Dateline that the jury delivered the correct verdict and Avery deserves to be behind bars, but Buting thinks Avery is innocent, and he explained why during an interview with Dateline's Andrea Canning. His overarching reasoning was consistent with the case he presented during the 2007 trial, which viewers saw pieces of in Making a Murderer — Buting believes the evidence used to convict his former client was planted.
On Dateline, he addressed Halbach's car key that was found in Avery's trailer and noted that "evidence pointed" to the key being planted. Buting told Canning that the key was discovered by someone from Manitowoc County Sheriff's Department (Lt. James Lenk), who Buting claimed shouldn't have been investigating the case. Avery had been suing the department for his wrongful rape conviction in 1985 (of which Avery was exonerated in 2003), and several officers including Lenk had been deposed for the lawsuit shortly before Halbach's death.
In the Netflix docuseries, then-Undersheriff (and current Sheriff) Robert Hermann categorically denied allegations of planting evidence. "It's not realistic. It's impossible," he said in the series. "It's so far-fetched it's impractical." And, as seen in the docuseries, when asked by Avery's attorney if he thought it would have been better to have someone not deposed in the suit search Avery's room, Lenk said, "No sir, I don't think it would've been." Bustle reached out to the Manitowoc County Sheriff's Department to get a comment from Lenk but has not yet received a reply.
During his interview with Dateline, Buting noted that the trailer had been searched six or seven times prior to the discovery of the key. When Canning asked if there was any chance it could have been hidden or missed during prior searches, Buting's answer was an emphatic no due to the small size of what was being searched: "We're talking about a trailer. It doesn't add up." Buting also mentioned that, as viewers also saw in the series, Halbach's own DNA was not on the key, which he claims adds to the evidence that it was allegedly planted.
The Bone Fragments
On Dateline, Buting also addressed the location of Halbach's remains and claimed that there's evidence the bones were moved to Avery's property after they were burned: "Her bones were found in two different locations. Nobody would take a body, burn it somewhere, then dump the bones outside their own garage," he claimed on the show.
Former prosecutor Kratz had already refuted similar allegations in an interview with People magazine a week after the release of the documentary. According to People, Kratz claimed Halbach's bones were "intertwined" with the steel belts of the tires Avery had burned in his bonfire, claiming that was proof the bones hadn't been moved, but that everything was burned simultaneously. "Suggesting that some human bones found elsewhere — never identified as Teresa's — were from this murder was never established," Kratz also claimed.
The Hood DNA
Dateline also addressed the discovery of Avery's non-blood DNA found on the hood latch of Halbach's car. Kratz told Maxim that he believes this to be from Avery's "sweaty hands." Buting, however, described it on Dateline as a "red herring" and claimed that it could have been transferred by a crime scene tech who allegedly may have had Avery's DNA on his glove and then allegedly could have transferred it by accident. "No fingerprints of Mr. Avery were found anywhere on the RAV4, inside or out," he claimed to Canning. Buting's co-counsel Dean Strang had previously spoken to The Progressive about the hood latch DNA, agreeing with Buting's comments about an allegedly contaminated glove.
Mr. Kratz's comments entirely omit the possibility that this DNA was transferred inadvertently by the DCI agent who testified that after swabbing in Teresa Halbach's car — where we know Steven Avery's DNA was found — he didn't change his latex gloves and went out and popped the hood of her car. This could have been an entirely inadvertent transfer by a DCI agent and that was the evidence at trial.
The Blood Evidence
Buting reiterated his trial argument on Dateline that Avery's blood Halbach's car was allegedly planted from a vial of blood taken from Avery in 1985 when he was wrongfully convicted of rape. Buting found, as seen in the docuseries, that the vial had a hole in the top, which Buting found concerning. In addition to Sheriff Hermann's denial of planting evidence, Kratz also refuted this claim, calling it "ludicrous" on Dateline.
Buting also told Canning that upon examination of the vial, he claimed there was blood gathered between the stopper and the glass: "The stopper had to have been removed from the tube after the blood was put in there," Buting claimed on Dateline.
For this point, Canning interviewed Dennis Ernst — an expert in blood collection who had no involvement in the Avery case or Making a Murderer. Ernst shed some light on other possible explanations for the condition of the vial. He told Canning that gathered blood is "not sinister at all" because he claimed the stopper is not a complete tight fit — so, Ernst claimed it's common to see the blood gather. And, as for the hole? "There's always a puncture mark," he claimed. "The presence of a hole means absolutely nothing."
Strang recently admitted to CBS This Morning that he's not 100 percent convinced Avery of innocence or guilt, but he believes the state failed to prove their case beyond a reasonable doubt. But, during Buting's interview with Dateline, Buting took a stand for Avery's claims of innocence: "From the evidence I've looked at, I believe he's innocent," Buting claimed. "He certainly wasn't guilty beyond a reasonable doubt under the evidence that was presented."
Meanwhile, Kratz remained confident that the right man is behind bars. Kratz claimed on Dateline that the defense's theory hinged purely on far-fetched scenarios: "With any one of these facts, you can come up with a 'what if' scenario. At some point, this conspiracy theory collapses under its own weight," he told Canning.
But, Buting isn't Avery's only lawyer who believes he's innocent. Avery's new defense attorney, Kathleen Zellner, told Canning that she's exploring new evidence that could potentially exonerate her client, and she recently wrote on Twitter that she "won't quit until he's out."
Images: Netflix (6)