Why Your Hair Routine Needs Blow Dry Spray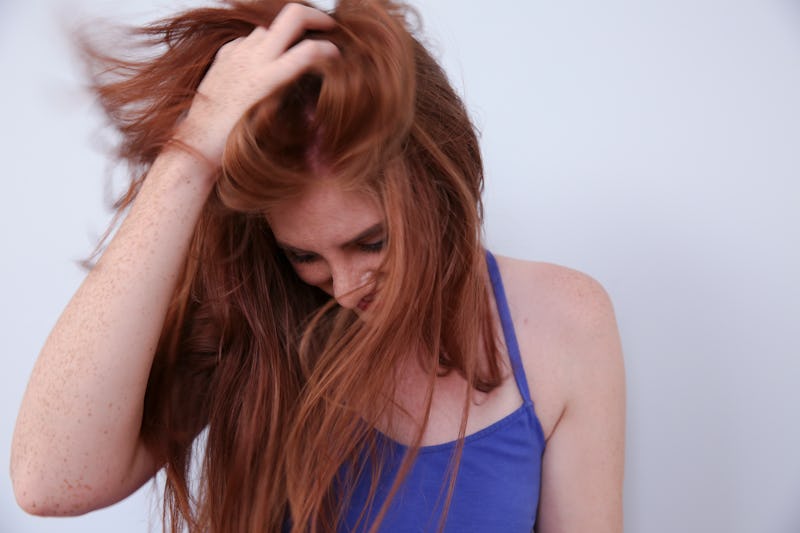 I've written before about my obsession with blow dry spray, and I stand by my belief that it's the one thing you need for a perfect at-home blowout. However, beauty product are expensive, and those $20 price tags add up over time. So I had to wonder, is blow dry spray worth it? And for me, that answer is a resounding yes.
For those of you who don't regularly use blow dry spray, here's a quick crash course. It's a hair product that's designed to cut your blow drying time in half and help hair appear smoother and sleeker than if you hadn't used it. That's a bold claim, and it's one that I've tested time and time again. To be honest, using a lot of product on my hair isn't my favorite thing in the world. I like to go a few days between shampoos, so the less product I have in my hair, the less weighed down it gets.
I make an exception for blow dry spray because it's actually that good. When I use blow dry spray, my hair dries in half the time it normally takes (I've timed it), and it's so sleek and straight, it looks like I've used a straightener on it. Here's my favorite combo of products:
Macadamia Healing Oil Treatment
Macadamia Healing Oil Treatment, $32.49, target.com
This oil goes on my ends, which are the driest part of my long hair. I used to use this exclusively before I discovered my other favorite product, and it significantly cut down my drying time (and smells amazing).
Matrix Turbo Dryer
Matrix Turbo Dryer, $18, ulta.com
I picked this up at a beauty sale at my office, and I am legit 100 percent obsessed with how fast it makes my hair dry. I spray this throughout my hair and it cuts down drying time in an insane way.
Beauty vloggers agree with me. I mean, check out how much they love these other blow dry sprays.
Kenra Blow Dry Spray
Kenra Blow Dry Spray is a classic, and she seems to love it.
L'Oreal Blow Dry It Primer Spray
L'Oreal's blow dry spray is an amazing drugstore option.
Redken Pillow Proof Blow Dry Spray
Redken's Pillow Proof spray promises to get at least two days out of your blow dry, and it looks like it works miracles.
Take it from me (and these clearly qualified beauty gurus). Blow dry spray is a product you'll definitely want in your arsenal.
Want more style tips? Check out the video below, and be sure to subscribe to Bustle's YouTube page for more hacks and tricks!
Images: Isla Murray/Bustle; Courtesy of Brands