'OITNB' Season 4 Is Going To Be EPIC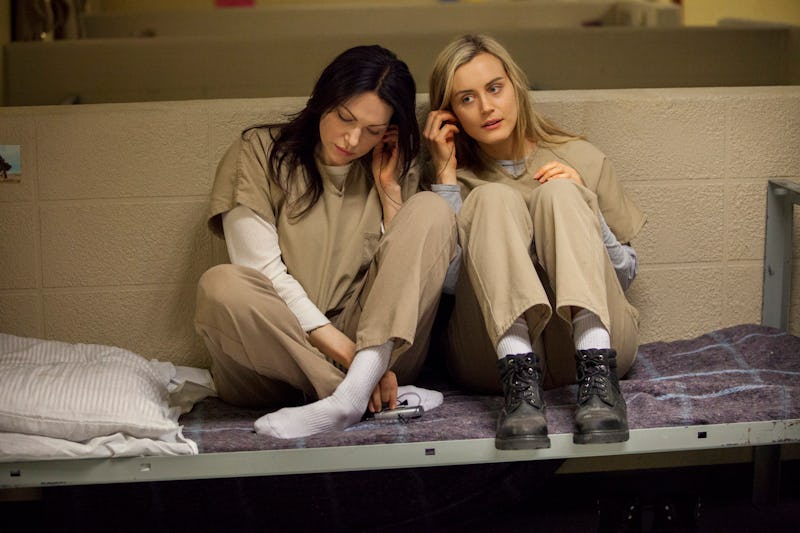 Now that Netflix has offered up a premiere date for Orange Is the New Black Season 4 (June 17, guys!), the spoilers are finally starting to roll in. This being the OITNB cast, those spoilers are maddeningly vague — but every new piece of information about what's ahead for the women of Litchfield Penitentiary is as valuable to fans as shower shoes were to Piper. Season 3 ended on a major cliffhanger, leaving Alex's life hanging in the balance in that accursed greenhouse, and I have needed answers since the credits rolled, OK?
Thanks to the recent Winter TCAs and bevy of award shows, the cast has been making the rounds, and they have dropped a few hints about what is to come. From news on Alex's fate, scoop on the show's Martha Stewart-esque new inmate, the possible return of old faces, and a potential new ship for you to fall madly in love with, the women of Litchfield are finally talking — and trust me, you are going to want to listen up.
While series creator Jenji Kohan is known for keeping plot details under wraps for as long as possible, a few juicy nuggets have made their way beyond the prison walls. Here is everything there is to know about OITNB Season 4 so far. Spoiler-phobes, you might want to head to solitary.
1. Alex Is Almost Definitely Alive
Fans have been left wondering whether Alex would get out of her greenhouse predicament alive since last summer, but whatever goes down, you can put your money on Alex surviving. In an interview with Entertainment Weekly, Laura Prepon revealed Season 4 will pick up exactly where Season 3 left off. Not only that, she promises Alex will have an "eff you Piper" moment in retaliation for Piper doubting Alex's suspicions someone was after her. She can't do that if she's dead, now can she?
2. Judy King Is Going To Shake Things Up In A Big Way
The arrival of Litchfield's newest and most high-profile inmate, celebrity chef Judy King (played by Blair Brown), is going to lead to some big changes. In an interview with AfterEllen.com, Samira Wiley had nothing but good things to say about Brown and Judy. "Judy is so surprising, so out there," Wiley promised. "It's like "Who is this woman?" You do not have her pinned down, to the very end."
3. There Will Be More Poussey And Soso
Poussey and Soso's connection was just beginning at the end of Season 3, and they were all kinds of perfect together. In the same AfterEllen interview, Wiley hinted there is more to come for the potential couple. "I think we'll see what happens with them," Wiley said. "We get some screen time together. #Pousoso!" Keep the dream alive, shippers!
4. Sophia's Story Is Going To Take Some Unexpected Turns
Nothing about the road ahead for Sophia is going to be easy. She was sent to the SHU for "her own protection" at the end of Season 3, but it sounds like that was only the beginning of the character's new chapter. Laverne Cox told E! Online, Sophia's Season 4 story is challenging in ways she never anticipated. Cox said she enjoyed the challenge and pushing herself as an actress. Hopefully, this all means Sophia will have lots of screen time this season.
5. Jolene Purdy Has Boarded The Show In A Mystery Role
The major influx of new inmates may be what brings Jolene Purdy to Litchfield, or her character could become part of the show through entirely different means. The only thing known about Purdy's character at this time is her role is recurring. Let the speculation begin!
6. New Alliances Are Going To Be Formed All Over The Place
Nearly every actor has mentioned in interviews that Season 4 will feature "new alliances." What does this mean exactly? It's hard to say, but the new inmates who were shown arriving at the end of last season will certainly upset the natural balance of the prison's groups.
7. There Will Be Backstories For Characters Who Have Never Gotten Backstories
Creator Jenji Kohan herself promised backstories for new people in an interview with E! Online. There will be backstories for characters who have already had backstory episodes as well, but anytime an unexpected character takes the spotlight, good things tend to happen. Maybe this will be the year Soso's activist past is explored.
8. Piper Doesn't Care About Winning Any Popularity Contests
The Piper who was meek and convinced she didn't belong in prison is going to become even more of a distant memory in Season 4. Kohan told reporters at the TCA, "I think Piper is definitely on a journey and we work the vicissitudes of likability." In other words, if you liked badass Piper last season, there is more to come.
9. Taystee Has A New Job
In the first Season 4 teaser, Taystee is enjoying what looks like a sweet new desk job. Her new career in answering phones may have something to do with the major changes coming Litchfield's way... either that or someone at the prison finally recognized Taystee for the boss she is.
10. The Odds Of Nicky Returning Are High
While it has not been confirmed, Screen Crush is one of several outlets reporting Natasha Lyonne, aka fan-favorite Nicky, is expected to return. Nicky was sent to max last season, and it was majorly upsetting. Everyone cross your fingers the rumors of her return turn out to be true.
11. This Could Be The Best Season Yet
I know every actor talks up their show, but everyone from Cox to Wiley has noted how special Season 4 is. Kohan was unwilling to reveal the theme of the season at the TCAs beyond saying it would tackle some current events through the show's unique lens, but overcrowding, surviving prison when your routine gets turned upside down, and self-discovery all appear to be on tap. With stories that powerful coming your way, I don't think the stars are being hyperbolic when the sing Season 4's praises.
There are still so many questions that need to be answered — like is Stella coming back? — but at least the OITNB gang is finally opening up about what's ahead. Savor these morsels, guys, you still have a little over four months before Red heads back to the kitchen.
Images: Netflix (2); Giphy (6)