Joe Jonas Had Twitter Burnin' Up In 'Grease Live!'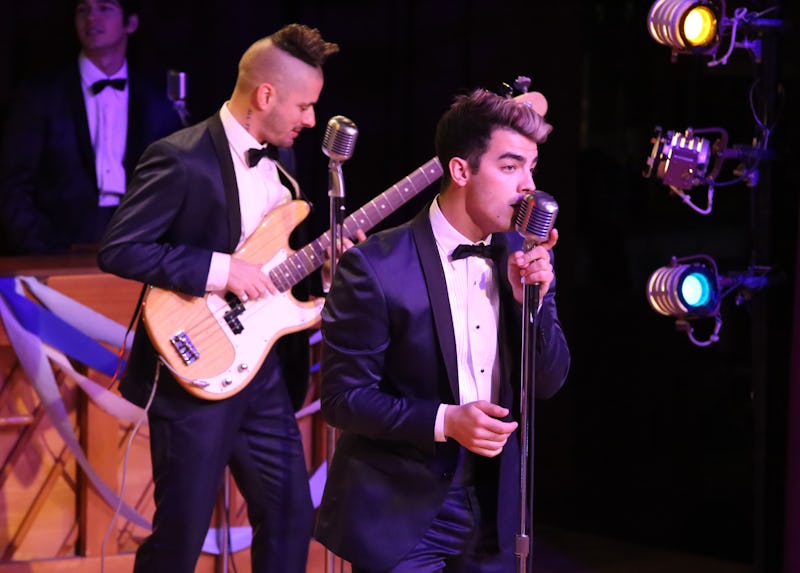 Even with the sound cutting out during "Born To Hand Jive," Joe Jonas as Johnny Casino in Grease Live! made quite an impression during Fox's live musical. His band DNCE took on Johnny Casino and the Gamblers, and blew the Internet away with their renditions of "Rock And Roll Is Here To Stay" and "Born To Hand Jive." While not all of the members of DNCE were in 1950s-appropriate attire for Grease Live's big scene, it didn't take away from the middle Jonas brother stepping back into the spotlight.
Twitter was surprisingly super kind to Jonas during his live performance on Fox's Grease Live!. While Jonas has acted before in the Disney Channel movie Camp Rock, the movie Night at the Museum: Battle of the Smithsonian, and the TV show Hot in Cleveland, his cameo in Grease Live! had Twitter ... burnin' up. (I'm sorry, I had to do it.) Although Jonas didn't have a speaking role, he got to rock the National Bandstand dance at Rydell High.
If you were a fan of the Jonas Brothers, you were sure to love Jonas in Grease: Live! and he'll be back on screen before you know it — in Zoolander No. 2.
Image: Kevin Estrada/FOX